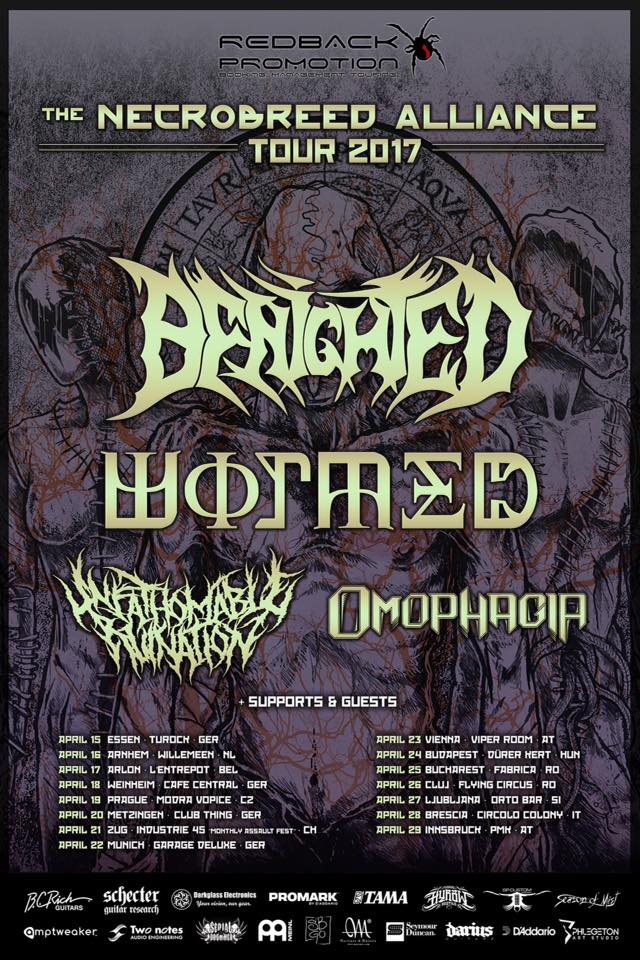 BENIGHTED will embark onto their European headlining tour at the Turock in Essen, Germany in two days, Saturday, 15th of April. The French death grind maniacs will be joined by Spanish label mates WORMED as well as UNFATHOMABLE RUINATION and OMOPHAGIA throughout their whole road-trip.
Vocalist Julien Truchan comments on behalf of BENIGHTED: "Fellows, thank you so much for the amazing welcome 'Necrobreed' has received so far and your unwavering support! We are about to start our European tour with the mighty WORMED, UNFATHOMABLE RUINATION and OMOPHAGIA with so many more upcoming gigs and festivals still waiting ahead this year! We hope to see you all at the shows and to share unforgettable moments with you on stage and at the after-parties! We can hardly wait to show you how brutal the 'Necrobreed' tracks are to live; and to see what you are capable of in the pit! Let's spread the sickness together!"
.

BENIGHTED tour
+ WORMED +UNFATHOMABLE RUINATION +OMOPHAGIA
15 Apr 17  Essen (DE) Turock ()
16 Apr 17  Arnhem (NL) Willemeen
17 Apr 17  Arlon (BE) L'entrepot
18 Apr 17  Weinheim (DE) Cafe Central
19 Apr 17  Praha (CZ) Modrá Vopice
21 Apr 17  Zug (CH) Industrie 45
22 Apr 17  München (DE) Garage Deluxe
23 Apr 17  Wien (AT) Viper Room
24 Apr 17  Budapest (HU) Dürer Kert
25 Apr 17  Bucharest (RO) Fabrica
26 Apr 17  Cluj-Napoca (RO) Flying Circus
27 Apr 17  Ljubljana (SI) Orto Bar
28 Apr 17  Brescia (IT) Circolo Colony
29 Apr 17  Innsbruck (AT) PMK
BENIGHTED festival shows
13 May 17  Zamek (CZ) Nice To Eat You Fest 2017
20 May 17  Saint-Omer (FR) Dreamer Fest 2017
09 Jun 17  Moscow (RU) Les Club
10 Jun 17  Saint Petersbourg (RU) Mod Club
06 Jul 17  Viveiro (ES) Resurrection Festival 2017
21 Jul 17  Bertingen (DE) Rock Unter Den Eichen Festival
29 Jul 17  Steenwijk (NL) Stonehenge Festival 2017
24 Aug 17  Spital am Semmering (AT) Kaltenbach Open Air Festival 2017
.
BENIGHTED will be touring in support of their latest album 'Necrobreed', which was released on February 17th. Artwork and track-list can be viewed below.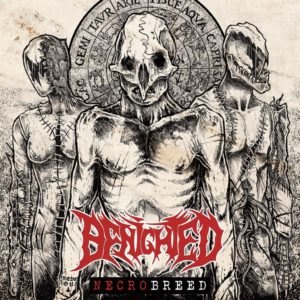 01. Hush Little Baby
02. Reptilian
03. Psychosilencer
04. Forgive Me Father
05. Leatherface
06. Der Doppelgaenger
07. Necrobreed
08. Monsters Make Monsters
09. Cum With Disgust
10. Versipellis
11. Reeks Of Darkened Zoopsia
12. Mass Grave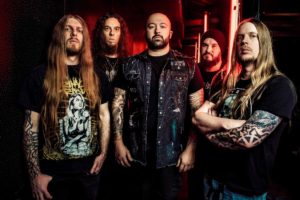 Madness reigns ! BENIGHTED deliver the radical soundtrack to these savage times. With their new full-length 'Necrobreed', the French sidestep the steadily growing complexity of their previous albums 'Asylum Cave' (2011) and 'Carnivore Sublime' (2014) by recalibrating their sound along their roots.
'Necrobreed' is the result of modern violence combined with an undercurrent of old school feeling. BENIGHTED keep their grinding influences but classic death metal clearly shows through the fabric. Those insane pig squeals are backed-up by massive growling. Crushing riffing and nuclear drumming meet subtle melodies and hidden hooks are fuelling the fury.
BENIGHTED were spawned by members from French Death and Black metal bands DISHUMANIZED, DARKNESS FIRE, and OSGILIATH, who joined forces in 1998 for a more brutal, heavy and modern way of expression. When their first self-produced and self-titled full-length hit the streets in 2000, it immediately had a strong impact. This turned a side-project into a main act. A fast-growing fan base was built by a string of acclaimed albums: 'Psychose' (2002), 'Insane Cephalic Production' (2004), 'Identisick' (2006), and 'Icon' (2007) were all enthusiastically received.
On the live front, BENIGHTED quickly started to capture audiences with sweat driver performances that bulldozer any resistance mercilessly aside. This allowed the French to climb up the ladder fast and soon came invitations to all major European festivals including Neurotic Death Fest, Hellfest, Wacken, Brutal Assault, Summer Breeze, and Inferno Festival among many more.
BENIGHTED recorded 'Necrobreed' once again in Germany's Kohlekeller Studio in continuation of a very successful relationship. The other constant with these brutal death addicts is an album concept that comes based on a theme revolving around the abysmal potential of the human psyche. This time vocalist (and caretaker in a mental asylum) Julien Truchan penned lyrics dealing with a man, who is stitching dead animals to his abdomen. On feeling the warmth of his infected flesh, the schizophrenic "gives birth" to the carcass and places it in his house as the result of a severe childhood trauma involving a dead cat.
'Necrobreed' gives an extreme musical voice to the madness lurking within. Let your mind be shaken by BENIGHTED. In case of side effects, please see a doctor.
.
Current line-up :
Julien Truchan: vocals
Emmanuel Dalle: guitars
Romain Goulon: drums
Pierre Arnoux: bass, backing vocals
Fack: guitars
.
Facebook page : BENIGHTED
.