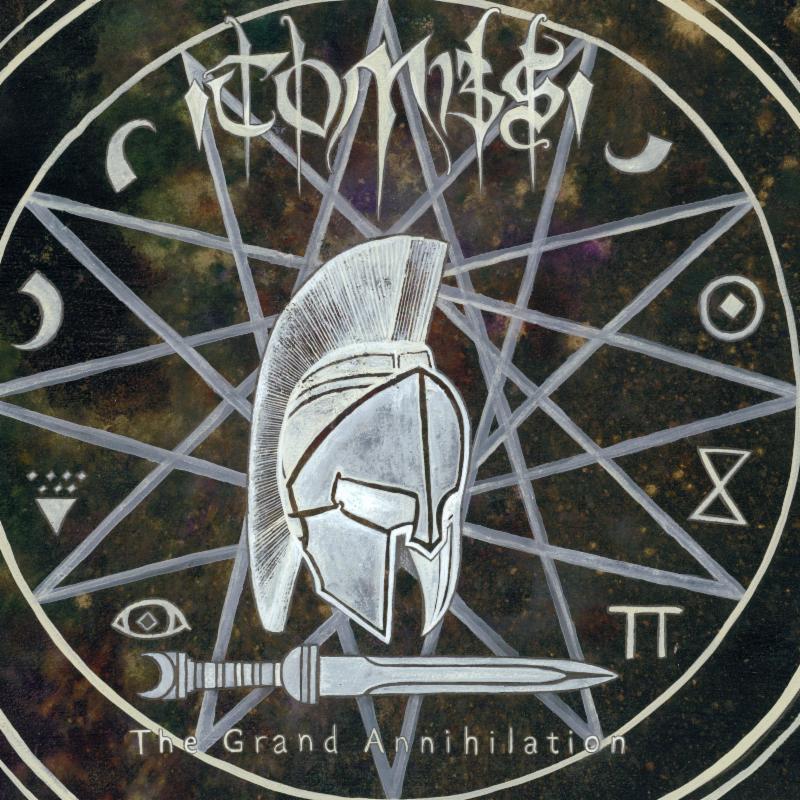 On June 16th, Brooklyn's TOMBS will release their fourth full-length, "The Grand Annihilation", via Metal Blade Records.
Produced once again by Erik Rutan (Cannibal Corpse, Soilent Green, Belphegor, Hate Eternal), "The Grand Annihilation" remains rooted in the blackened, post-metallic sound that the band has become known for since 2007's self-titled EP, while also being their most experimental record to-date. To hear the new single, "November Wolves", fans can head over to Decibel Magazine's Facebook for the exclusive stream HERE.
.
To hear the previously released singles, "Cold" and "Saturnalian", please click HERE  where "The Grand Annihilation" by TOMBS can also be pre-ordered in the following formats:
–Digipak CD
–180g black vinyl
–dark olive-marbled vinyl (limited to 400 copies – EU exclusive)
–ivory/grey-marbled vinyl (limited to 200 copies – EU exclusive)
–orange/brown-marbled vinyl (limited to 100 copies – EU exclusive)
–gray/green-marbled vinyl (limited to 200 copies – US exclusive)
* exclusive bundles with a shirt, plus digital options are also available!
The Grand Annihilation track-listing :
1. Black Sun Horizon
2. Cold
3. Old Wounds
4. November Wolves
5. Underneath
6. Way of the Storm
7. Shadows at the End of the World
8. Walk with Me in Nightmares
9. Saturnalian
10. Temple of Mars
Tombs front-man Mike Hill is not a man interested in appeasing his existing audience or modifying the music he makes in the hope of luring in a broader one. Letting the songs come as and when inspiration hits him is integral to Hill's process, and this accounts in part for The Grand Annihilation's diversity. The blasting, scathing yet melodic black metal savagery of opener "Black Sun Horizon" and "Way Of The Storm" are very much built to destroy, while wielding a poignancy that is undeniable – both of which stand in strong contrast to the uncomfortable post-punk squall of "Underneath" that showcases Hill's Nick Cave/Ian Curtis-esque singing voice, while the likes of the throbbing "Saturnalian" and unnerving tribal thunder of "Walk With Me In Nightmares" stand in categories all of their own. While every track on "The Grand Annihilation" stands separate from those around it, it is still a cohesive collection, and at no point do the stylistic twists and turns undermine its coherence.
"If you've been following Tombs, you probably know to expect the unexpected, and I always strive to present a full range of emotion on everything with the band's name on it," Hill explains. "That said, this is a very dark and introspective record that digs deep into the common ideas of mortality, infinity and cosmic mysteries. The lyrics on the new record are a celebration of freedom through embracing the dark side. Once you realize that you follow the dark path – the path of the individual – there is a certain feeling of liberation that accompanies it."
.
To kick off the album's release, Tombs will embark on a USA tour on release date (June 16th) with Fit For An Autopsy and Moon Tooth. See below for all dates!
Tombs tour dates:
w/ Fit For An Autopsy, Moon Tooth
June 16 – Baltimore, MD – Ottobar
June 17 – Reading, PA – Reverb
June 18 – Richmond, VA – Strange Matter
June 19 – Greensboro, NC – Blind Tiger
June 20 – Atlanta, GA – Drunken Unicorn
June 21 – Tampa, FL – Orpheum
June 22 – New Orleans, LA – Neutral Ground Coffeehouse
June 23 – Austin, TX – Grizzly
June 24 – Houston, TX – Walters
June 25 – Dallas, TX – Curtain Club
June 26 – Albuquerque, NM – Blu Phoenix
June 27 – Mesa, AZ – Nile Half Room
June 28 – West Hollywood, CA – Roxy
June 29 – San Francisco, CA – DNA Lounge
June 30 – Chico, CA – Lost on Main
July 1 – Portland, OR – Analog
July 2 – Seattle, WA – El Corazon
July 4 – Salt Lake City, UT – Metro Music Hall (Black Metal & Drag BBQ) *
July 5 – Denver, CO – Marquis Theatre
July 6 – Omaha, NE – Waiting Room
July 7 – Chicago, IL – Reggies
July 8 – Cleveland, OH – Foundry
July 9 – Brooklyn, NY – Knitting Factory
*=Tombs headline show