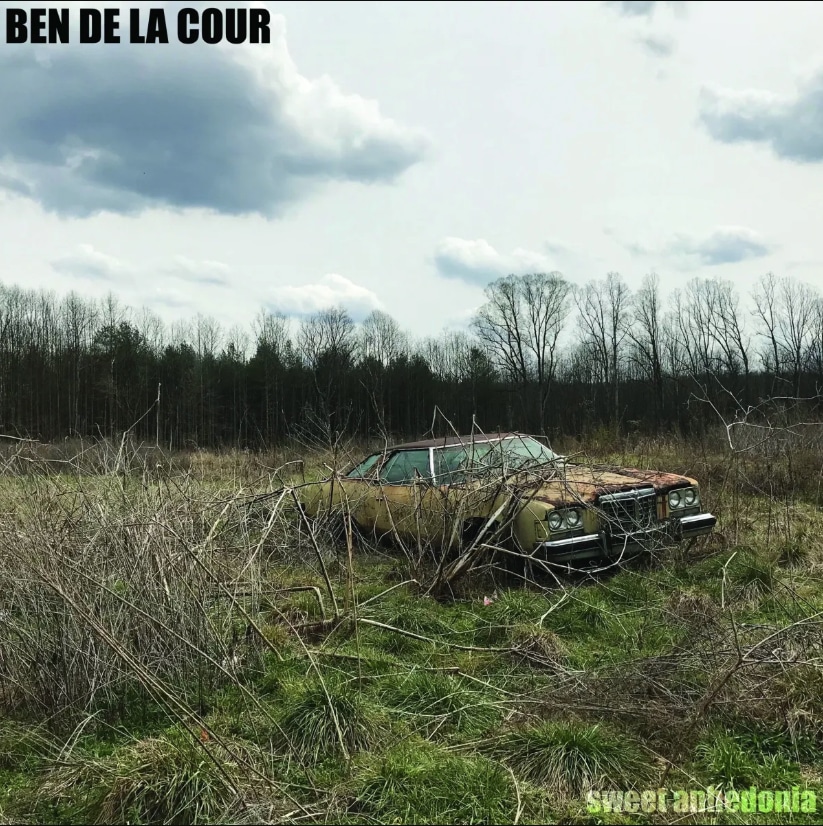 "La folk music a de tout temps frayé avec les ténèbres, et j'en connais un rayon en la matière", déclara un jour Ben de la Cour. Pour produire son cinquième album à ce jour (chroniques des deux précédents ICI et ICI), Ben a fait appel à un autre spécialiste en ce registre, l'ironiquement pseudonymé Jim White (de son vrai nom Michael Davis Pratt), dont le "Wrong Eyed Jesus (The Mysterious Tale Of How I Shouted)" paru en 1997 est l'un de ses disques de chevet. De la Cour prétend l'avoir harcelé jusqu'à obtenir son consentement, allant jusqu'à camper sur son pas de porte… En dix nouvelles vignettes captées entre Athens et Nashville, il déploie une nouvelle galerie de personnages tour à tour pathétiques, désespérés, révoltés ou accablés par leurs propres névroses. Mais à l'opposé du cynisme fataliste (et voyeur) d'un Lou Reed, Ben éprouve une empathie sincère envers ses sujets d'analyse et d'observation. S'ouvrant sur "something cold is stirring at the bottom of the creek, where that little boy drowned back in '63, and the ink is running over in the Appalachian Book of the Dead" (dans un climat évoquant autant Tom Waits que Goran Bregović), cet album parvient à concilier un haut niveau d'écriture (s'appuyant sur un puissant ancrage dans les genres abordés) avec la modernité qu'apportent des arrangements subtils, où se mêlent instruments traditionnels (violon, banjo, mandoline, piano, bouzouki, pedal steel) et éléments atmosphériques (violoncelle, percussions fantomatiques, météo, babils enfantins, trompette…). D'un panel s'étirant de l'Americana à tendance appalachienne ("Numbers Game" en duo avec Becky Warren) au folk introspectif à la manière de Guy Clark et Townes Van Zandt  ("Maricopa County" où "two girls from my high school disappeared in May, they took a shortcut home one night, fell off the earth along the way, and I can still see those two empty chairs on graduation day", "American Mind", "I've Got Everything I Ever Wanted"), "Shine On The Highway" est à cet égard hautement représentatif: avec ses chœurs féminins (prodigués par Elizabeth Cook), ses orchestrations de cordes et de cuivres et ses roulements militaires enniomorriconesques, on jurerait un inédit du Leonard Cohen de "Songs Of…", dont la scansion ternaire et blasée de Ben accentue la similitude. D'un classicisme plus affirmé, la ballade three steps titulaire (avec Emily Scott Robinson aux contre chants) et "Brother" dressent un pont (de bois) vers le Neil Young désabusé des débuts ("how does it feel to feel nothing at all?", "brother you know some dark secret in our language, you could never understand"). "Suicide Of Town" rejoint la geste ombrageuse d'un Springsteen et d'un John Mellencamp, mais la pièce maîtresse de cette collection s'avère le majestueux "Palookaville", que Ben interprète seul au piano avec la voix d'un ange miséricordieux (et pour seule réponse un poignant solo de trompette de Josh Klein). Une nouvelle pierre précieuse s'ajoute donc à un édifice qu'il faudra bien se résoudre un jour à appeler une œuvre.
Patrick DALLONGEVILLE
Paris-Move, Blues Magazine, Illico & BluesBoarder
PARIS-MOVE, September 24th 2023
:::::::::::::::::::
Album à commander (absolument!) ICI
PS : La version digitale de cet album propose en bonus track "Birdcage", dont l'audio-track figure ci-dessous.
Credits:
Banjo – Curtis McMurtry
Banjo, Percussion, Keyboards, Backing Vocals – Jim White
Bass – Andrea Demarcus, Jimmy Sullivan, Nicolas Rombouts
Cello – David Van Wyke
Drums – Marlon Patton
Fiddle – Billy Contreras
Guitar – Clive Barnes, Geert Hellings, Nikolaj Heyman
Guitar, Piano, Percussion, Banjo, Bass, Lead Vocals – Ben de la Cour
Harmony Vocals – Elizabeth Cook (tracks: 4), Emily Scott Robinson (tracks: 5), Luella (tracks: 1), Serre (tracks: 3, 5)
Lead Vocals – Becky Warren (tracks: 2)
Mandolin – Lulu Jones
Mastered By – John Keane
Pedal Steel Guitar – Pat Hargon
Piano, Keyboards – Jojo Glidewell
Trumpet – Josh Klein
Notes:
Ben de la Cour – Vocals, Guitar, Piano, Bass, Banjo, Percussion, Bad Vibes
Jim White – Banjo, Percussion, Keys, Vocals
Marlon Patton – Drums
Jimmy Sullivan – Bass
Billy Contreras – Fiddle
Andrea Demarcus – Bowed Bass
Jojo Glidwell – Piano & Keys
Clive Barnes – Guitar
Pat Hargon – Pedal Steel
David Van Wyke – Cello
Curtis McMurtry – Banjo
Lulu Jones – Mandolin, Bazouki
Geert Healing's – Guitar
Nikolaj Herman – Guitar
Nicolas Rombouts – Bass
Josh Klein – Trumpet
Elizabeth Cook – Vocals (Shine on the Highway)
Emily Scott Robinson – Vocals (Sweet Anhedonia)
Becky Warren – Vocals (Numbers Game)
Luella – Vocals (Appalachian Book of the Dead)
Serre – Vocals (Maricopa County, Sweet Anhedonia)
Produced by Jim White
Recorded at Turpentine Music in Athens GA, The Glow Recording Studio in Athens GA, Show Cave in Nashville TN, and The Bomb Shelter in Nashville TN
Mastered by John Keane at John Keane Studios in Athens GA
All songs by Ben de la Cour except
"Numbers Game" (Ben de la Cour & Lynne Hanson) and "Suicide of Town" (Ben de la Cour & Jerry Fuentes)
Cover Photo by Jim White
Back Cover Photo by Carter Peery
Additional Photography by Bryan Collins
Album Design by Goldie Garza