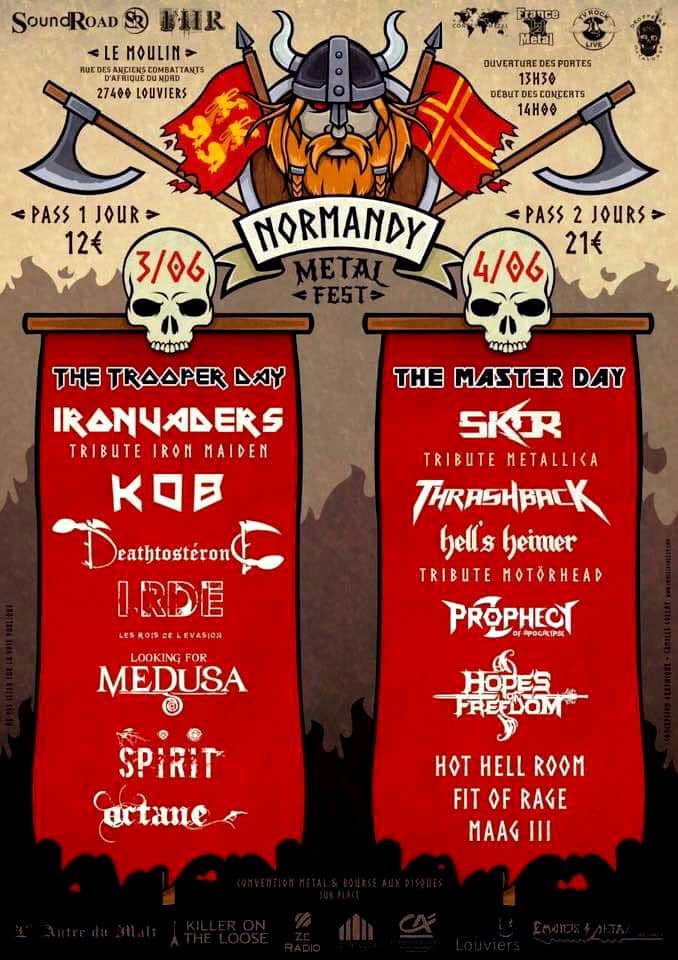 Une info qui fera plaisir à tous les fans de metal: les associations Soundroad, Frenchouillhard et Droppers metal Duss reprennent les rênes du NORMANDY METAL FEST LOUVIERS 2017 avec l'aide de la Mairie de Louviers et de la salle Le Moulin à Louviers (27).
Un édition 2017 en partenariat avec L'Antre du Malt, Emanes Metal Records, Killer On the Loose et Ze Radio Seine Eure.
Voici le programme des deux jours de concerts:
Samedi 3 juin :
THE TROOPER DAY
OCTANE
SPIRIT
LOOKING FOR MEDUSA
LRDE
DEATHTOSTERONE
KOB
IRONVADERS (Tribute Iron Maiden)
Dimanche 4 juin :
THE MASTER DAY
MAAG III
FIT OF RAGE
HOT HELL ROOM
HOPES OF FREEDOM
PROPHECY OF APOCALYPSE
HELL'S HEIMER (Tribute Motorhead)
THRASHBACK
SKOR (Tribute Metallica)
Concerts et convention métal, bourse aux disques.
Informations :
Billet 1 jour : 12 euros
Pass 2 jours : 21 euros
Venez retrouver Paris-Move les 3 et 4 juin au NORMANDY METAL FEST LOUVIERS.
Page FB : https://www.facebook.com/events/1744025089179550/