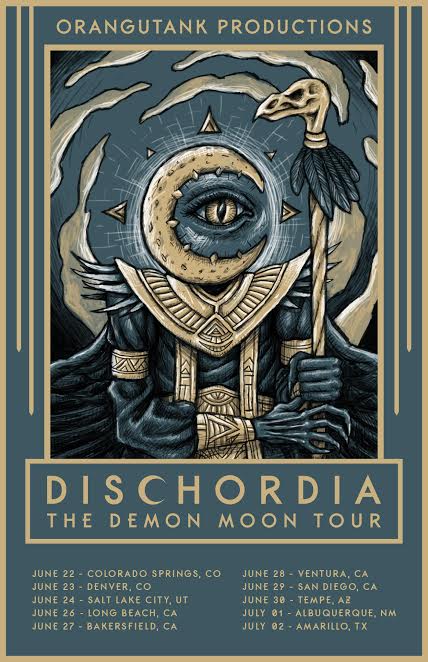 Fresh off their recently concluded Wastelands Tour, progressive death metal trio DISCHORDIA are proud to announce their second string of 2017 live dates with The Demon Moon Tour. The band is eager to keep the momentum going after releasing a highly praised 2016 album, "Thanatopsis".
In case you missed it, DISCHORDIA recently released an ambitious full band playthrough for their multi-song "Thanatopsis Suite", which consists of the first three tracks on last year's album. You can view it on Youtube: HERE.
Dates for The Demon Moon Tour below.
Finalized information regarding venue information for the tour dates will be released soon.
Guitarist Keeno comments for Paris-Move on the band's growth and goals : "Thanatopsis has been really well received, better than we had hoped honestly. We are excited to get out West again and break in a new state!"
The Demon Moon Tour :
June 22 – Colorado Springs, CO
June 23 – Denver, CO
June 24 – Salt Lake City, UT
June 26 – Long Beach, CA
June 27 – Bakersfield, CA
June 28 – Ventura, CA
June 29 – San Diego, CA
June 30 – Tempe, AZ
July 01 – Albuquerque, NM
July 02 – Amarillo, TX
.
Facebook page : DISCHORDIA
Official web site : DISCHORDIA
.