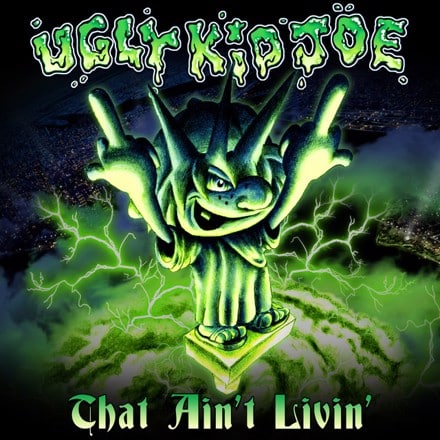 PARIS-MOVE, June 12th 2022 – UGLY KID JOE news: un nouveau single et le groupe est à voir au Hellfest le 26 juin!
7 ans ! Il aura fallu attendre 7 ans pour que les sales gosses du rock US nous pondent enfin un nouvel album. Celui-ci s'intitule 'Rad Wings of Destiny' et sera disponible le 21 octobre prochain sur Metalville. Ce disque est produit par Mark Dodson qui était déjà aux manettes sur 'America's Least Wanted', la fameuse première galette du combo qui fête ses 30 ans cette année!
"That Ain't Livin' " est donc le premier single extrait de ce futur nouvel album.
Pour Whitfield Crane, l'infatigable frontman d'Ugly Kid Joe: "Cette chanson est une marque d'admiration et de respect pour la vieille école, pour ce rock & roll à la AC/DC époque Powerage".
Sur ce titre, outre Whit au chant , on retrouve Shannon Larkin à la batterie, Dave Fortman & Klaus Eichstadt aux guitares, Cordell Crockett à la basse, ainsi que le guitariste de Yellowcake, JJ Curran, invité pour l'occasion.
'Rad Wings of Destiny' en CD, vinyle, cassette
Après avoir tourné en Grande-Bretagne en compagnie de Thunder, Ugly Kid Joe se produira cet été dans de nombreux festivals en Europe.
A voir en concert au Hellfest Dimanche 26 juin 2022 à 14h55 sur la Mainstage 1 (avec Metallica, Black Label Society, Avatar…)
LINE UP :
WHITFIELD CRANE: chant
KLAUS EICHSTADT: guitare
DAVE FORTMAN: guitare
CORDELL CROCKETT: basse
ZAC MORRIS: batterie
________________
SHANNON LARKIN: batterie
SONNY MAYO: guitare
CHRIS CATALYST: guitare
DISCOGRAPHIE
1991 – As Ugly As They Wanna Be (EP)
1992 – America's Least Wanted
1995 – Menace to Sobriety
1996 – Motel California
2012 – Stairway To Hell(EP)
2015 – Uglier Than They Used Ta Be
TOUR DATES
15.06. Copenhagen, Denmark – Copenhell
17.06. Hinwil, Switzerland – Rock the Ring
18.06. Dessel, Belgium – Graspop Metal Meeting
19.06. Hamburg, Germany -Knust
21.06. Prague, Czech – Futurum Music Bar
22.06. Essen, Germany – Turock
23.06. Köln, Germany – Gebäude 9
24.06. Namur, Belgium – Coco Grill
13.07. Katowice, Poland – Metal Hammer Festival
17.07. Midalidare, Bulgaria – Midalidare Rock