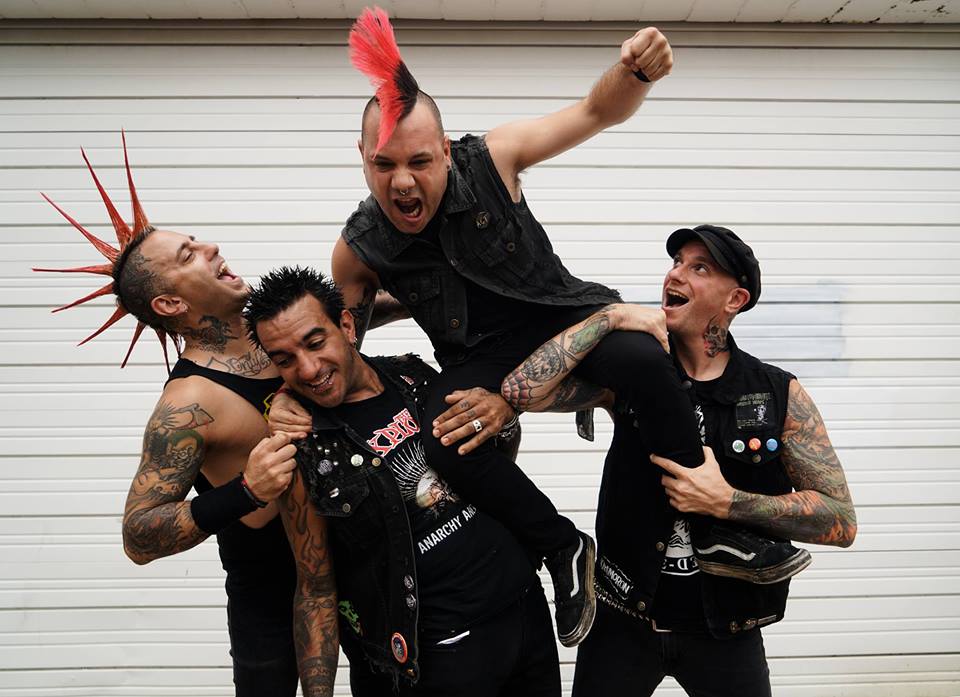 THE CASUALTIES have announced the departure of frontman Jorge Herrera due to growing tired of the strains of life on the road. The band's longtime friend David Rodriguez (STARVING WOLVES, KRUM BUMS) will be handling vocal duties.
THE CASUALTIES comment: "Attention, Casualties Army! After 27 years of performing with the band, Jorge has chosen that touring life is no longer for him. With that said, we will carry on. As anyone who follows us knows, the name THE CASUALTIES is stronger then any one member. The songs written in basements throughout New York City shall continue to ring loud. We will continue our commitment to the Casualties Army! We will tour and put forward new anthems for many more years to come. When we said 'it's a f*cking way of life' back in the beginning, we meant it."
A full list of all currently confirmed tour dates can be found below. More UK dates will be announced soon.
THE CASUALTIES
06 Aug 17: Brighton (UK) Rebellion
09 Aug 17: Nottingham (UK) The Maze
13 Aug 17: London (UK) Underworld
15 Aug 17: Warszawa (PL) Poglos
16 Aug 17: Zlotow (PL) Generator
17 Aug 17: Nowy Targ (PL) Piwnca u Winiarskich
18 Aug 17: Vyskov (CZ) Pod Parou
19 Aug 17: Volyné (CZ) Summer Punk Party
20 Aug 17: Graz (AT) Explosiv
21 Aug 17: Tannheim-Egelsee (CZ) Schwarzer Adler
22 Aug 17: Mannheim (CZ) Sommerbühne 7er Club
23 Aug 17 Erfurt (CZ) From Hell
24 Aug 17: Niedergörsdorf (CZ) Spirit Festival
.
THE CASUALTIES are performing in support of their latest full-length 'Chaos Sound'. Artwork and track-list are shown below.
Tracklist:
01. Intro
02. Chaos Sound
03. Visions of Greed
04. Running through the Night
05. Brothers and Sisters
06. Murder Us All
07. Work Our Lives Away
08. Countdown to Tomorrow
09. Fight for What's Mine
10. Keep Your Distance
11. In the Lost City
12. Bomb Blast
13. R.A.M.O.N.E.S. (Motörhead cover)
14. Halfway to Hell
15. United Streets
Punk is dead?  THE CASUALTIES never cared about such bullshit. Once again the New York stalwarts give voice to the street with a three fists full of smashing anthems. In an age of austerity, corporate takeover of this planet, and rising anger 'Chaos Sound' bristles with counter-culture rage translated into energetic riffing, barking vocals and a heavy dose of rock. Fierce but always melodic, THE CASUALTIES remain a far cry from teenage poster-boy industry created sell-outs that have become associated with their style. Instead the New Yorkers openly draw inspiration from the early Punk legends such as THE EXPLOITED, SEX PISTOLS and CHARGED GBH.
THE CASUALTIES are the real thing. Since vocalist Jorge Herrera founded the band together with second singer Colin in 1990, their declared aim has always been to keep the heart and spirit of Punk alive. Supporting the disenfranchised, the disillusioned, and the dispossessed against the ruling one percent through artistic means, THE CASUALTIES have never relented as their massive track record of nine studio full-lengths, three EPs and three live albums proves.
Now 'Chaos Sound' continues where 'Resistance' (2012) left off with another smasher in the face of oppression.
Older and maybe a bit wiser, THE CASUALTIES even dare to pay a cunning double tribute with a cover version of MOTÖRHEAD's homage to the sadly deceased Ramones. Punk is not dead. THE CASUALTIES deliver the crushing proof of that statement with 'Chaos Sound'. Listen and rise up!
Recording line-up:
Jorge: vocals
Jake: guitar
Rick: bass
Meggers: drums
Current live line-up:
David Rodriguez: vocals
Jake: guitar
Rick: bass
Meggers: drums