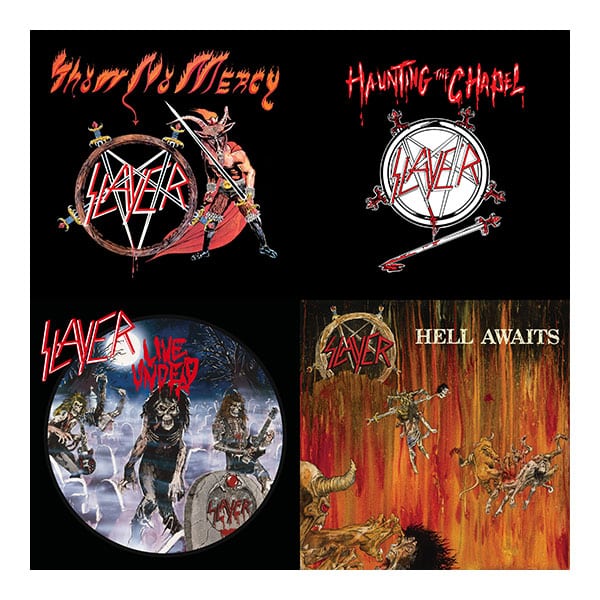 PARIS-MOVE, September 2nd 2021 – Great new: les icônes du thrash metal SLAYER rééditent le catalogue Metal Blade! Les pré-commandes sont disponibles dès maintenant pour "Show No Mercy", "Haunting the Chapel", "Live Undead" et "Hell Awaits" sur CD, cassette et vinyle!
Ne perdez pas une seconde et précommandez… car des vinyles seront très rapidement "sold out" et… collector!
Pour précommander, cliquez ICI
Le 22 octobre, Slayer, cinq fois nommé et deux fois lauréat des Grammy Awards, sortira des rééditions en CD, cassette et vinyle de ses albums classiques Show No Mercy (1983), Haunting the Chapel (1984), Live Undead (1984) et Hell Awaits (1985) via Metal Blade Records. Voir ci-dessous pour les versions disponibles et les listes de morceaux ; précommandez vos copies ici http://www.metalblade.com/slayer
Formé en 1981, Slayer a assailli le monde avec un nouvel hybride de métal et de punk – plus lourd, plus rapide et plus sombre que les autres – et a établi une nouvelle norme, définissant non seulement un genre, mais aussi une attitude. Tout au long de l'histoire de Slayer, le groupe n'a jamais hésité à libérer son assaut sonore extrême et ciblé. Répudiant les tentations, Slayer a toujours choisi de rester écrasant et brutal, refusant catégoriquement de se plier au courant dominant.
Versions de la réédition de Show No Mercy:
– CD en coffret
– cassette (avec une carte en J pliable et une coque de cassette de couleur fumée)
– vinyle noir 180g
– vinyle split rouge transparent / noir (exclusivité US)
– vinyle marbré orange (exclusif aux USA)
– vinyle transparent rouge / noir splatter (exclusif aux USA)
– vinyle fondu orange / rouge (exclusif UE)
– vinyle rouge / blanc splatter (exclusif UE – limité à 1000 copies)
Versions de la réédition de Haunting the Chapel:
– CD en coffret
– cassette (avec une carte J pliable et une coque de cassette de couleur fumée)
– vinyle noir 180g
– vinyle split rouge opaque / noir (exclusivité US)
– vinyle marbré rouge / blanc (exclusivité US)
– vinyle noir / blanc splatter (exclusif aux USA)
– vinyle rouge / blanc fondu (exclusif UE)
– vinyle rouge / noir splatter (exclusif UE – limité à 1000 copies)
Versions de la réédition Live Undead:
– CD en coffret
– cassette (avec une carte J pliable et une coque de cassette de couleur fumée)
– vinyle noir 180g
– vinyle split bleu nuit / noir (exclusivité US)
– vinyle marbré gris / noir (exclusif aux USA)
– vinyle transparent / rouge sang (exclusif aux USA)
– vinyle bleu / blanc / noir splatter (exclusif UE)
– vinyle bleu / noir splatter (exclusif UE – limité à 1000 copies)
Versions de la réédition de Hell Awaits:
– CD en coffret
– cassette (avec une carte J pliable et une coque de cassette de couleur fumée)
– vinyle noir 180g
– vinyle split orange transparent / noir (exclusivité US)
– vinyle marbré rouge (exclusif aux USA)
– vinyle transparent orange / noir splatter (exclusif aux USA)
– vinyle splatter orange / rouge (exclusif UE)
– vinyle splatter rouge / jaune / noir en cercle (exclusif UE – limité à 1000 copies)
SLAYER – Repentless (Live At The Forum in Inglewood, CA):

Show No Mercy track-listing:
1. Evil Has No Boundaries
2. The Antichrist
3. Die by the Sword
4. Fight Till Death
5. Metal Storm / Face the Slayer
6. Black Magic
7. Tormentor
8. The Final Command
9. Crionics
10. Show No Mercy
Haunting the Chapel track-listing:
1. Chemical Warfare
2. Captor of Sin
3. Haunting the Chapel
4. Aggressive Perfector
Live Undead track-listing:
1. Black Magic
2. Die by the Sword
3. Captor of Sin
4. The Antichrist
5. Evil Has No Boundaries
6. Show No Mercy
7. Aggressive Perfector
Hell Awaits track-listing:
1. Hell Awaits
2. Kill Again
3. At Dawn They Sleep
4. Praise of Death
5. Necrophiliac
6. Crypts of Eternity
7. Hardening of the Arteries