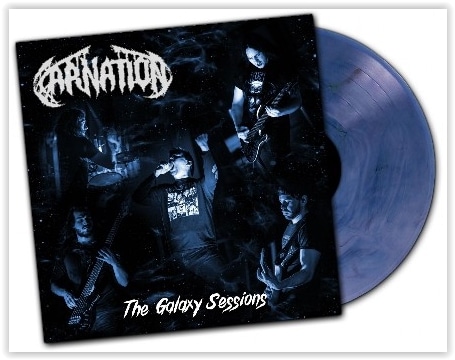 PARIS-MOVE, November 18th 2021 – The Belgian death metal stalwarts of CARNATION have announced the physical release of their Galaxy Sessions, a live stream event which took place on April 18th 2021.
The Galaxy Sessions live album is slated for release on January 07th 2022 and will be available on all digital platforms and a limited edition vinyl version.
Pre-orders are available HERE
In celebration, CARNATION are now releasing the second live video for the track 'Napalm Ascension', which can now be viewed via the Season of Mist YouTube channel, HERE

CARNATION's latest album 'Where Death Lies' was released on September 18, 2020 and can be heard in full HERE

The cover artwork and further album details can be found below.
Track-list
1. Iron Discipline (3:52) (WATCH)
2. Sepulcher of Alteration (4:22) (WATCH)
3. Where Death Lies (3:26) (WATCH)
4. Spirit Excision (3:46)
5. Napalm Ascension (4:09)
6. Serpent's Breath (4:47)
7. Malformed Regrowth (3:09)
8. Reincarnation (5:24)
9. In Chasms Abysmal (7:39)
Total playing time: 40:34
Line-up:
Simon Duson – Vocals
Jonathan Verstrepen – Guitars
Bert Vervoort – Guitars
Yarne Heylen – Bass
Vincent Verstrepen – Drums