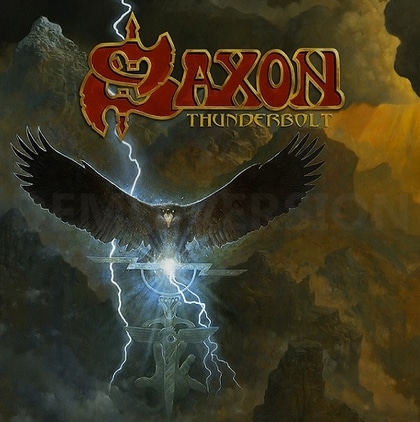 SAXON nous confirme la sortie de "Thunderbolt", leur 22ème album studio (!!!) produit par Andy Sneap (Judas Priest, Accept, Megadeth, Arch Enemy, Testament…).
Special Tour Edition avec poster + 2 titres live en bonus, "Thunderbolt" (Live in Frankfurt 02.03.18) & "Nosferatus (The Vampire's Waltz)" (Live in Los Angeles 22.04.18).
Dispo aujourd'hui sur Militia Guard/Silver Lining Music (distribution Warner Music)
Commandez le ICI
Saxon est une véritable légende de la New Wave Of British Heavy Metal. Le groupe écuma les bars anglais avant d'obtenir quelques premières parties de grandes pointures, comme celle d'Ian Gillan. Saxon est une véritable et indomptable machine à riffs qui possède un don particulier pour créer de véritables hymnes métalliques tel "Wheel of Steel" ou encore "747".
Après plus de trente ans de carrière et une vingtaine d'albums, Saxon est revenu sur le devant de la scène en octobre 2015 avec un nouvel album intitulé "Battering Ram". Une fois de plus, le quintet nous offre un bombardement en règle, un déluge d'acier trempé qui n'est cependant pas dénué de mélodies. Bref, du grand, du bon Heavy Metal "made in England"!
Regardez la lyric video de "The Secret of Flight" ICI
Regardez le clip de "Thunderbolt" ICI
Regardez le clip de " Nosferatu (The Vampire's Waltz)" ICI
Redevenez un Headbanger sur leur hommage à Motörhead 'THEY PLAYED ROCK AND ROLL' ICI
Au sujet de cette chanson, le chanteur Biff Byford nous a dit: "Cette chanson raconte l'histoire de la toute première tournée que Saxon a effectuée en 1979 en compagnie de Motörhead. J'ai envie que les gens sentent ce qui se passait en Grande-Bretagne à cette époque, et comment des groupes tels que Saxon et Motörhead étaient au commencement de cette musique qui allait révolutionner les années 80″.
NE MANQUEZ PAS LEURS 4 PROCHAINS CONCERTS EN FRANCE !!!
Le 6 octobre 2018
MARSEILLE – LE MOULIN – Réservation ICI
Le 7 octobre 2018
VILLEURBANNE – LE TRANSBORDEUR – Réservation ICI
Le 9 octobre 2018
TOULOUSE – LE BIKINI – Réservation ICI
Le 15 octobre 2018
PARIS – LE BATACLAN – Réservation ICI
Page Facebook officielle de GDP: ICI
Site internet officiel de SAXON: ICI
VIP EXPERIENCE – BACK BY POPULAR DEMAND!!
VIP Experience on the upcoming UK/EU tour so here are the details:
–MEET AND GREET WITH THE BAND
–PHOTO TAKEN WITH THE BAND – YOUR CAMERA ONLY
–EXCLUSIVE VIP T – SHIRT***LINK FOR SIZE CONFIRMATION WILL BE SENT
–SIGNED 8X10 COLOUR PHOTO
–ACCESS TO SOUNDCHECK *** WHEN AVAILABLE- SOUNDCHECK MAY NOT BE AVAILABLE AT ALL SHOWS – YOU WILL RECEIVE DETAILS 48 HOURS PRIOR
To order your VIP PASS, click HERE: http://65.36.150.245/rockeventsonline/TourMasterPage2018.cfm?BandName=Saxon&TourName=SX-EU-Fall-2018
Important info: Please note concert tickets are not included and must be purchased separately!
Space is limited to 15 people per gig, so don't wait!