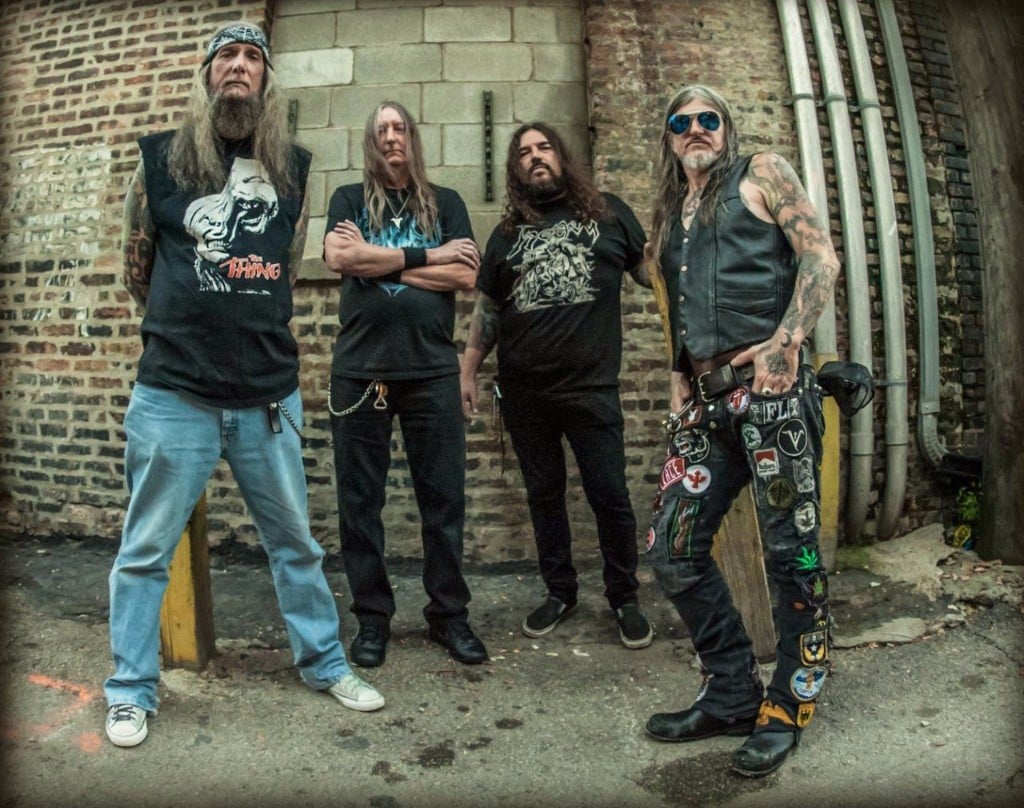 SAINT VITUS have announced more dates for their string of European shows this spring. The godfathers of American doom metal will be supported by Norwegian brothers in spirit TOMBSTONES and will kick off their tour at both the Desertfest editions in Germany's capital Berlin on the 28th and in London, UK on the 30th of April. The final curtain will fall at the Pokalen in Oslo, Norway on May 13th, but SAINT VITUS will return for a performance at the French Fall of Summer Festival in Torcy (close to Disneyland Paris) on the 8th of September.
.
SAINT VITUS Desertfest
28 Apr 17  Berlin (DE) Astra
30 Apr 17  London (UK) The Roundhouse
SAINT VITUS tour  (+ TOMBSTONES)
02 May 17  Oberhausen (DE) Helvete Metal Club
03 May 17  Wiesbaden (DE) Schlachthof
04 May 17  München (DE) Backstage
05 May 17  Schaffhausen (CH) Kammgarn
06 May 17  Tilburg (NL) Little Devil
07 May 17  Haarlem (NL) Patronaat
09 May 17  Osnabrück (DE) Bastard Club
10 May 17  Hamburg (DE) Hafenklang
11 May 17  Aarhus (DK) VoxHall
12 May 17  Karlstad (SW) Club Pebbles
13 May 17  Oslo (NO) Pokalen
.
SAINT VITUS have recently released what is only the second Live album of their long running career, which is quite aptly entitled 'Live Vol. 2'.
From the very first guitar chords, that unmistakable frying, sizzling, and wailing signature sound of Dave Chandler as well as the trademark deeply resonant vocals of Scott "Wino" Weinrich, any adherent of classic doom metal will immediately know: this is SAINT VITUS.
Despite having been around for more than 35 years, the American heavy legends are only now getting ready to release their second official live album after the 1990 seminal 'Live' record.
SAINT VITUS taped 'Live Vol. 2' during the tour for their acclaimed comeback album 'Lillie: F-65' (2012) at the Kulturfabrik in Esch-sur-Alzette, Luxembourg on March 19th in 2013. Album and tour marked the return of legendary vocalist Scott "Wino" Weinrich. The undisputed godfathers of American doom metal performed in front of many sold out venues in a triumphant harvest of long overdue laurels. Out of respect for their vintage heritage, SAINT VITUS chose to preserve the raw and pure live sound without cleaning up and patching with overdubs. As a result, 'Live Vol. 2' is a true live document.
Formed in 1979, SAINT VITUS were largely influenced by BLACK SABBATH, whose song "Saint Vitus Dance" obviously inspired the moniker. Since their debut album 'Saint Vitus' came out in 1984, the Americans have released seven more full-lengths and two EPs that are summarily considered to be classics of their genre.
'Live Vol. 2' will also be released as a special digipak edition containing a digisleeve as well as a triple gatefold vinyl, which are both strictly limited and will contain 'Marbles in the Moshpit'. This live recording from Ontario, Canada in December 1984 was previously available as a bootleg and on limited vinyl, and features the line-up Dave Chandler, Mark Adams, original singer Scott Reagers, and late drummer Armando Acosta, who sadly passed away in 2010.
If you feel like you were born too late, are thirsty and miserable, and dying inside, then just look behind you, lean back and ride those white stallions on 'Live Vol. 2'! SAINT VITUS will never be a waste of time!
.
FB page of the band : SAINT VITUS
.
Current live line-up :
Dave Chandler – guitar
Scott Reagers – vocals
Mark Adams – bass
Henry Vasquez – drums
.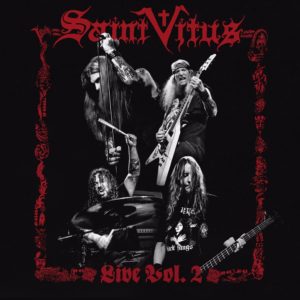 .