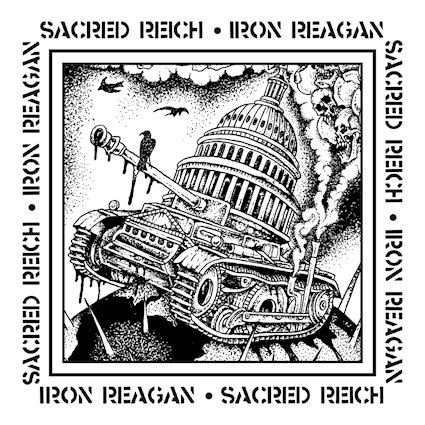 PARIS-MOVE, April 23rd 2019 – Sacred Reich releases limited edition 7″ vinyl.
Sacred Reich releases limited edition 7″ vinyl split with Iron Reagan, featuring new stand-alone track, "Don't Do It Donnie". The band to hit the road in the USA starting May 4th!
Legendary American Thrash Metallers Sacred Reich have finished recording their highly anticipated new studio album – a first in 23 years (!!) – entitled Awakening. The album is due this summer 2019!
Sacred Reich have released the stand-alone track "Don't Do It Donnie" digitally. The track will only be available physically as part of the limited edition split 7″ with Iron Reagan.
Comments Sacred Reich's Phil Rind: "We are stoked to do a split with Iron Reagan. When we began as a band in 1986, we were influenced lyrically by punk bands and the Reagan era. This is a great way to get back to our roots. The song is a heavy and cheeky middle finger to the politics of today. You'd think we'd have learned by now. There is a reason our first record is called 'Ignorance'."
Iron Reagan are participating with the exclusive song "They Scream". There will only be 1.000 black copies available of the 7″….!!!
Pre-order it now at Indie Merch, HERE
The new Sacred Reich album Awakening has been recorded with producer Arthur Rizk and engineer John Aquilino at The Platinum Underground in Arizona. Mastered by Maor Appelbaum at Maor Appelbaum Mastering, CA.
More details on Awakening shortly here on PARIS-MOVE.
Facebook page: HERE
Sacred Reich is a Phoenix, Arizona based thrash metal band that formed in 1985. Part of the second wave of thrash along with Testament, Death Angel, Destruction and Dark Angel, Sacred Reich has produced a catalog of politically charged aggressive music that has stood the test of time. The band plays a limited amount of shows each year and can be seen performing at several European festivals each summer.
Discography:
* Draining You of Life 1985- self-released demo * Ignorance 1987 LP – Metal Blade Records
* Surf Nicaragua 1988 EP – Metal Blade Records – CD version has two live bonus tracks
* Alive at the Dynamo 1989 Live EP – Roadracer Records
* The American Way 1990 LP – Enigma Records
* A Question 1991 EP – Hollywood Records
* Independent 1993 LP – Hollywood Records (Japanese Version includes Fear cover "Let's Start a War" as a bonus track)
* Heal 1996 LP – Metal Blade Records – (Japanese Version includes Fear cover "Beef Bologna" as a bonus track)
* Still Ignorant: 1987-1997 Live – 1997 Live LP – Metal Blade Records