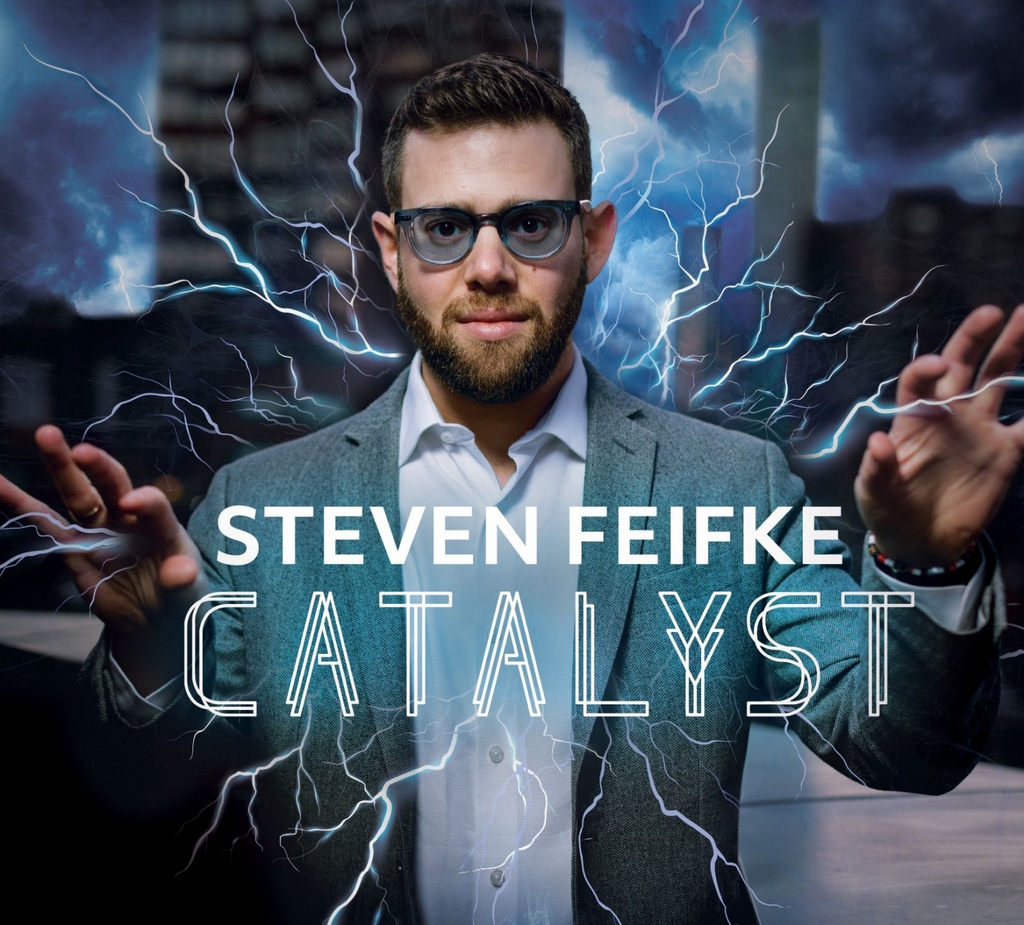 To know… right after Feifke's recent victory at the 2023 GRAMMY Awards: it was a historic first-time win for Steven Feifke, who became the youngest ever winner in the category of Best Large Jazz Ensemble Album, which has been in existence for six decades. The GRAMMY comes during an incredibly prolific period for Feifke – Catalyst will be his sixth album released in two years. Steven Feifke's music is recognizable above all, his way of managing large ensembles, very rhythmic and melodic, incorporating vocals, makes it a music that contagiously brings a smile to your face.
Steven declares, "I recognize myself more in the music I've written for Catalyst. It's closer to my heart. It's very personal music about things that I care about."
Matt Block, co-founder of La Reserve Records, agrees: "This is a level of vulnerability that we haven't heard from Steven yet. Each of his releases just keeps getting better and better."
All compositions are original, with moments of delicious retro vibes and luxurious arrangements. His danceable music intoxicates us until the end of the night, and it's a great thing to see the resurgence of large ensembles, each with a different style. Steven Feifke's style is closer to tradition than other large ensembles. Here, we can only applaud the work of all these artists:
REEDS: Andrew Gould, Alexa Tarantino, Lucas Pino, Sam Dillon, Carl Maraghi
TRUMPETS: Max Darche, John Lake, Benny Benack III, Gabe Medd
TROMBONES: Rob Edwards, Jeffery Miller, Javier Nero, Jennifer Wharton
GUITAR: Alex Wintz
PIANO: Steven Feifke
BASS: Dan Chmielinski
DRUMS: Bryan Carter
RECORDING ENGINEER: Roy Hendrickson
MIXING ENGINEER: Brian Montgomery
MASTERING ENGINEER: David Darlingto
The title track "Catalyst" featured on this album encapsulates all the songs, both in terms of its rhythm and the quality of the arrangements. It is one of the favorites of the editors at Bayou Blue Radio and Paris-Move.
Thierry De Clemensat
Correspondent in USA
Bayou Blue News – Bayou Blue Radio – Paris-Move
PARIS-MOVE, June 1st 2023
::::::::::::::::::::::::::