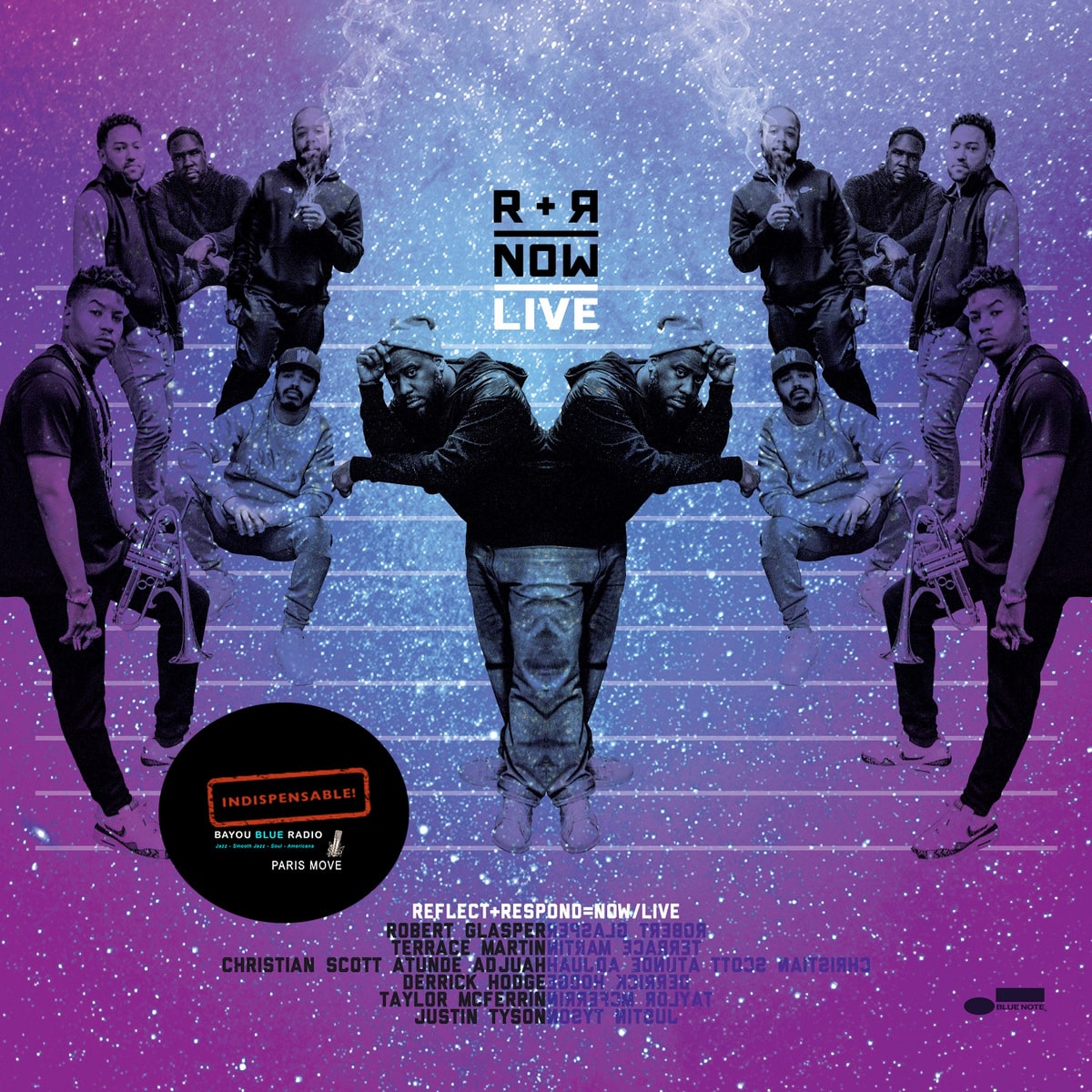 Behind the strange name R+R= NOW hides a supergroup, a few musicians that we, among others, consider some of the best jazz musicians in the world at this time:
Robert Glasper: Keyboards
Christian Scott aTunde Adjuah: Trumpet
Derrick Hodge: Bass
Taylor McFerrin: Synthesizer
Terrace Martin: Synthesizer, vocoder and alto saxophone
Justin Tyson: Drums
Not surprisingly, this live recording is available from the prestigious label Blue Note, as of February 5th.
But back to our story… on October 2018, Robert Glasper settled into the Blue Note Jazz Club in New York for a one month residency and a concert series with the new collective R+R= NOW, composed of all of the artists listed above. The group had recently released its first album, "Collagically Speaking," and the music had taken on new dimensions in concert, as we hear on "R+R = NOW Live," with several titles from the album reprised: "Change of Tone," "Resting Warrior", as well as "How Much a Dollar Cost" by Kendrick Lamar (co-written by Martin).
Glasper shed some light on the meaning of the title R+R= NOW: "R+R stands for 'Reflect' and 'Respond'," an idea that came to him via Nina Simone. Facing backlash for her politics, Simone was asked, more or less, why she didn't just shut up and sing. Her answer: "an artist's duty, as far as I'm concerned, is to reflect the times." Glasper adds: "When you reflect what's going on in your time and respond to that, you can't not be relevant. So 'R' plus 'R' equals 'NOW'."
Adjuah continues: "Everyone in this band is a six-foot-tall black guy who didn't come from an affluent background. In order for us all to make it into that room together, we've had to go through some hell, fight for some things, build up a lot of armor, and do a lot ourselves to forge our realities, to become who we are. We're all very aware of that, so anytime we get together, it's a celebration."
The editors of Bayou Blue Radio and Paris-Move have rated this album "indispensable", and like the latest from Shijin, which we wrote about recently, it best symbolizes the year 2021 and marks its place in the history of jazz and music.
Thierry Docmac
Translated by Ilene Martinez
Bayou Blue News – Bayou Blue Radio – Paris-Move
PARIS-MOVE, February 4th 2021
::::::::::::::::::
Order the album HERE
R+R= NOW – on Blue Note website HERE
R+R= NOW // Jazz à Vienne 2018 – Live: