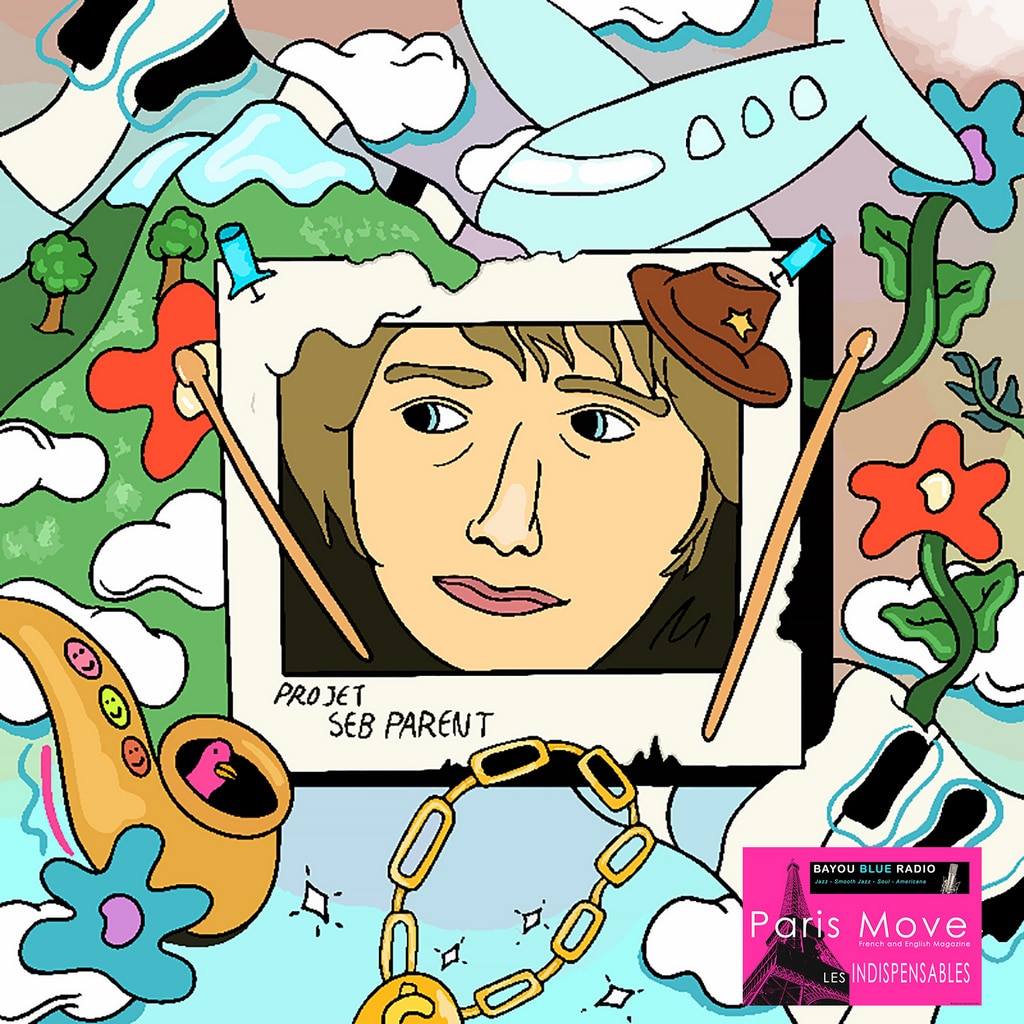 Seb Parent, of course, is the Montreal drummer Sébastien Parent, who was nurtured on rock to become a devotee of Big Band jazz, in which he puts a little, a lot, passionately, madly… from his rock culture, which is particularly evident on the first track of this CD.
The album was recorded entirely during the depths of the Covid pandemic, between the summer of 2021 and the winter of 2022. However, it is not a typical studio recording: each of the 18 musicians recorded their parts separately, at home in isolation. For some artists, this process might seem impossible due to the lack of real-time communication, but Parent took on the challenge with enthusiasm.
It is true that the rules during the pandemic were as absurd in Canada as in France, which, through many particularly negative effects produced by the policies pursued and which still have unfortunate consequences for the populations today… This forced a large number of artists to use their creative forces to survive and offer albums that have been released one after another for just over a year, and for many projects like this one, they are both beautiful successes with a sense of joyfulness that probably leans towards a desire for better days.
So it was 18 musicians, each in their own corners, who recorded this album, and the result is truly fascinating, ultimately offering an energized big band, with no title to be denied, as one takes pleasure from start to finish, to the point of wanting to see these 18 musicians open jazz festivals, just to inspire hordes of spectators to dance and hop to the rhythms of Seb Parent and his project…
Although very rhythmic, the melodies, arrangements, and the space given for the expression of the musicians make this album particularly lively and original. Therefore, it is with pleasure that I present this joyful team of musicians:
Sébastien Parent: Drums, Percussion, Programming, Synthesizers
Woodwinds: Louis Plouffe (Alto Saxophone), Florence Beauquier-Léger (Alto Sax, Flute on 2), Elisabeth Lajoie (Tenor Sax, Clarinet on 2), Jeremy Alie Leon (Tenor Sax, Soprano Sax on 6), Nathan Bissonnette, Baritone Sax,
Trumpet: Annie Lu (Feature on 2), Nathan Viens, Daniella Heidi Carbert, Nicolas Riverin
Trombone: Éric Dubé, Margaret Donovan, Morèna Jacques, Loïc Turgeon-Roy (bass tbn)
Piano: Cédric De Saint-Rome
Electric Guitar: Antoine Tousignant, Patrick Bourdon (solo on 6)
Electric Bass: Henri Bouchard (1, 3-6, 8)
Double Bass: Oscar Robertson (2, 5, 7)
This album has been hailed as "Indispensable" by the editorial staff of Paris-Move and Bayou Blue Radio.
Thierry De Clemensat
Correspondent in USA
Bayou Blue News – Bayou Blue Radio – Paris-Move
PARIS-MOVE, May 23rd 2023
::::::::::::::::::::::