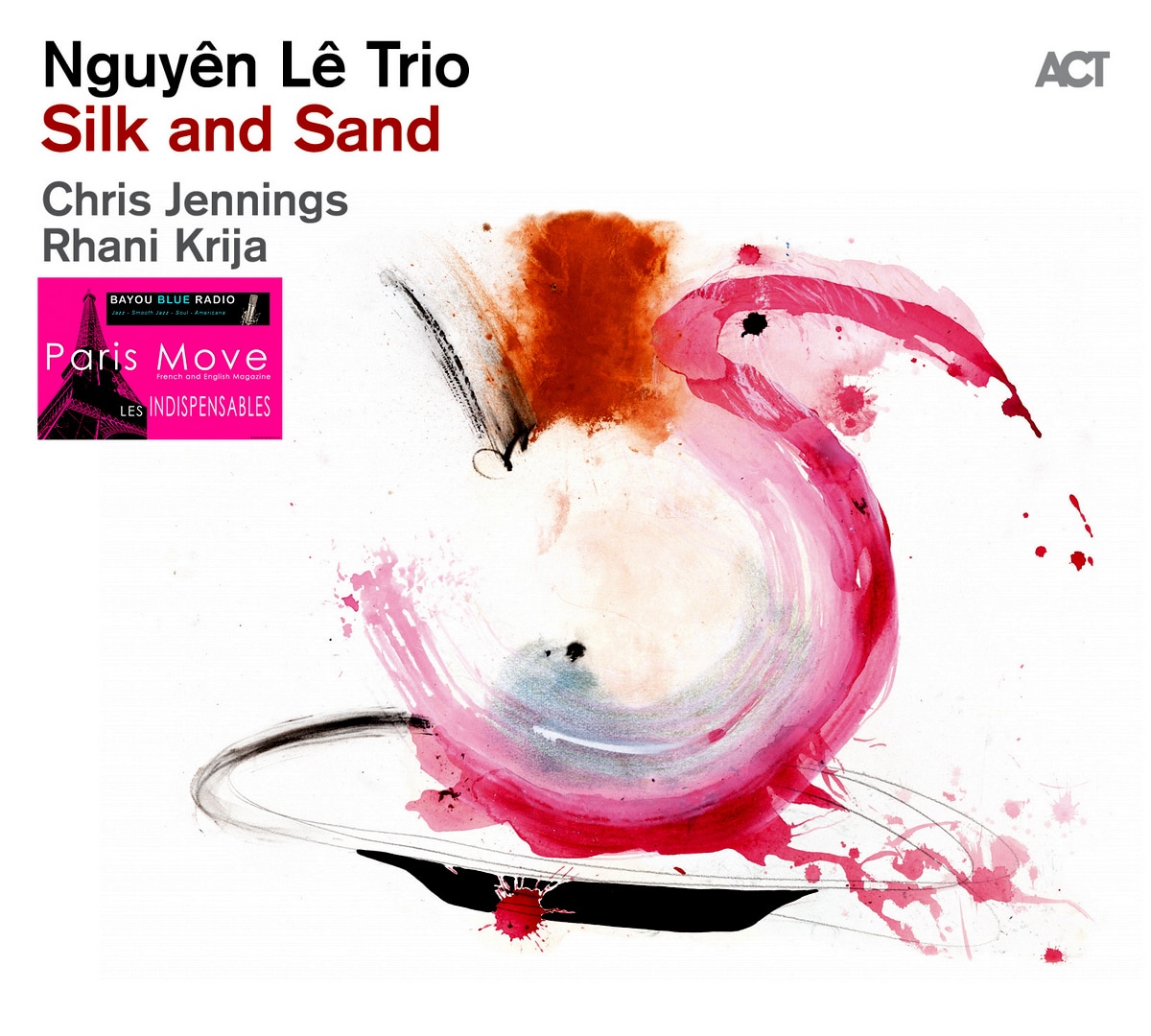 It has been a long time since we heard from Nguyên Lê, but when we wait patiently, things happen like this wonderful album Silk and Sand which is certainly one of the most innovative jazz/world albums I have had in my hands in recent years. With the excellent bassist Chris Jennings and the equally excellent Rhani Krija on percussion, this CD will quickly become an essential addition to your music collection.
It must be said that our friends Nguyên Lê and Chris Jennings have been working together for a long time, and the addition of Moroccan percussionist Rhani Kidja (Keziah Jones, Dominic Miller) to this recording, with whom Nguyên wanted to work for a long time. We find ourselves with a recording of nine works signed by Nguyên Lê who manages to surprise us with each album, helped in this by these two musicians who knew how to put their talent at the service of this fascinating project.
The magic of this album also comes from the guests. The basic trio with Jennings is joined for two of the most elegant pieces by Sylvain Barou on bansuri and duduk and by Miron Rafajlovic, who plays trumpet and bugle on "Moonstone". Lê's return to his beginnings as a source of inspiration for new ideas is clearly expressed by another guest who appears on Silk and Sand: Etienne Mbappé delivers an electric bass solo on "Baraka". The Cameroonian, known for his work with Joe Zawinul, John McLaughlin, Salif Keïta and others, was already a member of Lê's first group, Ultramarine. Thus, irresistibly and pleasantly, Lê's Silk and Sand is not just a simple piece of music. As always, Nguyên Lê weaves bridges between Asia, Africa and Europe, and between jazz, rock and world music…
But also between the past, the present and the future. It is also impossible not to praise the magnificent work accomplished by Chris Jennings, whose delicacy and poetry exudes at every moment on this album. The only regret, if any, is that the ACT label no longer provides us with CDs, as a relaxed listening is essential for such an album, and that is what we recommend (I do not think I am mistaken in saying that Nguyên could give you the same advice) with a glass of good whiskey in hand…
And it is certainly not by friendship that the Paris-Move and Bayou Blue radio teams have decided, with a common accord, to put the sticker of "indispensables" on the cover of this exceptional album.
Thierry Docmac
Correspondent in USA
Bayou Blue News – Bayou Blue Radio – Paris-Move
PARIS-MOVE, January 25th 2022
::::::::::::::::::::::