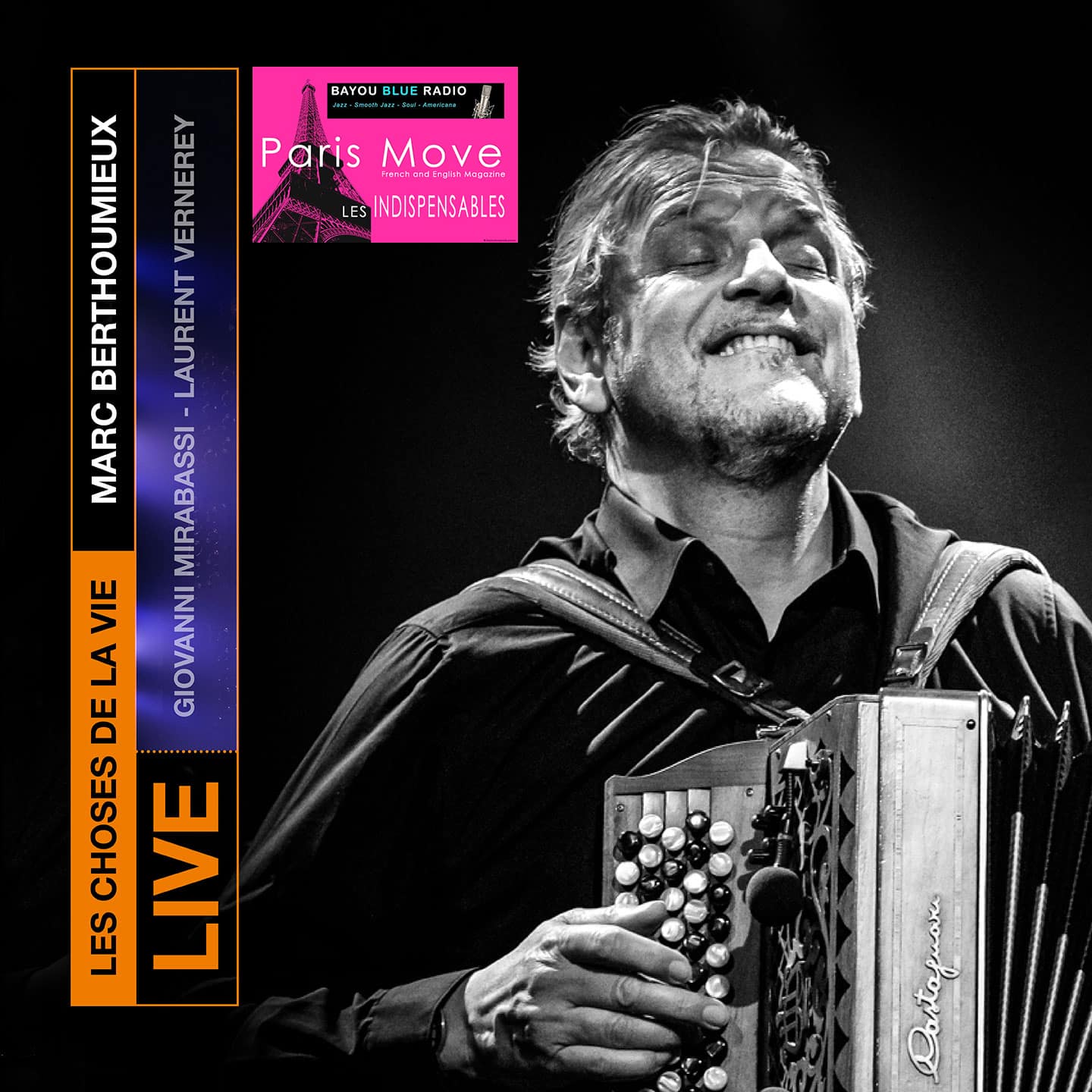 Marc Berthoumieux is one of the greatest French accordionists, as inspired as our friend Maxime Perrin, but in a different style, both with jazz and world music at heart. Following the prolonged deprivation of concerts, Marc Berthoumieux delved back into his archives and once again offers us an unreleased recording. This recording (there are also images) was made in 2014 during a private concert in a magnificent estate hidden in the Poitou region.
Bringing together musicians whom we particularly appreciate, pianist Giovanni Mirabassi and bassist Laurent Vernerey, we find all the joy of life that Marc transposes into his compositions and that perfectly succeed with his two accomplices. We are thus carried away into his universe, as if a friend is taking us by the hand for a weekend among friends, with beautiful music to which Marc Berthoumieux has accustomed us for a long time, and the good taste of having recorded live which gives a particular groove to this album, providing universal happiness.
So we take this opportunity to recall the beautiful references, the tasteful artists with whom Marc has shared the stage, starting with Claude Nougaro, or Khalil Chahine, Louis Winsberg, and of course Sixun and so many others…
Hearing so much complicity between the musicians on this album is a real treat, taking us into a "A la claire fontaine" turning like a "jazzified" refrain, vibrant enough to make the audience sing along to the melody.
This album is a story of complicity between artist and an audience who has certainly been following Marc Berthoumieux's musical adventures for a long time. The most impressive thing here is the concern for perfection that is found on both previous albums and live performances, this ability to move from festive moments to more nostalgic or poetic moments, as on the track "Aparte Au Fie".
There are some artists like that, with whom over the course of albums, a brotherhood has been established, as we can only respect their work in which we recognize ourselves a little, because their artistic language speaks to us, Marc is one of them.
A big thank you to Marc for once again trusting us. And naturally, this little gem is recommended by the editorial teams of Paris-Move and Bayou Blue Radio, receiving the "Indispensable" sticker.
Thierry Docmac
Correspondent in USA
Bayou Blue News – Bayou Blue Radio – Paris-Move
PARIS-MOVE, February 16th 2023
::::::::::::::::::::::