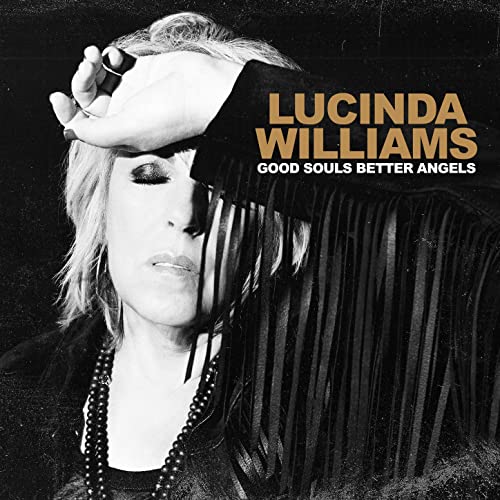 Mais quelle mouche l'a donc piquée? On l'avait quittée il y a trois ans, superbe et mélancolique lors de sa magistrale relecture de son "Sweet Old World" (paru un quart de siècle plus tôt), et voici qu'on la retrouve enragée, le mors aux dents! Car c'est bien la hargne et la morgue mêlées du jeune Dylan toxique ou du James Osterberg de "Down On The Street" que l'on distingue désormais chez Lucinda Williams, cette vénérable égérie d'une Amérique en déroute. Celle des déclassés et des relégués, ceux-là mêmes dont John Mellencamp et Springsteen célèbrent toujours la noblesse et les vicissitudes. Sans concessions ni le moindre compromis, la Williams joint ici le geste à la parole, et ça brûle littéralement comme de l'acide! Le triptyque introductif au vitriol que constituent "You Can't Rule Me", "Bad News Blues" et "Man Without A Soul" draîne son fiel à grandes rasades de napalm: la slide de Stuart Mathis y baigne sa saturation mordante dans une réverb qui en accentue encore la menace, tandis que la section rythmique fait rouler un tonnerre d'apocalypse. C'est que Lucinda Williams en a gros sur la patate, et pas pour les raisons traditionnelles de ses consœurs country. Heureuse en ménage (son manager de mari, Tom Overby, est de la partie), elle œuvre ici en commando restreint, sous l'égide du producteur Ray Kennedy (celui de son classique "Car Wheels On A Gravel Road"). C'est à son pays qu'elle a mal, et la cible de ses invectives n'est guère difficile à discerner: "tu n'apportes rien de bon à ce monde, au delà d'un réseau de tricherie et de vol, tu te caches derrière un mur de mensonges" lance-t-elle ainsi à ce "Man Without A Soul" dont la planète entière connaît les turpitudes. "Wakin' Up" sonne même comme un appel à l'insurrection dont Patti Smith aurait pu être l'auteure: tout d'invective et de bave aux lèvres, aucun rappeur actuel n'approche la véhémence de ces réquisitoires en punchlines assassines, tandis que derrière elle, la guitare et les percussions mêlent des sons quasi-indus à un tom-tom diddley-esque. "Nobody Can Save You From Yourself" assène-t-elle encore sur le prémonitoire "Pray The Devil Back To Hell" (lui aussi zébré d'une guitare abrasive), et seuls les splendides (bien que non moins sombres) "Big Black Train", "Shadows And Doubts", "When The Way Gets Dark" et "Good Souls" accordent de furtifs répits sonores, en reprenant la facture americana qui l'a consacrée dernière reine en date du genre. La rage lui va si bien qu'elle n'a peut-être jamais si bien chanté, tandis que son band applique les leçons de Ron Asheton, en défouraillant la wah-wah sur les stoogiens "Bone Of Contention", "Down Past The Bottom" et "Big Rotator". Avec ce disque coup de poing en forme de doigt d'honneur et de cocktail-molotov, Lucinda Williams restaure le rock n' roll dans sa fonction première: désigner l'ennemi et lui coller un bon coup dans les parties. "Something is happening here, but you don't know what it is. Do you, Mr Jones?". N'ayons pas peur des superlatifs: un incontestable chef d'œuvre, un vrai…!!! Un "indispenable"!!!
Patrick Dallongeville
Paris-Move, Blues Magazine, Illico & BluesBoarder
PARIS-MOVE, April 2nd 2020
::::::::::::
Order HERE  your CD and/ or Black vinyl 2LP and/ or Limited Vinyl Double LP (Limited edition, indies only translucent opaque vinyl LP on Highway 20. Includes exclusive bonus acoustic demo tracks!).
'Good Souls Better Angels' Tracklisting:
1. You Can't Rule Me
2. Bad News Blues
3. Man Without a Soul
4. Big Black Train
5. Wakin' Up
6. Pray the Devil Back to Hell
7. Shadows & Doubts
8. When the Way Gets Dark
9. Bone of Contention
10. Down Past the Bottom
11. Big Rotator
12. Good Souls
On LP Only (Side D):
1. Bad News Blues (Acoustic Demo)
2. Pray the Devil Back to Hell (Acoustic Demo)
3. You Can't Rule Me (Acoustic Demo)
4. Man Without a Soul (Acoustic Demo)
5. Wakin' Up (Acoustic Demo)