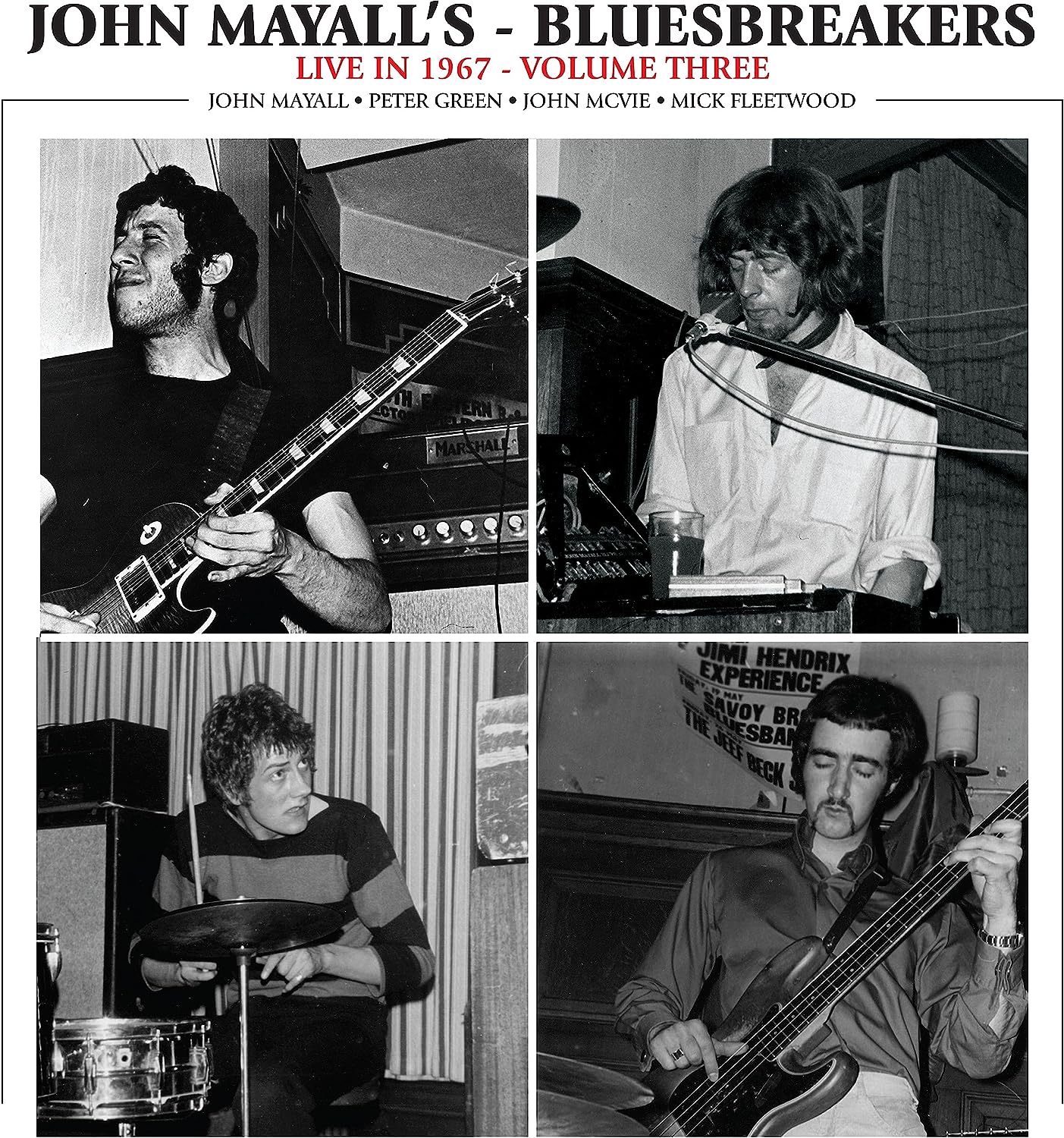 Il y eut, certes, il y a peu de temps, le formidable coffret "John Mayall – The First Generation 1965 – 1974", mais cela n'a rien à voir avec les 3 volumes de "John Mayall's Bluesbreakers, Live In 1967". Il en vu passer, du beau monde dans ses Bluesbreakers, Monsieur Mayall, et l'opportunité d'écouter en live ces compères-là est quand même quelque chose d'exceptionnel…!! On y retrouve John Mayall, chant, harmonica et orgue, Peter Green à la guitare, mais aussi John McVie à la basse et Mick Fleetwood à la batterie… juste avant qu'ils ne s'en aillent former leur fameux Fleetwood Mac. Je dirais bien que tout est écrit mais je ne résiste pas à vous lister les titres des 8 morceaux proposés ici:
1 Brand New Start (Manor House)
2 Tears In My Eyes (Manor House)
3 Stand Back Baby (Bromley)
4 Greeny (Ram Jam)
5 Talk To Your Daughter (Klooks Kleek)
6 Your Funeral And My Trial (Manor House)
7 The Stumble (Manor House)
8 Double Trouble (Bromley)
C'est Eric Corne, technicien du label Forty Below Records qui a restauré les bandes magnétiques que John Mayall a obtenues après plus de 50 ans sans qu'elles ne soient écoutées par quiconque. Corne précise d'ailleurs que: "Bien que l'enregistrement source soit très approximatif et que le résultat final ne soit certainement pas de la haute fidélité, il réussit à nous permettre d'entendre à quel point ces performances sont spectaculaires." Le label remercie chaleureusement un certain Tom Huissen qui , au cours de l'année 1967, allait de club en club avec son magnéto capter le groupe en direct! Un document historique inestimable!
Dominique Boulay
Paris-Move & Blues Magazine (Fr)
PARIS-MOVE, September 10th 2023
::::::::::::::::::