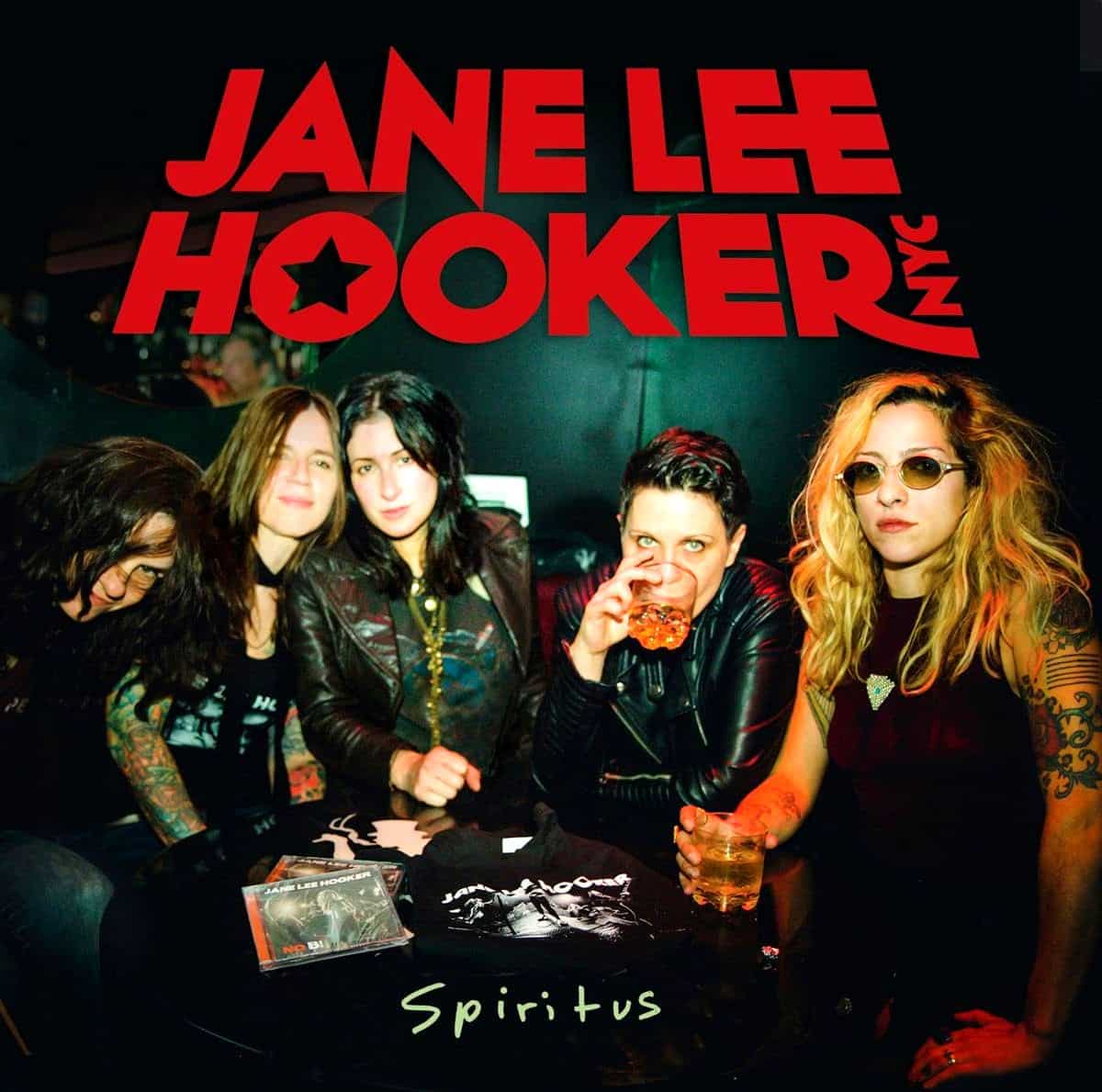 Depuis Birtha, Fanny, les Runaways, Bangles, Go-Go's, Donnas, Ladies Ballbreakers et autres Sirens, les groupes de filles ne constituent plus vraiment une curiosité. Sauf si un jour, d'aventure, au lieu de s'avérer juste le nième coup de producteurs/managers véreux, toujours prompts à monter une attraction de plus pour frustrés en manque de chair nubile à reluquer, un vrai gang de filles non préfabriqué avait l'heur de voir le jour. À ma connaissance, ce n'est arrivé qu'une fois, avec les Slits. Et ces dernières en ont payé le prix fort au pays du rock (l'un des bastions les plus fortifiés du machisme exacerbé de nos sociétés contemporaines). C'est avant tout sous cet angle que JANE LEE HOOKER (ce nom!) ébranle nos certitudes. Malgré un concept transpirant à priori le même plan marketing que les entreprises du show-biz ci-dessus évoquées, ces cinq nanas (certes jolies) semblent non seulement jouer de leurs instruments autant que de leurs charmes, mais composent désormais leur propre répertoire, après un premier album surtout remarqué pour ses adaptations de standards blues ("Mannish Boy"!). Si leurs références paraissent les situer dans le continuum du rock anglo-saxon à guitares des seventies, elles possèdent en Dana Athens une vocaliste de premier ordre, tout autant capable d'éructer le blues-rock qu'une ballade aussi soulful que la terrassante "How Bright The Moon". La paire de guitaristes que constituent Tina Gorin et Tracy Hightop lorgne parfois si fort vers le Thin Lizzy des origines qu'on croirait y entendre le pendant féminin de Scott Gorham et Gary Moore. Les quelques covers encore présentes ("Black Rat" de Big Mama Thornton ou "Turn On Your Love Light" de Don Robey) témoignent d'un véritable ancrage historique. Ce quintette de NYC n'en est cependant qu'à ses débuts, et pourrait bien dévaster quelques scènes avant de rendre gorge. Remplacer "balls" par ovaires n'a donc désormais plus grande importance (puisque la température demeure la même), et groupie pourrait bien désormais se conjuguer au masculin!
.
Patrick Dallongeville
Paris-Move, Blues Magazine, Illico & BluesBoarder
:::::::::::::::::::::::::::::::::::::::::::::::::
Et nous voilà embarqués pour plus de 45 minutes avec une bande de filles qui n'ont pas froid aux yeux et aux oreilles, et qui maîtrisent le Blues Rock et le Hard Blues de manière indéniable. Leur cadeau en ces fêtes de fin d'année? Dix compos sur le deuxième opus de cette formation composée de cinq filles originaires de New York City. Matt Chiaravalle a produit une galette brute de fonderie qui restitue fidèlement le son et l'ambiance Live que jouent les 5 filles: Dana "Danger" Athens au chant et aux claviers (piano, orgue), Racy "Hightop" Almazan à la guitare, Tina "T-Bone" à la guitare, Melissa "Cool Whip" Houston à la batterie et "Hail Mary" Zadroga à la basse. Inutile de préciser qu'à l'écoute de cet album on sent que les deux guitaristes sont méga-fans de Johnny Winter et de Lynyrd Skynyrd, et qu'à l'instar d'Obélix, le quintet est tombé dans la marmite… pleine de Humble Pie. Quand vous saurez que Hightop soutient à fond son fils (de 13 ans, hé oui!) qui joue lui aussi dans un groupe, vous comprenez alors que les Miss ont non seulement déjà bourlingué et accumulé des 'miles' de scène, mais que cette expérience leur assure une crédibilité qui fait défaut à pas mal d'autres…
.
Dominique Boulay
Paris-Move & Blues Magazine (Fr)
.
Site officiel de RUF Records: ICI
Pour commander "Spiritus" de JANE LEE HOOKER: ICI
Biography:
(from their Facebook page: HERE)
.
Jane Lee Hooker is a band of five women from New York City who infuse the grit and attitude of their hometown into the blues.
With double lead guitars, a hard-driving rhythm section, and soul-scouring vocals, Jane Lee Hooker honors the likes of Muddy Waters, Howlin' Wolf, Johnny Winter, Big Mama Thornton, and other blues greats. Few bands today deliver the goods with as much raw soul as JLH.
Since forming in 2013, Jane Lee Hooker has graced many notable stages including NYC's B.B. King Blues Club, Irving Plaza and the Highline Ballroom, Mountain Jam 2016, El Cid (L.A.), Pappy & Harriet's (Pioneertown, CA), the Continental Club (Houston), and Antone's Record Shop (Austin). They've shared bills with Wilco, Beck, Courtney Barnett, Southside Johnny & the Asbury Jukes, Bernard Fowler (Rolling Stones), the Wailers, Davey Knowles, and the Death Valley Girls, among others.
These women are by no means new to the game. Between them, they have decades of experience in the studio and on the road. Individually, the members of Jane Lee Hooker have played for thousands of fans while sharing bills with bands like Motörhead, MC5, Lynyrd Skynyrd, Aerosmith, and Deep Purple.
So how'd this gang of pros find each other? Guitarists Hightop and T-Bone honed their love of blazing dual leads in Helldorado in the '90s. From there, Hightop joined Nashville Pussy, T-Bone joined Bad Wizard, and both women toured the world. But when their time with those bands ended, they realized they really missed the rush of trading guitar solos with one another, leaving audiences howling with joy.
But first they needed a band. They quickly recruited Hail Mary, who played bass with Hightop in the punk band the Wives. Cool Whip sat behind the drum kit and got the nod before she even finished slamming out the first song of her audition. And no singer can bring a crowd to its knees harder or faster than Dana "Danger" Athens.
Nominated for The Deli's Best of 2014 Poll for Emerging NYC Artists, Jane Lee Hooker is a blistering blues monster capable of whispering in your ear before stomping on your heart.