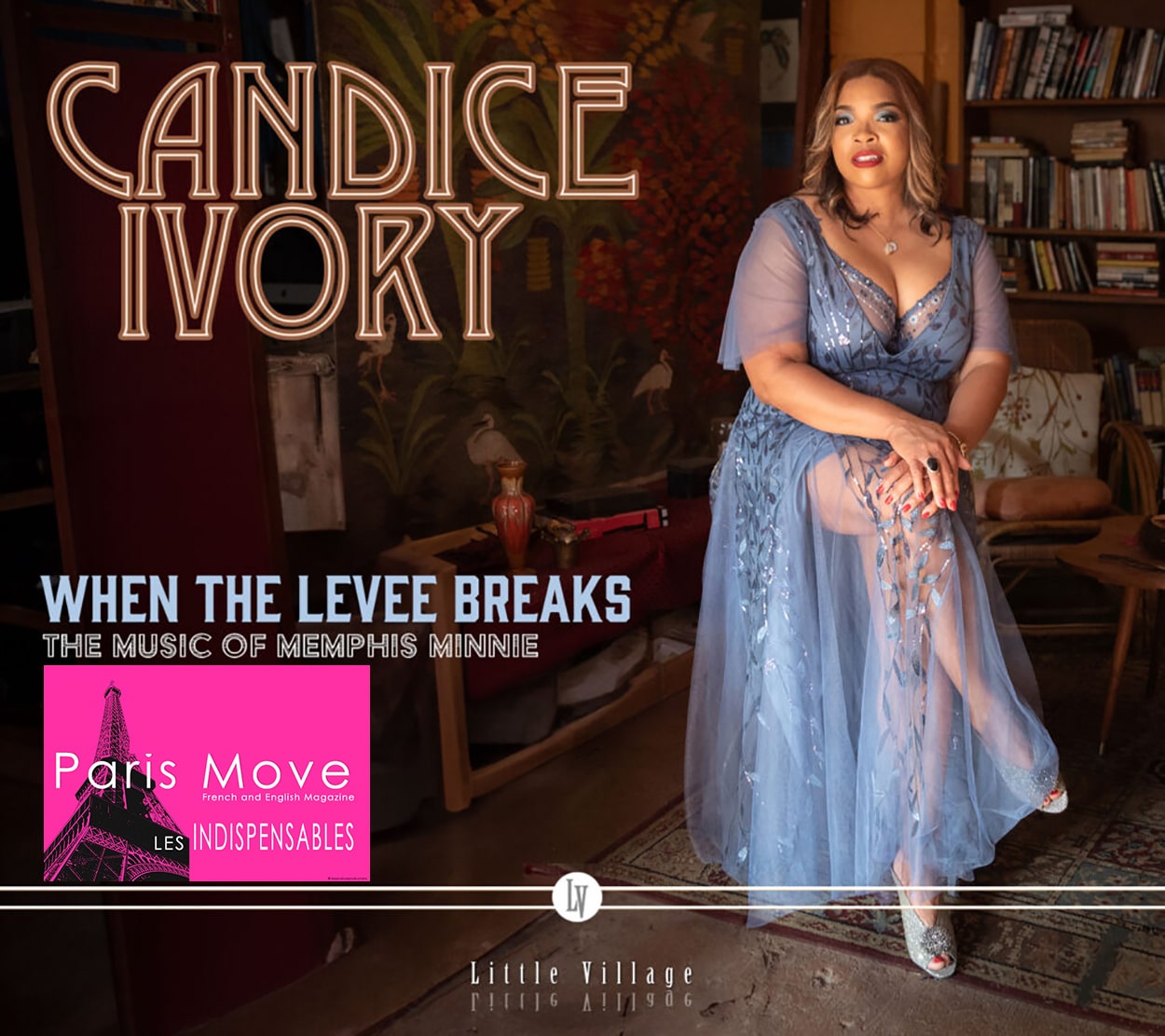 Once again, it is thanks to our friend Gilbert Guyonnet, a renowned blues expert from the ABS Magazine/ Radio Clapas in Montpellier, France, that this album has reached us. It is the third album from this highly authentic singer. "When the Levee Breaks" brings together all her formative musical experiences in a tribute to Memphis Minnie (1897-1973). A heartfelt homage to Memphis Minnie that I invite you to rediscover here with the track "Me and My Chauffeur," which is also the opening track of Candice Ivory's new album.
Far from wanting to draw comparisons between these two great artists, I simply wish to show you that Candice Ivory, instead of imitating her predecessor, has embarked on a reinterpretation of the song, making it perfectly relevant today. In fact, this entire album shines through Candice Ivory's artistic vision.
The importance of reviving these songs in a time when right-wing puritanical America may regain power takes on its full significance, for against human folly and racism, nothing is ever guaranteed. In this sense, this album also commands respect for its intelligence. And for a little background, Candice was raised in Memphis and settled in St. Louis. Candice Ivory comes from an illustrious family of musicians who shaped the secular and sacred sounds of Memphis. Her great-uncle was the singer and guitarist Will Roy Sanders of the Fieldstones, one of the leading blues groups in Memphis from the 1970s to the 1990s. Ivory grew up in the church, and by the age of eleven, she was singing in a choir that included the future R&B superstar D'Angelo.
With a deep voice, Candice Ivory retraces the history of Memphis Minnie, a commendable effort carried out with mastery, touching, and moving, which commands admiration. Besides her own life journey, one can consider that Candice Ivory, by making such an artistic choice, is also doing valuable intellectual work to preserve collective memory—a necessary memory, marked by the pain of a people who managed to rise above the worst and gain international respect through their cultural contributions. No other community has contributed as much to 19th and 20th-century music and the arts as the African American community.
A form of blues transcended by a contemporary artist, a pure artistic marvel, and well beyond the blues, an album for all those who love the beauty of art.
Thierry De Clemensat
USA correspondent – Paris-Move
Editor in chief Bayou Blue Radio, Bayou Blue News
PARIS-MOVE, September 24th 2023
::::::::::::::::::::::::::