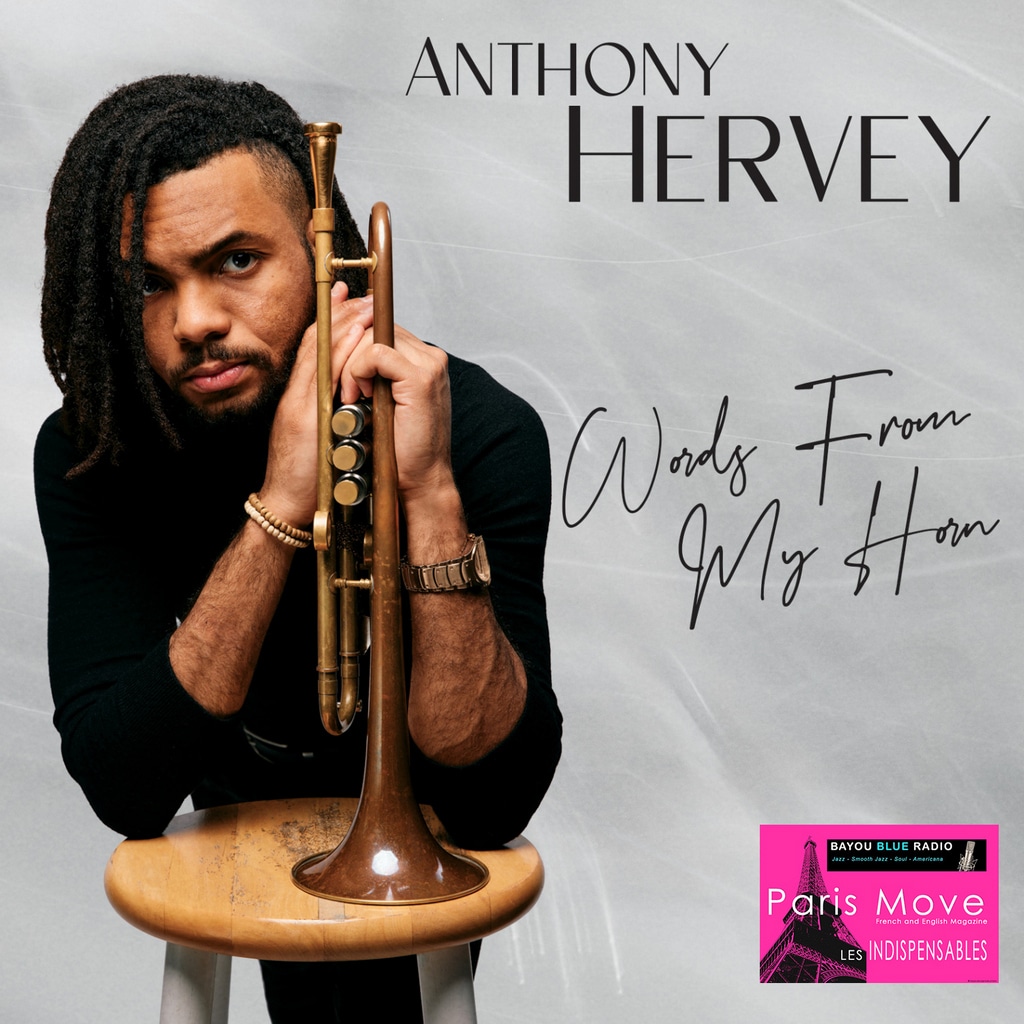 A beautifully found title for an album that is indeed beautifully written, enhancing the personality of this artist. One can feel the joy of writing, the arrangements, and a sense of humor in the playing of this composer/trumpeter, and the pleasure remains intact from the beginning to the end of this album.
This is the debut album of trumpeter Anthony Hervey, who demonstrates great artistic maturity. Recently selected as one of the top 10 emerging jazz artists to watch in 2023 by Grammy.com, Hervey has impressed audiences worldwide by performing alongside personalities such as Christian McBride, Jon Batiste, Michael Bublé, and Wynton Marsalis, who described Hervey as a "magnificent first-class trumpeter." This 12-track debut album, both deeply soulful and cerebral, showcases the compositional voice of the trumpeter through personal, musical, and spiritual memories. Produced by the powerful drummer Ulysses Owens Jr., Words From My Horn highlights Hervey's soaring trumpet alongside alto saxophonist Sarah Hanahan, pianists Isaiah J. Thompson and Sean Mason, bassist Philip Norris, and drummer Miguel Russell.
Words From My Horn justifies the idea that sound is a lived experience. Indeed, the fairytale quality of Words From My Horn distills a sonic perspective on the trumpeter's life. Thematically, the album meditates on the impact Hervey's mother and grandmother had on his upbringing, his hometown of Terre Haute, Indiana, and the concept that hope can prevail in the face of harsh realities.
We love the variety of tracks on this album, taking us from one universe to another without ever being pretentious, always in its rightful place, and surrounded by remarkable musicians, including Phillip Norris on bass, Miguel Russell on drums, Isaiah J. Thompson on piano, Sean Mason also on piano on track 5, and Sarah Hanahan on alto saxophone. The cohesion of this group is impressive, and there is no doubt that a very promising career lies ahead for Anthony Hervey, whom you can also see playing a prominent role as an actor and trumpeter in the anthology series "Monsterland," airing on Hulu.
The editorial teams of Bayou Blue Radio and Paris-Move highly recommend this album, which we classify as one of our 'Indispensables'.
Thierry De Clemensat
Correspondent in USA
Bayou Blue News – Bayou Blue Radio – Paris-Move
PARIS-MOVE, May 18th 2023
::::::::::::::::::::::