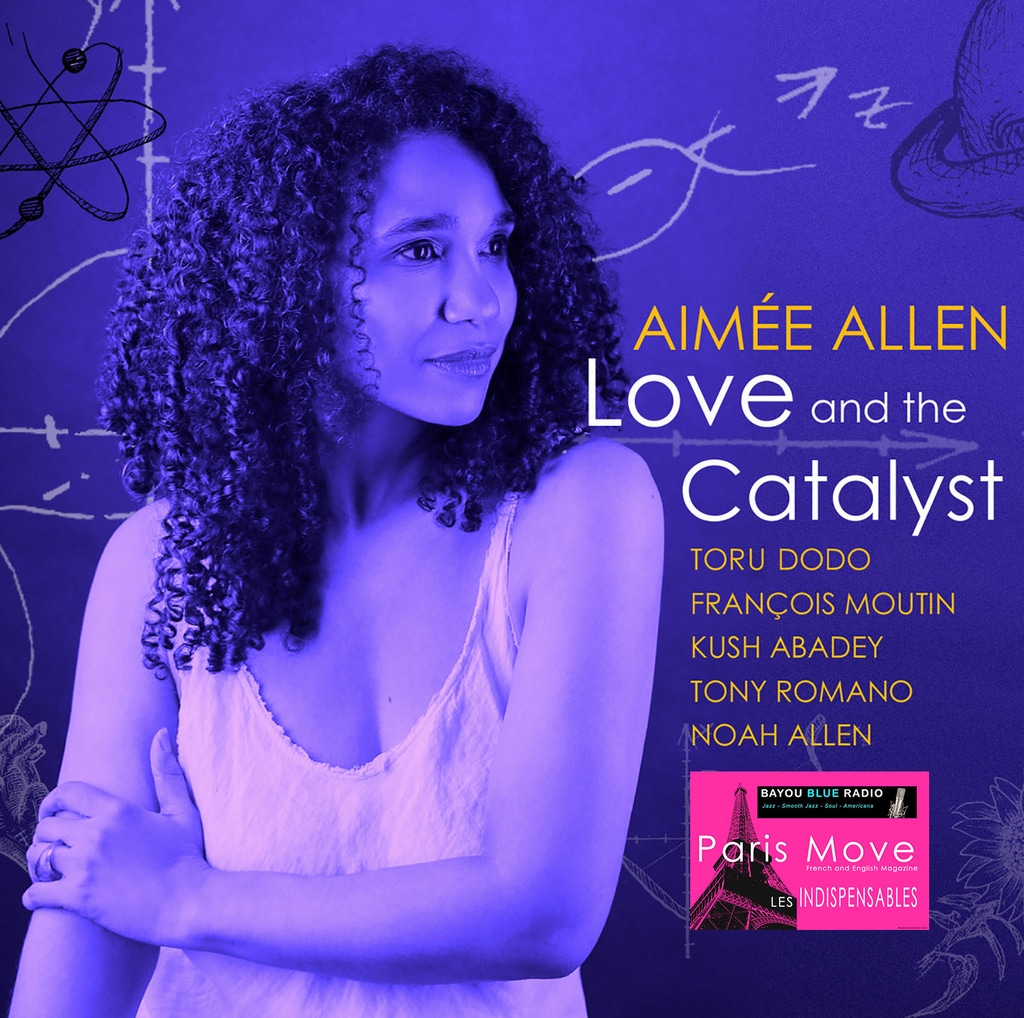 This excellent album marks the beginning of our collaboration with Kari On Productions, which is home to many great artists. In the large pile of CDs we received, which we will discuss soon, one of them immediately caught my attention upon seeing the name François Moutin on the cover. This French double bassist, based in New York, is always involved in excellent projects, starting with his own.
Aimée regularly performs in New York and abroad, having toured in France, Italy, Russia, and Senegal. Standards and bossa nova are part of her repertoire, but as an accomplished singer-songwriter, she also performs her original compositions, many of which have become audience favorites. Her original music has been licensed for feature films and television channels. She has performed with many renowned musicians, including Romero Lubambo, Ron McClure, François Moutin, Roswell Rudd, Ari Hoenig, and Yomo Toro.
An excellent vocalist surrounded by Toru Dodo, François Moutin, Kush Abadey, Tony Romano, and Noah Allen, a great team that ensures that every track on the album is full of delicious moments, both musically and vocally. Everything is done to ensure that this beautiful jazz voice bounces effortlessly on each track of this album with this very homogeneous group that clearly gives wings to Aimée Allen, who seems to take some risks and completely let go in her interpretation, which for me is completely enjoyable.
Although the titles have a classic appearance, they are projected in a vocal modernity that provides a real pleasure to listen to. We also appreciate the emphasis on the music on this album, which provides an excellent balance between voice and instruments. The acoustic aspect makes the whole thing timeless and allows for a real listening experience. The order of the tracks on the album also approaches perfection, marking an interesting progression between the first and the last track.
So it is with beautiful music and a beautiful voice in mind that the Bayou Blue Radio and Paris Move editorial teams have classified this album as essential.
Thierry Docmac
Correspondent in USA
Bayou Blue News – Bayou Blue Radio – Paris-Move
PARIS-MOVE, March 15th 2023
::::::::::::::::::::::