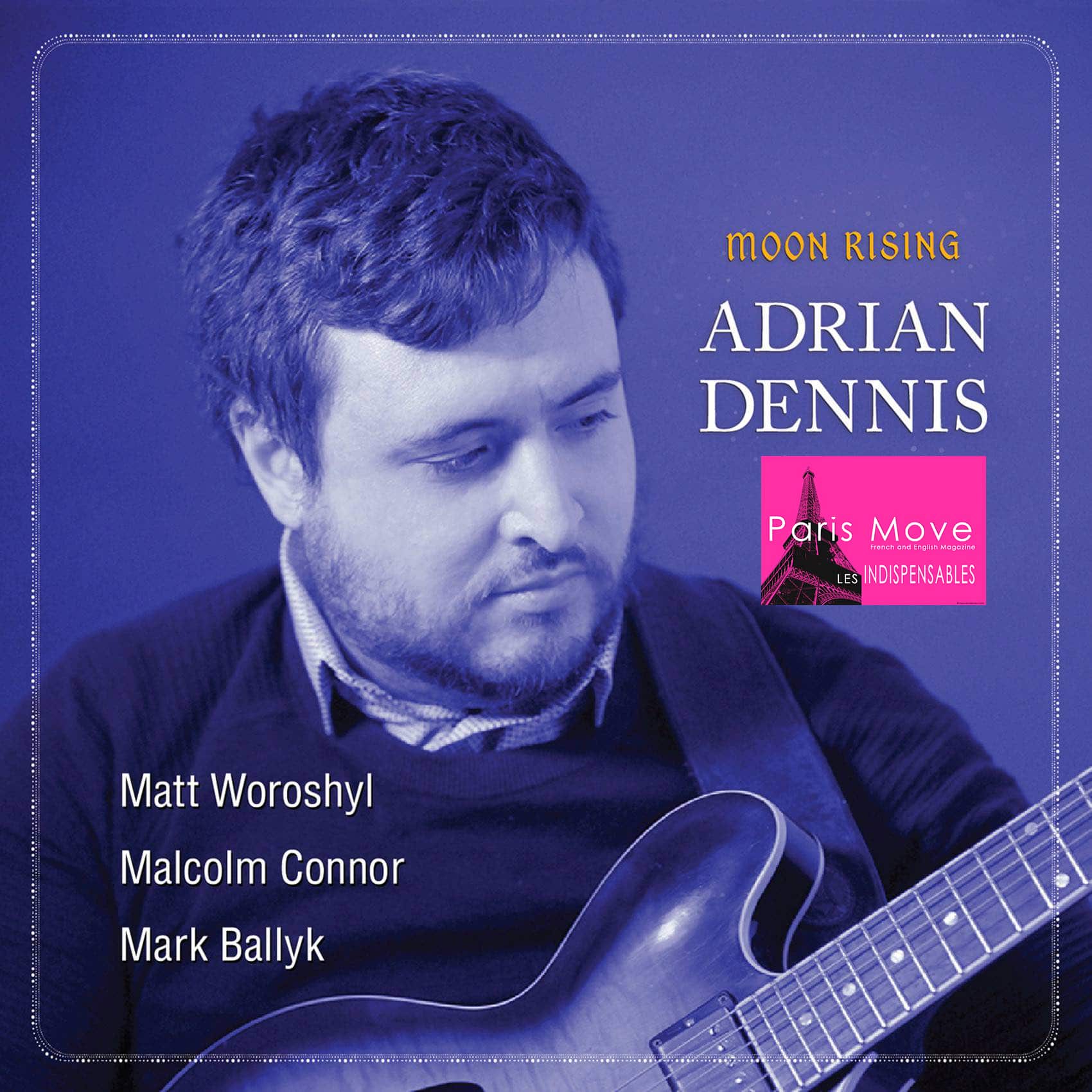 Listening to this album, I primarily consider Adrian Dennis as a composer. Indeed, the guitar is one element among the other musicians (Matt Woroshyl: saxophone, Malcolm Connor: bass, Mark Ballyk: drums) on these original compositions that are truly fascinating. "Rising Moon" features seven original compositions by Adrian Dennis, and the album explores a wide range of musical textures and complex harmonic landscapes. It highlights his developed melodic voice as a composer and improviser. The seven compositions offer a unique perspective on contemporary modern jazz, flawlessly performed by Adrian's quartet.
Let's not attempt to compare Adrian Dennis with another musician or composer; he has his own universe that hovers between intellectualism and poetry. At times, on certain themes, we could even speak of a genuine philosophical work if we try to connect the titles of this album and their atmospheres. Take a moment to listen deeply, with each instrument being a character here. It's up to you to dream them, make them your own, and apply the faces and settings that these compositions inspire.
All the musicians on this album are impressive, true to their approach and vision. This group has a special aura, the kind you find in musicians with extensive stage experience and encounters with other great artists. There's also a cultural aspect to Adrian Dennis's music. High-level jazz always has a distinct footprint, and one can usually tell whether it's European, American, or Canadian jazz. It's likely that the landscapes and sounds that surround us in childhood leave a lasting mark.
This is not easy jazz; it's complex jazz. However, it doesn't forget that it needs to intellectually engage a diverse audience. Those who listen deeply to this album will find just as much enjoyment as newcomers. It's one of the most beautiful albums I've heard this year, inspiring because it's different. It's not trying to please or be just another musical calling card for playing on various stages. Here, artistic integrity takes precedence, a rule that the editorial teams of Bayou Blue Radio and Paris – Move respectfully acknowledge by affixing their "Essential" sticker.
Thierry De Clemensat
USA correspondent – Paris-Move
Editor in chief Bayou Blue Radio, Bayou Blue News
PARIS-MOVE, September 10th 2023
::::::::::::::::::::::::::