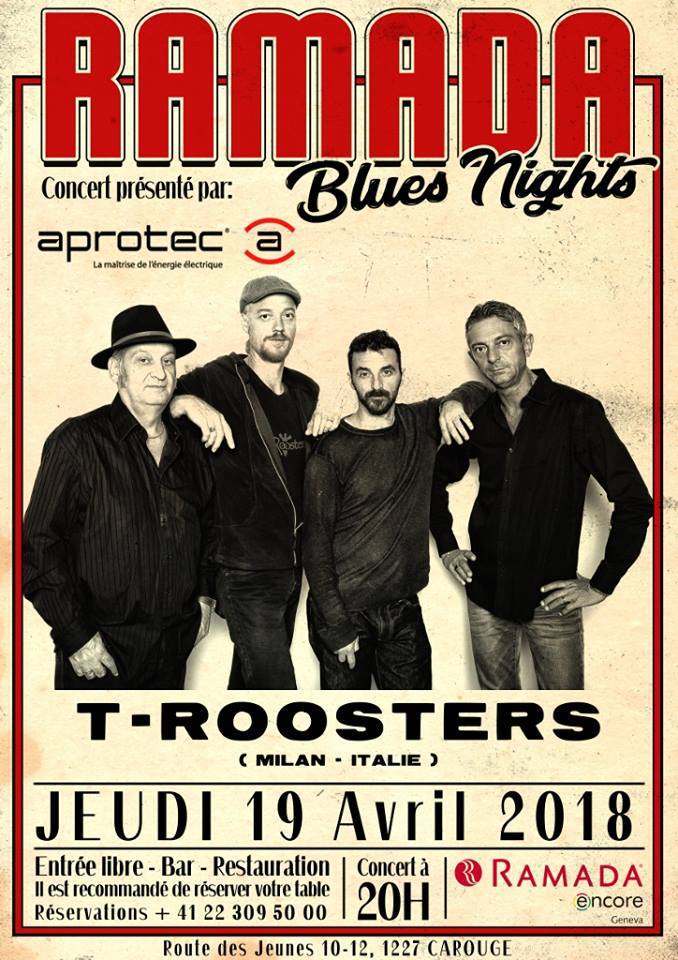 Aprotec SA with Ramada Encore Geneva proudly presents T-Roosters!
The Legend continues: another great blues night in Geneva, Switzerland. The Ramada Encore Genève à la Praille is happy to offer you the concert of The T-Roosters next Thursday April 19th. The Ramada Blues Nights are becoming a must see in the Geneva region!
Free admission, Thursday April 19th 2018
Ramada Encore Geneva
Route Des Jeunes 12
1227 Carouge – Geneva – CH
Contacts and Reservations: +41 22 309 50 00
The T-Roosters Blues Band is born from the love and passion of four musicians for African-American music, starting from its origins to modern times. For this reason, Tiziano "Rooster" Galli (Guitars and Vocal), Lillo Rogati (Bass), Giancarlo "Silverhead" Cova (Drums and percussion) and Marcus "Bold Sound" Tondo (Blues Harp), has been active on the Italian blues scene and also overseas.
PARIS-MOVE presented you the T-Roosters HERE
Everything begun with the collaboration between Tiziano "Rooster" Galli and Paolo Cagnoni as author and co-author of all the songs on the CD. They present an autography on the world wich we live, with intimate looks into the private feelings of both musician and listener. Our fears, our hopes, our loves and the uncertainties of everyday life are offered up as songs.
The first CD "Dirty Again" was a success, that brought them to USA. The International Blues Challenge in 2016, Memphis Tennessee, was a high point of growth, supplying concrete, enthusiastic answers to their music. There, in the homeland of the blues, where this music was born, they were accepted with open arms as a band with an international language that everyone understand.
Their new work, "Another Blues to Shout" was born by blending the groups respect for the traditional afro-american sound with that of the Blues, Soul, R'&'B, Boogie and Southern Music. Mississippi is naturally the sacred heart and point of reference of the Blues and therefore they add a touch of "hot sauce" and lots of southern spice. This artistic journey has lead to frequent live shows as well as T-Roosters many hours in the studio. The pathway is constantly more solid and more worldwide. As Antonio Avalle writes on the CD cover: "music becomes an experience without precedence, seen through a rare form of the Blues, extracted from the world troubles".
Concert organized in collaboration with A-Z Blues
Official website of the band: HERE
Complete discography: HERE