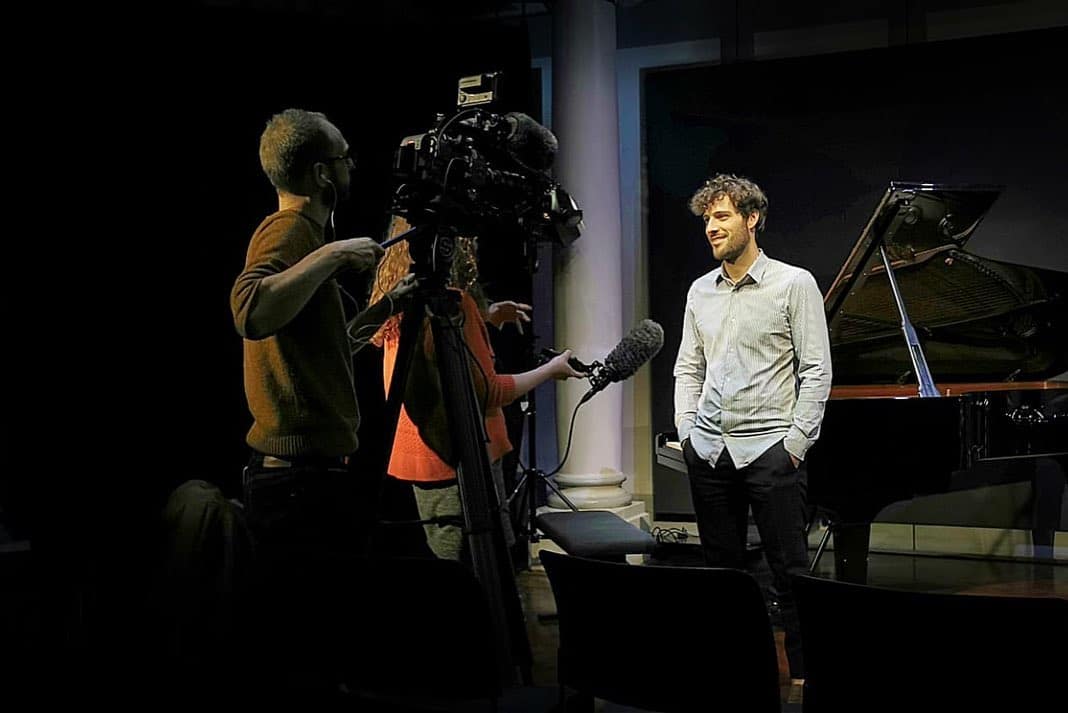 Interview with Jean-Philippe Koch of the band Dock In Absolute
Conducted by Thierry De Clemensat
USA correspondent – Paris-Move
Editor in chief Bayou Blue Radio, Bayou Blue News
Dock in Absolute is the band led by pianist Jean-Philippe Koch, who made a strong impression on us with their upcoming album "Reflekt." This was reason enough to take a moment to chat with Jean-Philippe, who graciously agreed to this interview.
Thierry: Hello Jean-Philippe, the first question I'd like to ask you is about how you met your fellow musicians, which also gives you the opportunity to introduce them to us.
Jean-Philippe Koch: Hello Thierry, I met David Kintziger, the bassist of the trio, at the Liège Conservatory in 2013 during my specialized project at the Royal Conservatory of Liège, where we arranged Bach's Italian Concerto in a jazz version. We then collaborated on a collective project with singers performing Boris Vian's music. Later on, I invited him to join me in the early days of Dock In Absolute, which started strongly with numerous concerts featuring the Liège drummer Wouter Roggemans. After performing with percussionists Michel Meis, Michel Mootz, and Nate Wong, the trio solidified with the addition of Victor Kraus. David Kintziger is a visual artist, educator at a creativity center in Belgium, and musician in various Belgian musical projects. Similar to me, Victor Kraus is also a teacher at the Luxembourg Conservatory in the percussion section and active in numerous contemporary music projects.
Thierry: According to you, what contributes to the excellence of Luxembourgish musicians? We are, in fact, one of the few international radios that have been broadcasting their music for many years.
Jean-Philippe Koch: Luxembourg is a small country but rich in the talent of its diverse musicians (in jazz, classical, pop/rock music), actively supported by the Ministry of Culture and Kultur/LX. This support allows them to develop internationally and collaborate with renowned artists, sharing their experiences.
Thierry: "Reflekt" is your third album, and for an odd reason, likely due to distribution coincidence, we had never heard of you before. Could you tell us about your previous albums ("Unlikely" released in 2019 and "Dock In Absolute" released in 2017)?
Jean-Philippe Koch: The first album released under the label Cam Jazz Presents marked the initial identity of the trio, which evolved and matured further with the second album, "Unlikely." Simultaneously, Dock In Absolute significantly expanded its presence on the international stage, performing at numerous prestigious festivals outside the European Union (China, Japan, Brazil, Mexico…). This third album provides an opportunity for the group to establish its reputation in France, Germany, and other European territories.
Thierry: I'd like to know both about the inspirations behind your album "Reflekt," as I was surprised by the composition structure, reminiscent of repetitive music in certain aspects, although this album is particularly melodious—indeed, this is what defines your group's identity.
Jean-Philippe Koch: Originally trained as a classical pianist, melody has always been of paramount importance to me, and this aspect likely reflects in the creation of the latest album. Despite the complexity of the arrangements and rhythm in the new pieces, the emphasis remains on melody; DIA's music aims to be rich, sensitive, and accessible to all, regardless of musical boundaries. It's also an intense, cinematic sonic journey that, through the repetition of certain motifs, touches us deeply in our sensitivity. For me, music is a means of expression, translating the emotions of a profound and dense daily life into musical language. In terms of general inspiration, I could mention composers like Rachmaninov, Brahms, Tigran Hamasyan, to name a few.
Thierry: Given that Luxembourg is a small country, how do you manage to make a name for yourselves beyond your borders?
Jean-Philippe Koch: Luxembourgish musicians are fortunate to collaborate with the active Export Office Kultur/LX in the cultural world, enabling them to expand internationally through a voluntary and meticulous process to secure support. Additionally, apart from Luxembourg, the group is managed by Patrice Hourbette, who aids in their development efforts. With the experience gained over the years, I've had the opportunity to gradually learn the ropes of the industry, investing a lot of time and effort, including attending jazz meetings in Luxembourg and abroad to establish a reputation in the music world.
Thierry: "Reflect" was recorded in Italy and will be distributed by our friends at ADEIDJ and the Italian Association of Independent Jazz Labels. Cam Jazz, your record label, has been a member since 2012. Could you tell us about the recording process and how you ended up producing your album in Italy?
Jean-Philippe Koch: Cam Jazz has a wonderful recording studio equipped with a fine Fazioli piano in northern Italy. It features a skilled sound engineer and an experienced, demanding artistic director. The challenge lies in having only three days to record and mix the entire album, adding pressure and demanding a high standard from the musicians.
Thierry: As I mentioned earlier, and I'm not the only one saying this, the excellence of Luxembourgish musicians is known to all. In your opinion, what are the factors contributing to this excellence, and what does the journey of a young person in your country who wants to follow in your footsteps look like?
Jean-Philippe Koch: The success of a musical group is rooted in courage, hard work, tenacity, and often requires sacrifices in various ways. Musicians must invest time, energy, and money to stand out and hope to make a name for themselves.Moreover, the life of a musician requires finding a balance between well-being and managing one's private life in order to excel in instrumental practice. This demands significant sacrifices, but the game is worth the candle.
Thierry: Jean Philippe, thank you for accepting this interview. Before we wrap up, could you provide us with some dates where we can catch your concerts in the coming months?
Jean Philippe Koch: Thank you very much, Thierry, for this interview. Here's a brief overview of upcoming dates:
19.08.2023 : Bremen, Germany Musikfest Bremen
01.09.2023 : Beijing, China Blue Note
02.09.2023 : Beijing, China Blue Note
03.09.2023 : Shanghai , China Blue Note
04.09.2023 : Hangzhou, China West Lake University
06.09.2023: Hong Kong , China Lau Bak — Masterclass
07.09.2023 : Hong Kong , China Lau Bak
09.09.2023 : Bozcaada, Turkey Bozcaada Jazz Festival
20.09.2023 : London, United Kingdom Ronnie Scott's
21.09.2023 : Karlsruhe, Germany Jazzclub Karlsruhe
22.09.2023 : Karlsruhe, Germany Jazzclub Karlsruhe
01.10.2023 : Berlin, Germany Kunstfabrik Schlot — My Unique Jazz Festival
08.10.2023 : Luxembourg, Luxembourg Neimenster— Official Album Release
01.11.2023 : Hameln, Germany Double Time Jazzclub
04.11.2023 : Burghausen, Germany Jazzkeller
07.12.2023 : Cannes, France Théâtre de la Licorne
15.12.2023 : Maastricht, Netherlands Kumulus Theater
16.12.2023 : Mol, Belgium Cultuur Centrum
28.01.2024 :Namur, Belgium Grand Manège
Link to preorder the album Reflekt