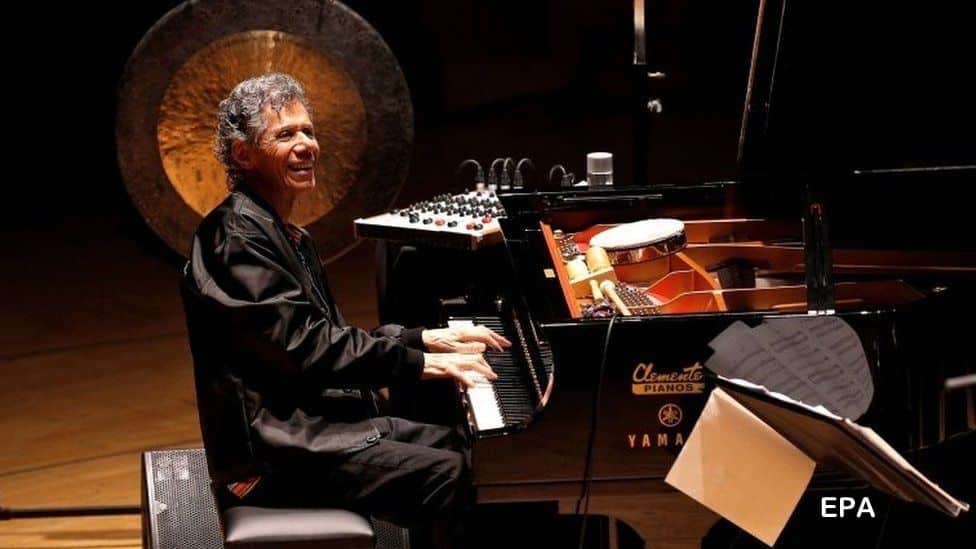 It's hard to rewrite the story of such a long journey that began alongside Miles Davis in the 1960s; but a lesser-known fact is that at the same time, Chick Corea was also working with Cab Calloway. In the very early 1970s, he left Miles Davis to create the group Circle, which would record both on the Blue Note label as well as on ECM, along with Anthony Braxton and Barry Altschul.
Nefertiti – Circle (Corea, Braxton, Holland, Altschul):

.
As the years went by, Chick Corea flew from success to success and at the beginning of 1971, he created Return To Forever, a group with Joe Farrel, Stanley Clarke, Airto Moreira and Flora Purim.
Return to Forever – The Romantic Warrior 1976:

.
After 1976, which was marked by the album "My Spanish Heart" (available HERE), with Jean-Luc Ponty, Chick would form other groups:  Elektric Band, Akoustic Band and Origin.
Chick Corea Elektric Band – View From The Outside (1987):

.
You no doubt know the label he created with Ron Moss, Stretch Records, distributed by Concords Records. Under Stretch, Chick Corea would produce among others Eddie Gomez, John Patitucci, Avishai Cohen, Bud Powell.
In the 2000s Chick got closer to classical music, with the London Philharmonic (album available HERE) or with Boston Pops:

.
In 2009, Chick presented a mix of classical music and jazz, with impressive results: "The Continents" Concerto for jazz quintet and chamber orchestra (available HERE).
Chick Corea – The Continents (Trailer):

.
Of course, it's hard not to talk about his involvement with Scientology, which he discovered in 1968 when he became friends with founder L. Ron Hubbard, a relationship that would last until Hubbard's death in 1986. In any case, this is a particularly divisive subject and does not take away from the fact that Chick is one of the greatest artists of all times, who has influenced and will continue to inspire generations of musicians. It is also impossible to ignore his collaborations; I would like to recommend two albums in particular:
The discography of:
– Return to Forever available HERE
– The Chick Corea Elektric Band available HERE
By leaving you free to discover the many other compositions of Chick Corea, I wanted to pay this tribute to this artist, some of his albums have accompanied me for years, mainly so that the younger generations can benefit from them and take a look at both his works and his collaborations. As I said above, this article is not exhaustive, many references are available including, for musicians this Chick Corea Collection book (very complete and in English), HERE.
Also, this fascinating work in English: "Experiencing Chick Corea: A Listener's Companion" by Monika Herzig, which you will find HERE
Chick Corea, John Patitucci & Vinnie Colaiuta – Blue Note, Tokyo, 1992:

.
Thierry DocMac
Bayou Blue News – Bayou Blue Radio – Paris-Move
Translation: Ilene Martinez
PARIS-MOVE, February 13th 2021
Chick Corea's website: HERE
Discography: HERE
Also read the tribute paid to him by the BBC, HERE