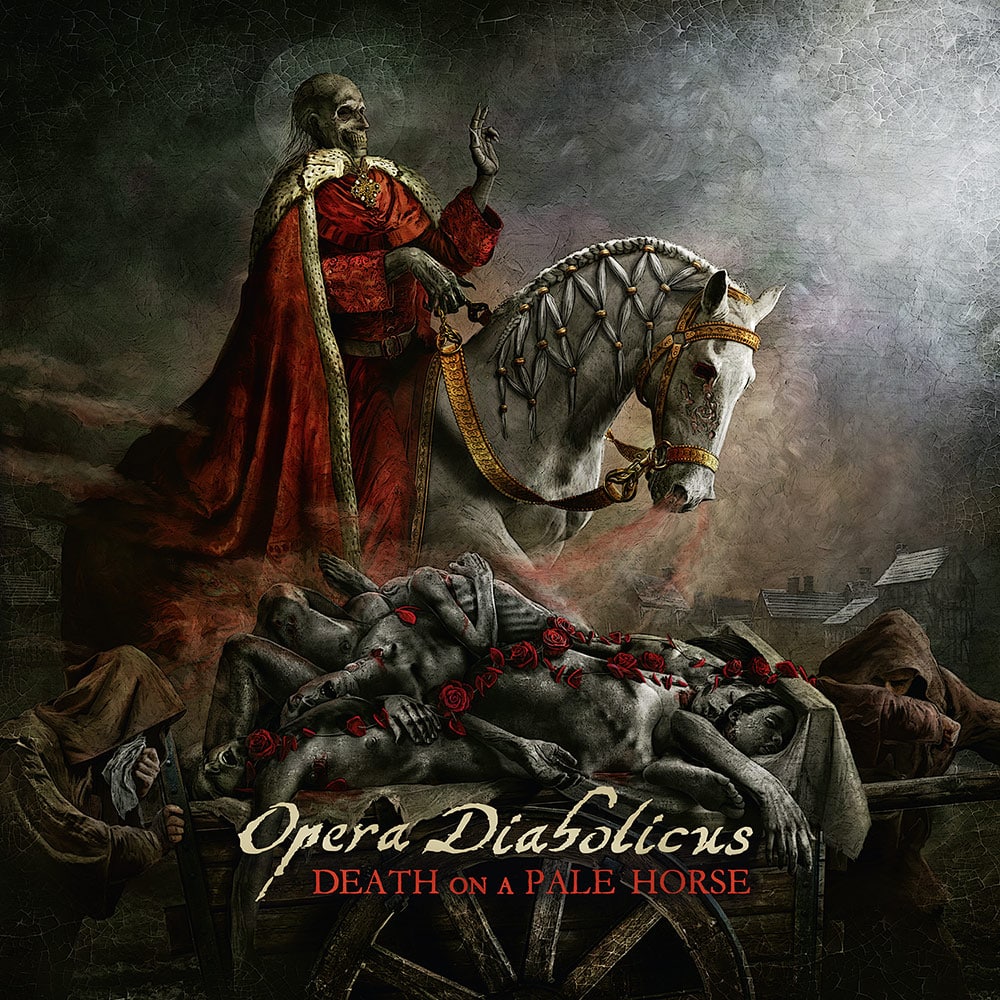 PARIS-MOVE, November 25th 2021 – Swedish horror outfit OPERA DIABOLICUS are now streaming their entire upcoming full length 'Death on a Pale Horse'! The new offering will be released on November 26th 2021 but can already be listened to in full via the official Season of Mist YouTube channel here:
OPERA DIABOLICUS comment on the stream: "Lo and behold, our awaited sophomore album is finally ready to be unveiled. Please sit down and enjoy the next 59 minutes and 13 seconds as we raise the curtain for the full streaming of the new album"
LIMITED TO 200 copies : DOUBLE LP GATEFOLD COLOURED + DIGITAL
order it HERE
Track-list:
1. Listen everybody (2:49)
2. Bring Out Your Dead (5:24) (WATCH)
3. Second Coming (9:51)
4. Siren's Call (7:54) (WATCH)
5. Darkest Doom on the Brightest of Days (7:34) (WATCH)
6. A song of Detestation (6:47)
7. Little Sister (3:05)
8. Night Demon (8:05)
9. At Nighttime (7:46)
Total: 59:15
The Swedish combo have created the perfect horror musical with a little help from their friends Mats Levén (Candlemass, Therion, Skyblood), Snowy Shaw (King Diamond, Mercyful Fate, Therion, Notre Dame), Andy La Rocque (King Diamond) and Michael Denner (King Diamond, Mercyful Fate)! With 'Death on a Pale Horse', the Swedes bring you an epic tale of witchcraft, the black death and revenge!
Established by the two antagonists David Grimore and Adrian de Crow in Gothenburg in the mid-2000s, Swedish horror entity OPERA DIABOLICUS seeks to scourge the earth with their music, mischief, and schemes!
Through burning hatred and mutual dislike to one another and with one prior album released under their belt (entitled †1614, released 2012), they've now conjured their sophomore offspring with music that could be described as epic horror metal, and thus would greatly appeal to fans of acts like KING DIAMOND, CANDLEMASS, MERCYFUL FATE and so forth.
With a little help from their friends, whom brilliantly have assisted with their tools of their trade, plus the eminent Jens Bogren's (OPETH, SEPULTURA, ROTTING CHRIST, DIMMU BORGIR) mixing and mastering skill, the result speaks for itself.