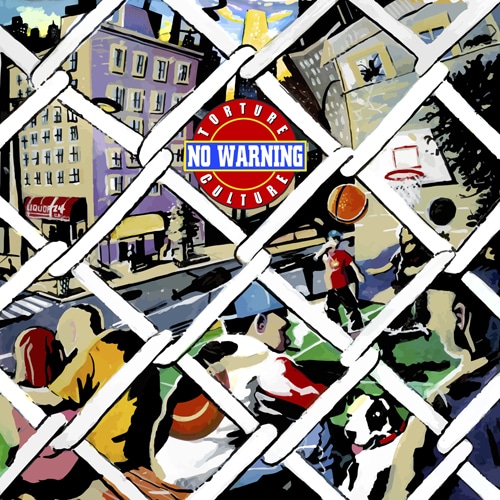 No Warning : their new video "Hell Realm" is HERE
"TORTURE CULTURE" LP is out this Friday 13th October…!!!
To order your record, your T-shirt or sweatshirt, the No Warning on line Shop is HERE
Tour dates: HERE
News on October 13th:
"Happy Friday The 13th. Our 3rd LP "Torture Culture" is out today. Vinyl available at TortureCulture. TV, stream it everywhere, pick up a CD at your local bodega. Cassette version limited to 100 available at Triple B Records. Thanks 2 everyone involved. 🐁🐁"
.
No Warning – Torture Culture
By Branan Ranjanathan
Published Oct 11, 2017
"Torture Culture marks the long-awaited return of revered Toronto hardcore outfit No Warning, being the first full-length release from the band since their 2004 effort Suffer, Survive — and it's safe to say that the wait has been well worth it. Few hardcore acts can measure up to No Warning in terms of influence — their 2002 landmark album Ill Blood was a turning point for the genre — and the band return to that sound, now merged with a medley of late '80s and early '90s influences, on this latest offering.
No Warning find an excellent balance here between their tips of the hat to metal and crossover greats and their signature menacing NYHC-isms. Opener "Headless" serves as an excellent example, with its roaring Judas Priest-style solo emerging out of the furious verse riffing. Followups "In the City" and "Unreality" stand out as heavy highlights, the breakneck opening of the latter sounding as if it were straight from the Cro-Mags' Alpha Omega before turning into a grooving melodic swing.
These sounds only develop as the album moves forward, the stalwart headbanger "Hell Realm" delivering hooks with its deliberate mid-tempo pacing, and ballad "Sanctuary" finding Ben Cook opting for clean melodies over his unrelenting scream, which dominates the rest of the record.
It's a testament to the songwriting skill of No Warning that the sheer density and ambitious nature of the 12-song set never lends itself to an overwhelming listening experience, and remains consistently memorable and fresh. Torture Culture feels like the result of the cumulative years the members spent finding their footing as musicians, priming the record to make its mark as yet another hardcore classic."
.
(Review is on line HERE)