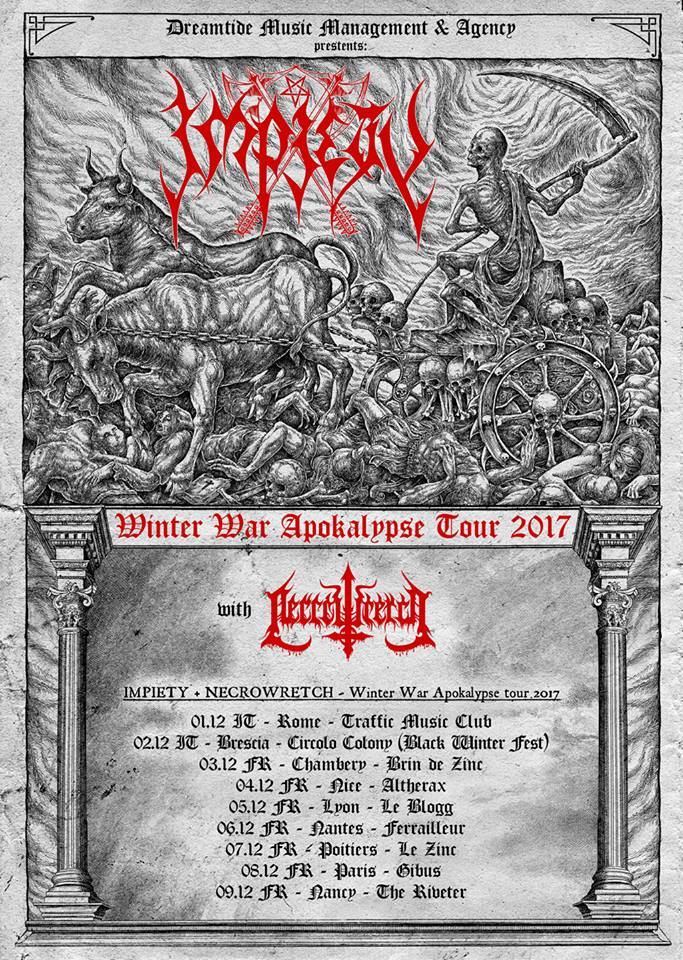 NECROWRETCH will embark on a string of dates in support of IMPIETY in Italy and France at the Traffic Music Club in Italy's ancient capital of Rome, tomorrow on Friday, 1st of December 2017.
NECROWRETCH have furthermore announced a string of festival performances and are preparing tours in South America and Asia.
See below for a list of all currently confirmed dates:
NECROWRETCH + IMPIETY:
01 Dec 17 Rome (IT) Traffic Music Club
03 Dec 17 Chambéry (FR) Brin de Zinc
04 Dec 17 Nice (FR) Altherax
05 Dec 17 Lyon (FR) Blogg
06 Dec 17 Nantes (FR) Ferrailleur
07 Dec 17 Poitiers (FR) Le Zinc
08 Dec 17 Paris (FR) Gibus
09 Dec 17 Nancy (FR) La Machine
Festivals:
14 Dec 17 Eindhoven (NL) Effenaar (EMM Warm-Up party 2017)
17 Feb 18 München (DE) Feierwerk (Chaos Blast Meating)
31 Mar 18 Villeurbanne (FR) 10th Anniversary Show of Necrowretch
14 Jul 18 Torgau (DE) In Flammen Open Air 2018
15 Aug 18 St. Noerf (FR) Motocultor Festival 2018
NECROWRETCH will be touring in support if their current album, 'Satanic Slavery', which can be streamed in full HERE
The artwork of 'Satanic Slavery' can be viewed below.
Track-list of 'Satanic Slavery':
1. Sprawl of Sin
2. Tredeciman Blackfire
3. Satanic Slavery
4. Evil Names
5. Hellspawn Pyre
6. Bestial Rites
7. Curse of Blasphemy
8. Verses from the Depths
.
More info about the record: HERE
Order your copy NOW…!!! HERE
.
Available formats:
— CD Digipak
— Gatefold LP in various colours!
Third strike is deadly. NECROWRETCH hammer out album number three in an all-out attack on everything that is glossy and polished in modern metal. 'Satanic Slavery' is dirty, gritty, mean, and beautifully untamed. This record spells DEATH METAL in capital letters without embracing mindless nostalgia.
NECROWRETCH are letting their roots clearly shine through. Early death metal with clearly audible thrash elements play a large role on 'Satanic Slavery'. Echoes of POSSESSED or DARK ANGEL are equally present as fiercely rasping black metal vocals, and the melodic attitude of Swedish influences with a dash of DISSECTION.
When harsh vocalist and guitarist Vlad created NECROWRETCH almost ten years ago, he drew inspiration from various extreme sources such as IMPALED NAZARENE, NIHILIST, and MARDUK as well as Floridian and South American death metal acts.
After several line up changes, Vlad was joined by drummer Ilmar in 2013 and NECROWRETCH immediately hit the scene hard when their debut full-length 'Putrid Death Sorcery' arrived with a massive impact the same year. Their strong connection to the underground was emphasised with a following compilation of earlier material under the name 'Bestial Rites 2009 – 2012' (2013).
With sophomore album 'With Serpents Scourge' (2015), the band added some musical twists and turns that revealed influences by Swedish black death pioneers such as DARK FUNERAL, DISSECTION and NECROPHOBIC. Followed by several tours and festivals across Europe and Asia, the band have proven that French extreme metal is still alive and kicking!
Now the French have perfected their gruesome vision of death metal without losing the original recipe which made their success. Brace for impact, NECROWRETCH offer true 'Satanic Slavery'.
.
Line-up
Vlad: guitar, vocals
Ilmar: drums
K. Desecrator: bass
.
Official Facebook page: HERE
Official website: HERE
On line Shop on Season Of Mist website: HERE