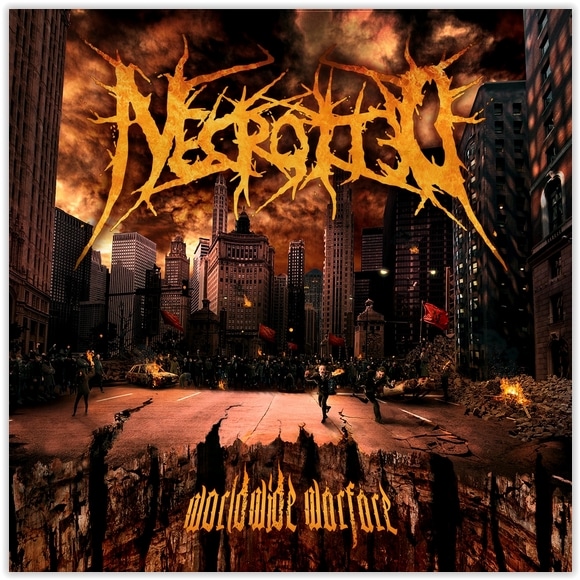 NECROTTED German Death Metal Band announce 3rd album, "Worldwide Warfare".
Out October 27th 2017 through Rising Nemesis Records!
Unveil album art, track listing, and more is here, on PARIS-MOVE.
Based in Abtsgmünd, Germany, and active since 2008, skull-crushing death metal unit Necrotted have been killing it for many years now, both in the studio in recorded form and also during their countless energetic live performances throughout the years.
On October 27th, 2017, the band will drop their 3rd full-length album entitled "Worldwide Warfare" through Rising Nemesis Records. Across ten ravenous songs, "Worldwide Warfare" aims to annihilate all who bear witness to its devastation. Doing so with a varied assault that superbly mixes brutality, speed, guitar shredding focused moments, and monstrous heaviness into a warped formula that only season death metal veterans like Necrotted can deliver.
Necrotted has this to say about "Worldwide Warfare" and the experience it has to offer: "The southern German death metal brigade NECROTTED is about to release its third full-length album. Worldwide Warfare is the title of the new record, which contains 10 socio-critical tracks about a global revolution, everlasting threats to society and the last war of mankind. Thrilling guitar riffs, high-speed blast beats and double bass attacks come upon stomping slam parts and catchy refrains, rounded off by deep, scratching vocals. Also for the third time, the songs were recorded and mixed by mastermind Nikita Kamprad (Der Weg Einer Freiheit). The album mastering was done by Benjamin Stelzer (Parasite Inc.) for the first time."
Necrotted – "Worldwide Warfare" Tracklisting:
1. Worldwide
2. No War But Class War
3. Hunt Down The Crown
4. Vile Vermin
5. The Lost Ones
6. My Foray, Your Decay
7. Unity Front
8. Our Dominion
9. Babylon
10. Forlorn Planet