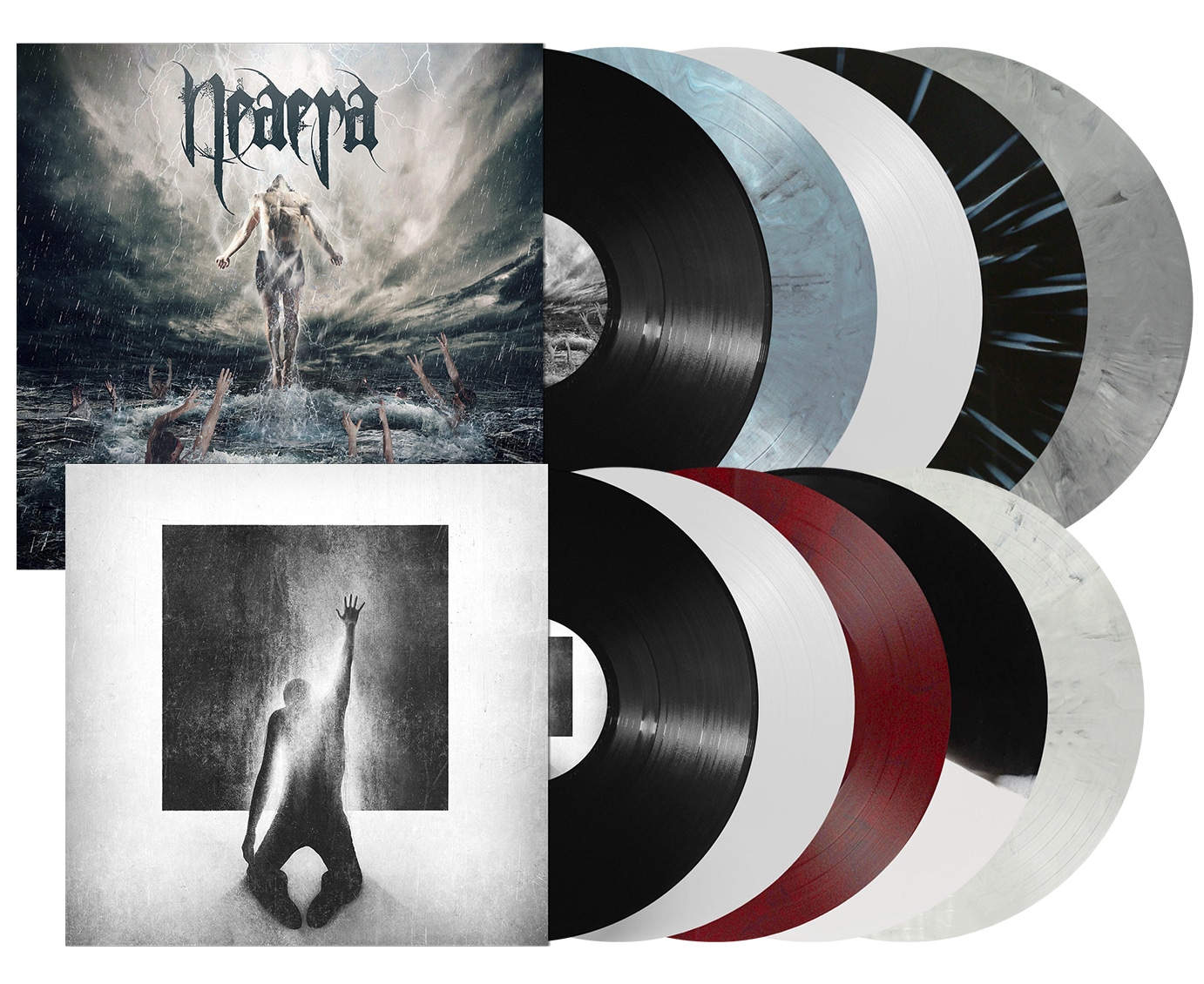 PARIS-MOVE, October 9th 2019 – Neaera annouce 'Forging The Eclipse' and 'Ours Is The Storm' vinyl re-issues are now available via Metal Blade Records!
On October 25th 2019, Metal Blade Records will finish re-issuing the Neaera catalogue chronologically on vinyl. After releasing the first four albums (The Rising Tide Of Oblivion, Let The Tempest Come, Armamentarium, Omnicide), it's time for Forging The Eclipse and Ours Is The Storm to get the Metal Blade vinyl treatment. See below for available versions.
Pre-order your copies now at Indie Merch: HERE
Neaera – Forging The Eclipse:
– 180g black vinyl
– white vinyl (ltd. 300 – EU-exclusive)
– red-black marbled vinyl (ltd. 200 – EU-exclusive)
– black/white split vinyl (ltd. 100 – MB Shop-exclusive)
– white/black marbled vinyl (ltd. 100 – US-exclusive)
Neaera – Ours Is The Storm:
– 180 g black vinyl
– ice-blue black marbled vinyl (ltd. 300 – EU-exclusive)
– white vinyl (ltd. 200 – EU-exclusive)
– black-white splatter vinyl (ltd. 100 – MB Shop-exclusive)
– grey-black marbled (ltd. 100 – US-exclusive)
Facebook page HERE
Münster, Westphalia, Germany, summer of 2003: Tobias Buck, guitarist of the death/grind band Malzan, forms a side project in order to pursue his interest in hardcore and Swedish death metal. The original line-up, consisting of Buck, Sebastian Heldt, Benny Hilleke, and Benjamin Donath, is quickly assembled, and, just before the debut show, The Ninth Gate was chosen as the band's name. Soon after this show, the band is joined by guitarist Stefan Keller, whose death meta influences and heavy riff ideas further enrich the creative output of the young group.
April 2nd, 2004: Less than a year after the band's inception and only a few months into the band's existence in its present line-up, The Ninth Gate were offered a recording contract by Metal Blade Records, literally making the five youngsters' dreams come true. Understanding that a new name is needed to replace the old moniker, which had been born more out of necessity than anything else, the quintet starts brainstorming, and soon emerges with a name that represents the band's philosophy as a whole. The name is that of a character from Greek mythology, a woman who was sold into sexual slavery, being proscribed, oppressed and exploited all her life. This woman was named Neaera.
Fast forward to 2009:
Several prestigious festivals such as the Wacken, With Full Force and Summerbreeze Open Airs, as well as further headlining and support tours followed, so that NEAERA have thus far played some 400 shows in 25 countries, including England, France, Italy, Spain, Russia, Estonia, Latvia and Greece.
Armamentarium debuted at 65 on the charts in Germany and Neaera has since extended their deal with Metal Blade Records and are preparing to release their fourth album, Omnicide – Creation Unleashed.
In January 2009 the band entered Rape of Harmonies Studio to record Omnicide – Creation Unleashed, with producer Alexander Dietz at the helm. Mixing and mastering was handled by world-famous metal mastering wiz, Zeuss, who gives this aural behemoth his usual seal of excellence.
The spawn of the Neaera, ROH, Zeuss collaboration is a 10-track beast of a record that captures the essence of what the band is about: brutal mosh parts, aggressive blasts and fierce melodies make for an album that has "pit havoc" written all over it. Lyrically, Neaera stick to their guns, combining socially and politically relevant topics with self-reflective and more personal-based approaches.
The artwork for the album was once again done by one of the band's good friends, Terje Johnsen, who managed to perfectly capture the gloomy vibe with the cover art for the last album, Armamentarium. Once again, Terje created an amazing image and booklet that perfectly blend in with the brutality of the album title and the harshness of the lyrics.