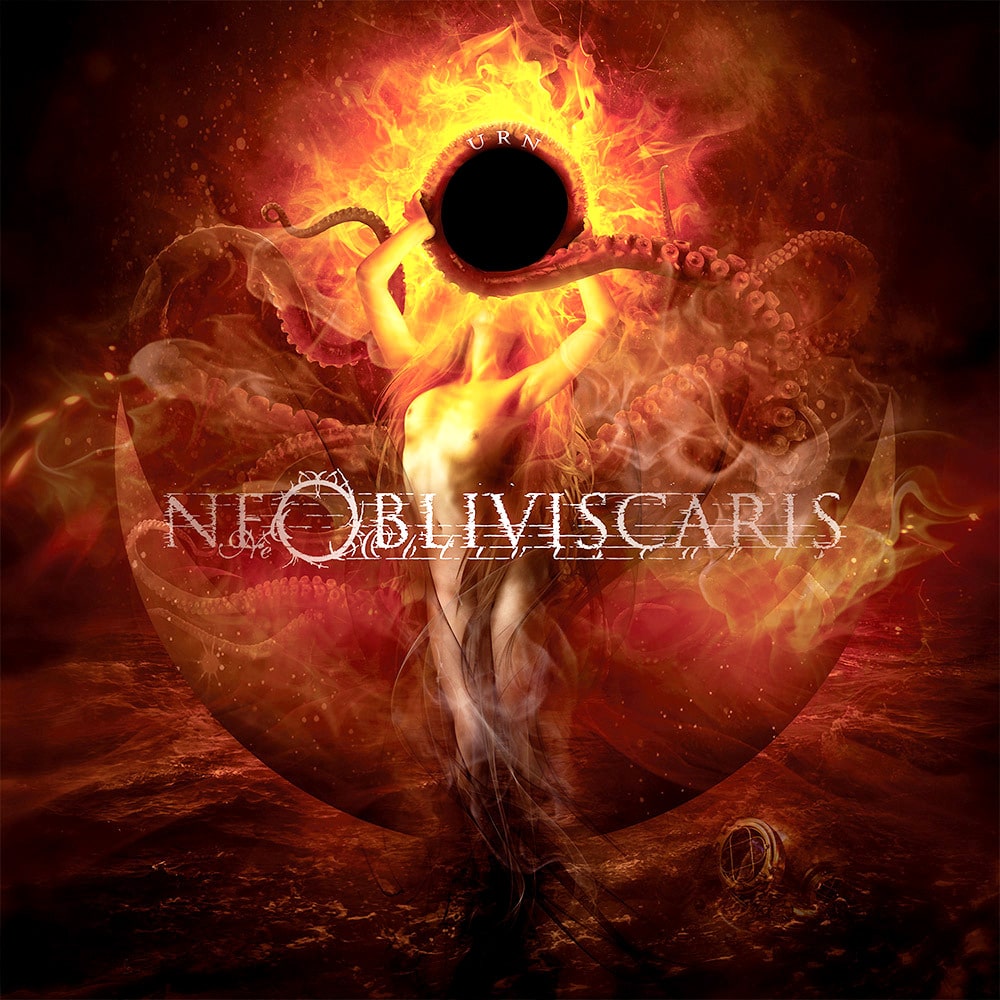 NE OBLIVISCARIS are premiering the third magical song taken from their forthcoming masterpiece, 'Urn', which has been scheduled for release on October 27th 2017.
The song "Urn (Part II) – As Embers Dance In Our Eyes" is now streaming HERE
.
Frontman Tim Charles comments on behalf of NE OBLIVISCARIS: "With just over two weeks left until our new album is officially released, we present to you one last taste… 'Urn (Part II – As Embers Dance In Our Eyes'; the epic conclusion to the previously released 'Urn (Part I) – And Within the Void We Are Breathless', which taken together form the title-track."
.
Pre-sales and on line Shop: HERE
Available formats:
— Digipak CD
— Gatefold Double-LP in various colours
— Cassette
.
Please note that due to the restrictive rules regarding art by American based social networks, we provide below the album cover of 'Urn' in a censored version for the US market and online use:
Tracklisting:
1. Libera (Part I) – Saturnine Spheres (9:52)
2. Libera (Part II) – Ascent of Burning Moths (2:36)
3. Intra Venus (7:29)
4. Eyrie (11:51)
5. Urn (Part I) – And Within The Void We Are Breathless (7:30)
6. Urn (Part II) – As Embers Dance In Our Eyes (6:38)
Total playing time: 45:56
NE OBLIVISCARIS' third album, 'Urn' is bound to be a career defining moment. The Australian extreme prog shooting stars have honed and re-balanced the key elements of their unique sound to a razor sharp musical edge. The dynamic entwining of fierce growls and emotive clean vocals, the contrast between devastating et intricate guitar riffs and thundering drums against an unleashed violin and gorgeous string parts as well as the perfect blending of epic progressive and intense extreme metal forms of expression are all marking a new peak in the steep rise of the band.
Founded in the beautiful Australian coastal city of Melbourne, Victoria in the year 2003, NE OBLIVISCARIS took the inspiration for their name from the proud motto of Clan Campbell based in Argyll, Scotland, which means "forget not". From the start, this collective of exceptional musicians made it clear that they did not intend to follow any trends or walk on well-trodden paths. Their first demo, 'The Aurora Veil' (2007) had a massive impact in the metal underground far beyond the fifth continent and already their debut full-length 'Portal of I' (2012) reached mainstream music press, which praised a unique array of influences and the characteristic virtuoso violin.
NE OBLIVISCARIS immediately climbed remarkably higher on the ladder with sophomore opus 'Citadel' (2014) by adding avant-garde approaches including jazz, flamenco, progressive rock, and many other wide-ranged influences to their solid metal base.
Parallel to their success on a critical level and with an ever-growing host of die-hard fans, the Australians increased their reputation as an excellent live act with extensive touring literally around the globe. The financial base for this was laid by NE OBLIVISCARIS' ground-breaking use of modern day crowd-funding campaigns. This includes an ongoing Patreon membership scheme under the moniker The Ne Obluminati, which is revolutionising the relationship between band and fans by using the ancient concept of patronage in today's democratic setting.
'Urn' will lift NE OBLIVISCARIS to the next level. Outstanding musicianship meets excellent songwriting and a firework of brilliant ideas. Evening out the scales between extreme and progressive metal, the Aussies carve their own path. Spin 'Urn' on heavy rotation and NE OBLIVISCARIS will take you to a whole new dimension of musical delights.
Line-up:
Xenoyr – harsh vocals
Tim Charles- violin and clean vocals
Benjamin Baret – lead and acoustic guitars
Matt Klavins – guitars
Dan Presland – drums
Guest musicians:
Robin Zielhorst – bass (all tracks)
Emma Charles and Natalija May – additional violins (tracks 1, 4, and 6)
Tim Hennessy – cello (tracks 1, 3, 4, and 6)