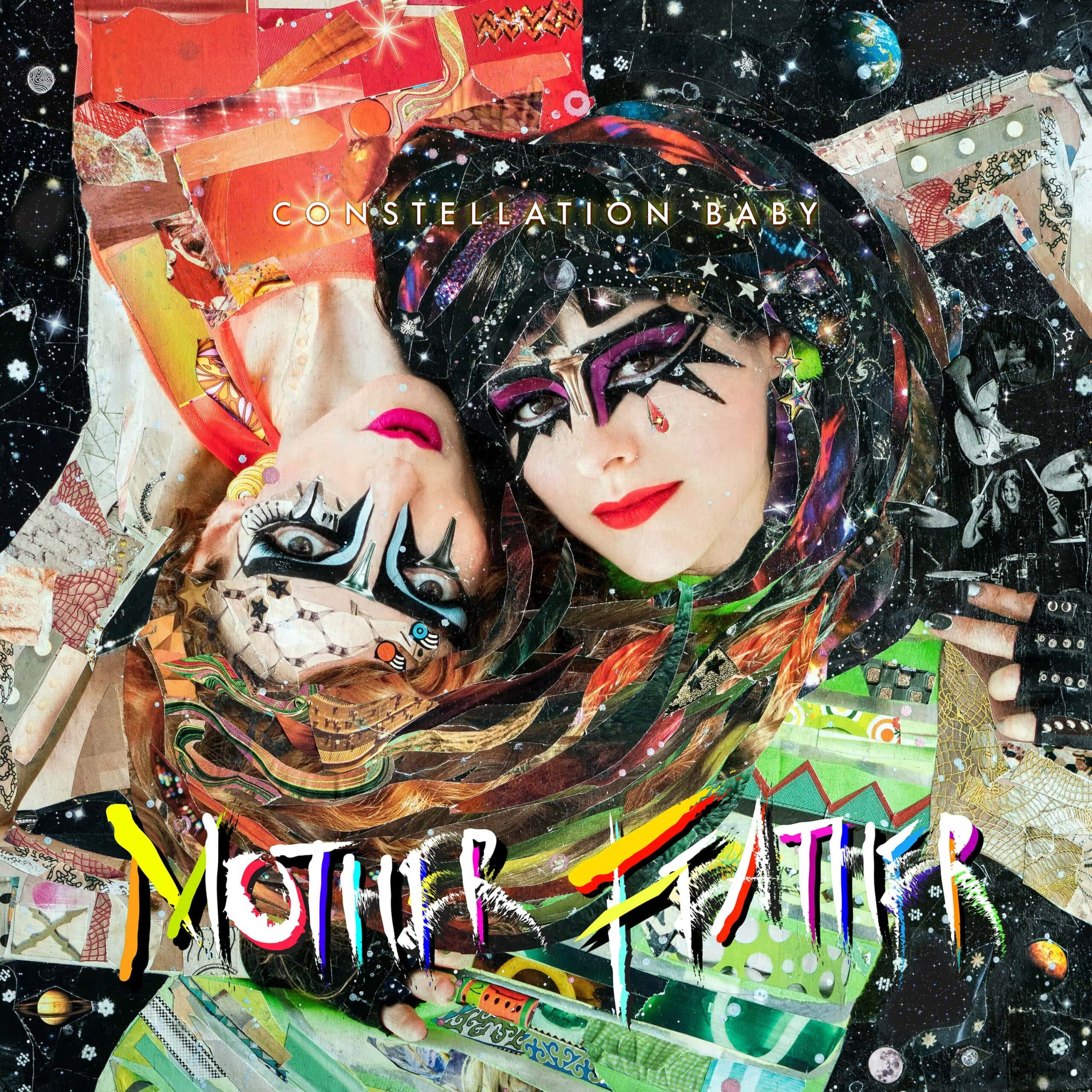 Mother Feather announces new album, 'Constellation Baby', and stream scorching first single "Red Hot Metal" now, here on PARIS-MOVE.
New York City's Mother Feather have perfected the formula to pay homage to the roots of punk'n'roll and heavy rock injected with their own brand of the divine feminine, and since their debut album have been keeping the audience on their toes. The evolution of their high-energy "pop cock rock" surges forward this November with their sophomore album Constellation Baby, out via Metal Blade Records/Blacklight Media.
The first taste of the new Mother Feather comes in the form of lead single "Red Hot Metal", now available to stream and download. Just like you'd expect from the name, the track embodies the smoldering nature of the NYC five-piece, radiating controlled adrenaline, highlighted by the production of Grammy-nominated Joshua Valleau.
Explains lead singer Ann Courtney, "'Red Hot Metal is a deathmatch wrestling event of the anxious mind. It's a fever dream of some of the darkest hours writing the new songs for the album, as I fought to keep my grip on my sanity and the wheel of an old – but fast – red car."
"Red Hot Metal" indeed gives the listener a vibrant mental image – and Brooklyn Bazaar will witness their glittery, smoky stage presence later this month. Mother Feather will be opening up for metalhead disco-rockers Tragedy this September 29. For more info about Tragedy: All Metal Tribute to the Bee Gees & Beyond w/ Mother Feather, please visit HERE
Mother Feather's Constellation Baby will be available November 2 via Metal Blade/Blacklight Media, and is available for pre-order now HERE
You can also stream "Red Hot Metal" from HERE
More on Mother Feather:
New York City. The lights go down, Mother Feather stride onto the stage. The bass frequency clarion call that kicks off their opening song charges its way through the packed room, a ripple of electricity riding off its back. Vocalist Ann Courtney steps to the microphone and purrs the first line: "I need your full attention…" And she's got it. What follows, every single time the quintet stand before an audience, is pure rock and roll catharsis, for Courtney, for her band mates, and for every individual crammed into the room.
Mother Feather made their introduction with two independently released EPs, which were then released as their 2016 self-titled debut full-length on Metal Blade. Now, the band makes their Metal Blade return with their sophomore album Constellation Baby, an extension on the band's self-styled pop cock rock, with catharsis bleeding through the speakers in the form of gritty, garage-y glamour. Their songs marry the scratchy yet catchy, swaggering and dangerous sounds of The Stooges, New York Dolls or The MC5 with the playfulness, pop sensibilities and exuberance of the finest 90s alt-rock, a little upbeat 50s rock n' roll thrown in for good measure. Combined with Courtney's overtly optimistic, inspiring lyrics, the band deliver an energizing and irresistible concoction that captures the attitude and beating heart of New York City on its best day, empowering everyone in their path.
Of course, the band is far bigger than Courtney alone, having surrounded herself with her best friends, who happen to be extremely talented musicians. Every member plays an intrinsic part when bringing the songs to life, both on record and when unleashed on stage. She affectionately refers to guitarist Chris Foley, bassist Matt Basile and drummer Gunnar Olsen as "three beasts", all of them bringing so much attitude, energy and personality to the songs. Then there's keyboardist/vocalist Elizabeth Carena, only ever "Lizzie" to Ann, whose interplay with Courtney is one of the most electrifying facets of their performances. "She's my best friend, my hype woman, and we support and play off each other. I think it's such an exciting, empowering thing to see two women on stage supporting each other and totally committed to pop cock rock. It's an overtly feminist statement. I get excited when I see women with their eyes lit up in the crowd."
Still, as thrilling as the album is, when it comes to Mother Feather all roads lead back to their incomparable live show. While some may look at the costumes, the makeup and the choreography and see the band as heirs to the crown of the likes of David Bowie and the mystique-chasing glam rock stars of the 70s, the last thing the band want is separation between artist and audience, the connection between them integral. "When I'm on stage it's not a persona. Mother Feather is not a character. Mother Feather is the real me. Who I am off that stage is more of a persona," she states plainly. "To make that connection with people you must commit, wholly, and that means being present in every breath and dance move. That's where the space is, to be wild and crazy and nasty and vulnerable, the space to be terrifying. I want to see everything in a rock show. I want the horror, I want the beauty, I want the fun, I want it to be garish. I want it to be wild, I want it to be loud, I want the drama, I want the camp, I want it to be stripped bare. I want to have the whole world for dinner. So that's what we try to do, every single time."
Mother Feather – Constellation Baby track-listing:
1. Red Hot Metal
2. Man, I Wish You Were Here
3. ICU
4. Snakebite
5. Desert Island
6. Constellation Baby
7. Totally Awesome
8. Shake Your Magic 8 Ball
9. Supernatural
10. I Blow A Kiss