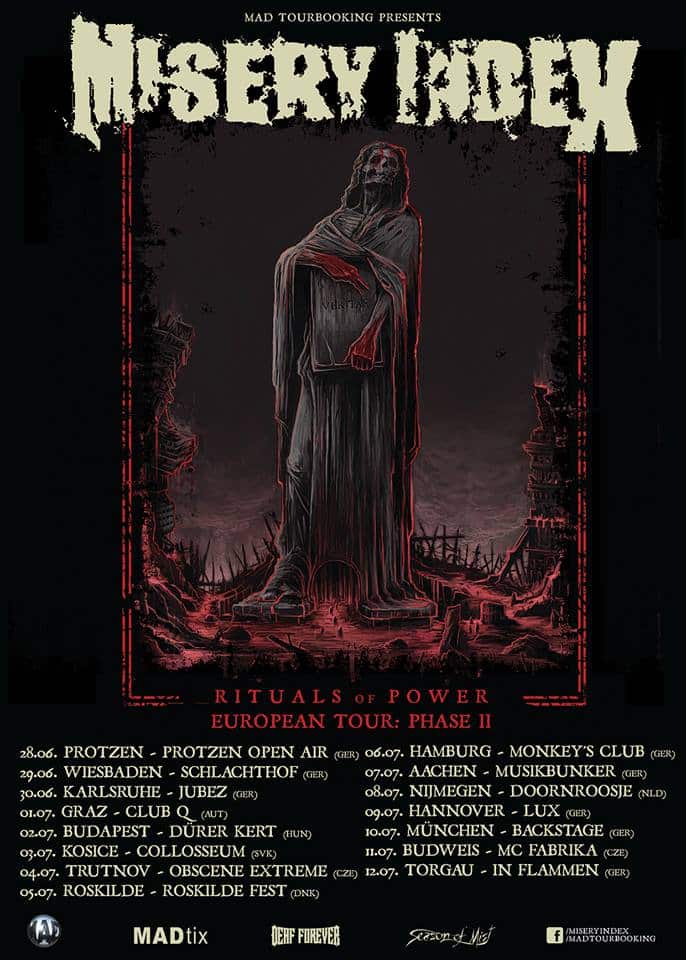 PARIS-MOVE, July 1st 2019 – MISERY INDEX embark on European tour!
After the first successful 'Rituals of Power' tour last month, Death Metal extremists MISERY INDEX are now embarking on a second run of European tour dates. The tour sees the band traveling throughout 6 countries until a final curtain at In Flammen Open Air (DE) on July 12. A full list of confirmed shows can be found below.
MISERY INDEX comment on the tour: "We are excited to get back to Europe for 'Phase II' of the 'Rituals of Power' tour. The first round was a massive success, and we look forward to once more bringing the metal to the people this summer when we return for festival appearances and a series of limited club shows. Look for even more new tunes to be performed live for the first time, as a well as a selection of classics from the back catalog. Come one, come all, and let's 'hammer the nails'!"
MISERY INDEX
28 Jun 19 Protzen (DE) Protzen Open Air
29 Jun 19 Wiesbaden (DE) Schlachthof
30 Jun 19 Karlsruhe (DE) Jubez
01 Jul 19 Graz (AT) Club Q
02 Jul 19 Budapest (HU) Dürer Kert (+Whitechapel)
03 Jul 19 Kosice (SK) Collosseum
04 Jul 19 Trutnov (CZ) Obscene Extreme
05 Jul 19 Roskilde (DK) Roskilde Fest
06 Jul 19 Hamburg (DE) Monkey's Club
07 Jul 19 Aachen (DE) Musikbunker
08 Jul 19 Nijmegen (NL) Merleyn
09 Jul 19 Hannover (DE) LUX
10 Jul 19 München (DE) Backstage (+Napalm Death)
11 Jul 19 Budweis (CZ) MC Fabrika
12 Jul 19 Torgau (DE) In Flammen
MISERY INDEX will be touring in support of their upcoming album 'Rituals of Power'. The artwork, which is created by Raphael Gabrio, and track details can be viewed below.
Track-list
1. Universal Untruths (2:35)
2. Decline and Fall (4:36)
3. The Choir Invisible (4:26)
4. New Salem (3:24)
5. Hammering the Nails (3:46)
6. Rituals of Power (5:20)
7. They Always Come Back (5:08)
8. I Disavow (4:21)
9. Naysayer (2:26)
The band comment on the album: "'Rituals of Power' is a disavowal and warning against the consequences of our so-called 'post-truth' age. Each of the 9 songs revolves loosely around this theme, yet each track also stands very much on its own. As an album however, they are all brought to life as one 'reanimated' monster; it's roughly 35 minutes of unhinged, yet cohesive, riff-driven aural ballistics. We were pissed off and on fire during both the writing and recording, and we think it shows in spades. We set out to write the best album we could, based on what we would want to hear first as fans of this music, and we could not be happier."
MISERY INDEX return furiously with their brand new album, 'Rituals of Power'! With their sixth full-length, the American icons of hard hitting brutality display the strength of maturity grown out of the experience gained as a relentless touring machine. The general trend of their continuous evolution to incorporate less core elements and move towards classic death metal finds a new high water mark.
Album line-up:
Jason Netherton: bass, vocals
Adam Jarvis: drums
Mark Kloeppel: guitar, vocals
Darin Morris: lead guitar
Recording:
Drum recordings: Mana Studios by Erik Rutan (HATE ETERNAL)
Guitar, bass and vocals: Apollo Audio Alternative by Ryan Mullins
Guitar and bass: Cellblock Studios by Darin Morris
Vocals: Soundwell Studio by Valtteri Kallio
Vocals: Casa Del Muerte by Leon Del Muerte
On line SHOP: HERE
To order MISERY INDEX – BUNDLE 1 – CD + T-SHIRT BUNDLE (MEN): HERE
To order MISERY INDEX – RITUALS OF POWER – LP GATEFOLD + DIGITAL: HERE