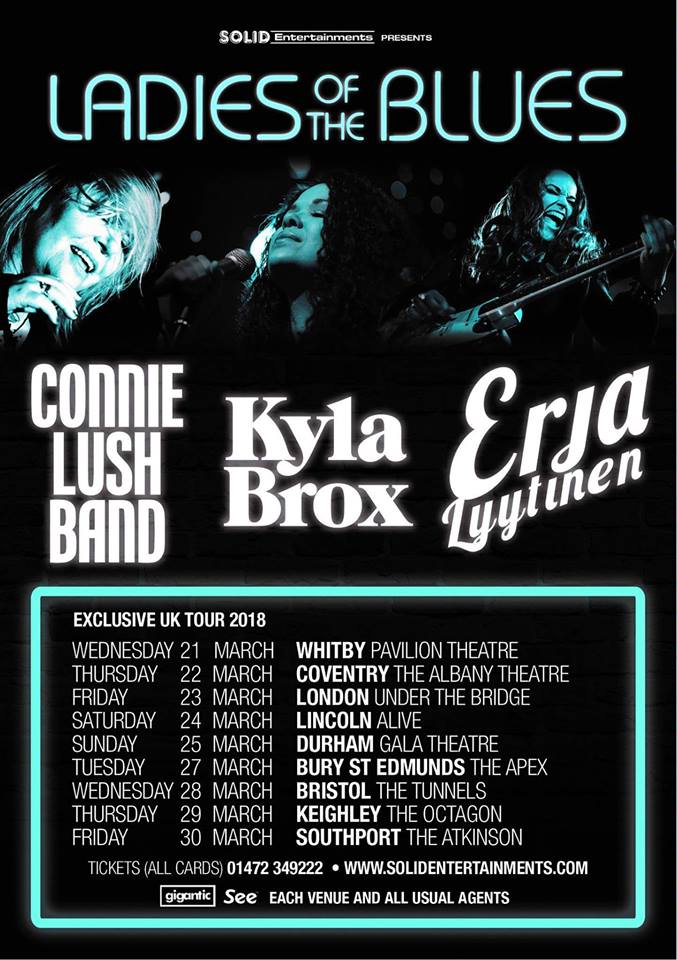 Ladies of the Blues : 2018 UK Tour with Kyla Brox and Connie Lush again and Lyytinen Erja for the first time.
This tour is going to be ace!
All dates of Ladies of the Blues 2018 UK Tour are HERE
Buy your Tickets HERE and HERE
Three Queens of the Blues come together across England to sing the blues. Connie Lush, Kyla Brox & Erja Lyytinen all on one stage at a venue to bring the power of vocals, guitar and flute. Melding the blues to entertain you.
With superb albums and the power of bringing music that touches the soul. As The Ladies of the Blues Kyla, Connie, Erja together 2018 with mascara, smiles and the joy of playing live music.
.
Three of the best loved female European Blues artists have come together to form this stunning line up: Connie Lush, Erja Lyytinen, Kyla Brox.
Connie Lush
Connie Lush is regarded as one of the finest blues singers in the UK. Five-time winner of best UK vocalist, twice European Blues vocalist of the year, Connie has performed at some of Europe's most prestigious festivals. She has also wowed audiences from Moscow to LA, and toured the UK with the late, great BB King, culminating in an unforgettable night at the Royal Albert Hall.
Erja Lyytinen
Take one part blues traditionalist, blend it with a forward-thinking music academy graduate, serve with a side order of skill, and a garnish of Nordic beauty. What have you got? Singer/guitarist Erja Lyytinen, a.k.a. "the Finnish slide goddess" – The Blues Magazine.
Review (in French) of Erja's record "SONGS FROM THE ROAD" is proposed on PARIS-MOVE, HERE
Kyla Brox
Kyla's voice remains a stunning example of the soul singer's art: turning up the heat by degrees, lulling and charming before unleashing emotional catharsis, and blurring the distinction between pleasure and pain like the soul greats of old. Kyla Brox is without doubt the most authentic UK blues and soul singer of her generation.
Ladies of the Blues
Date: Tuesday 27 March 2018
Time: 7:30pm
Price: £18
Venue: The Apex, Bury St Edmunds
This event is promoted by The Apex