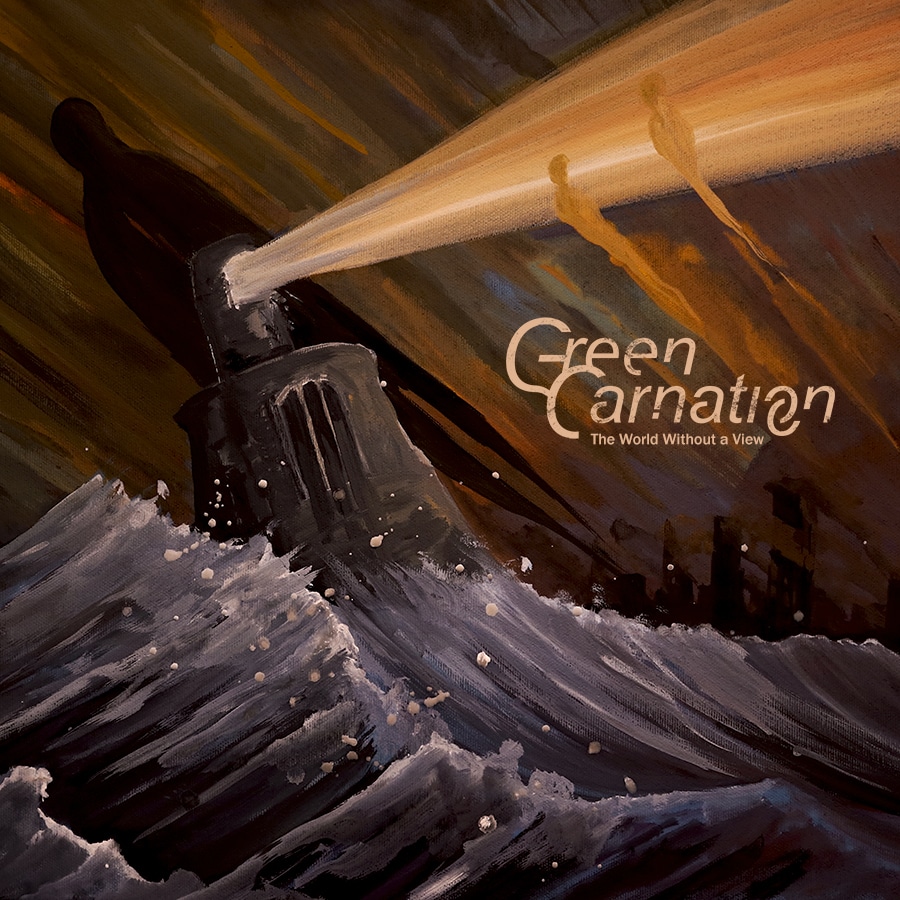 PARIS-MOVE, November 15th 2020 – Norwegian progressive metal outfit GREEN CARNATION have released a brand new single titled "The World Without a View" via their Bandcamp page, HERE. Composed, arranged and recorded during the Covid-19 lockdown, the band has dedicated their new single to their fans.
"This piece of music is made for our fans who had been looking forward to see us live this year and to all those who have graced us with their love and support through the years", says founding member and guitarist Tchort.
2020 was going to be a big year for the band, releasing and supporting their first album for 14 years via Season of Mist in May and celebrating their 20th anniversary as recording artists. Approaching the end of a devastating year for the live music industry the band is happy for the opportunity to release new material much earlier than planned. Vocalist Kjetil Nordhus adds: "We have managed to be creative in a difficult period for the band, and it feels good to be able to use the lockdown to something positive."
"The World Without a View" is recorded and mixed by Endre Kirkesola in DUB Studio, mastered by Maor Appelbaum Mastering. Cover design by Costin Chioreanu. "The World Without a View" is a near 10 minute epic and is a digital release only. The recording has been financed by the band and is available now via the band's Bandcamp page HERE
Green Carnation – The World Without a View – Playthrough with comments.

Tracklist
1.The World Without a View (09:34) (buy HERE)
Line-up:
Kjetil Nordhus – vocals
Tchort – guitars
Bjørn Harstad – guitars
Stein Roger Sordal – bass
Kenneth Silden – keys
Jonathan Alejandro Perez – drums
Norwegian prog/ avantgarde metal act GREEN CARNATION announced their return to the international metal scene for the anniversary of their cult classic 'Light of Day, Day of Darkness' in 2016. After a successful comeback with festival appearances and special shows both in Europe and North America, the Norwegians are ready to release their first new record in 14 years.
GREEN CARNATION from Kristiansand, Norway, was founded as early as 1990. After founding member Tchort joined legends-to-be EMPEROR and continued in SATYRICON and EINHERJER, the band was laid to rest until their debut album 'A Journey To The End Of The Night' came out in 2000. Following a period with line-up changes, 2001 marked the release of the bands epic 'Light of Day, Day of Darkness'.
With their albums 'A Blessing in Disguise' (2003) and 'The Quiet Offspring' (2005), GREEN CARNATION shifted towards a more rock orientated style, before they surprised everyone with the stripped-down record 'Acoustic Verses' in 2006. What followed in the same year is perhaps one of the most spectacular DVD recordings metal history. The band played a show in the mountains, under a 30-meter-high dam. Only a year later, GREEN CARNATION disbanded.
After playing their first reunion show in 2016 and a few more in the following years, the musicians decided it was time to write new material. At the end of 2019, GREEN CARNATION entered the studio with producer Endre Kirkesola (ABBATH, IN VAIN and SOLEFALD), to record 'Leaves of Yesteryear'.
Released in May 2020, the album is partially a retrospect on the band's career, as the progressive metal act pays homage to their past and to their heroes with the re-recording of the classic song 'My Dark Reflections of Life and Death' and the BLACK SABBATH-cover 'Solitude'. With new songs such as 'Leaves of Yesteryear', the fans will get a taste of what is to come.
Despite the countless cancelled live appearances of 2020 and not being able to take their new album out on the road, GREEN CARNATION managed to turn their lockdown period into something positive. First, the band streamed their album release show for the world to see from the confines of their homes. Now, the progressive metal act has composed, arranged and recorded the brand new single "A World Without A View" and dedicate it fully to their fans.
Genre: Progressive Metal
Facebook page HERE