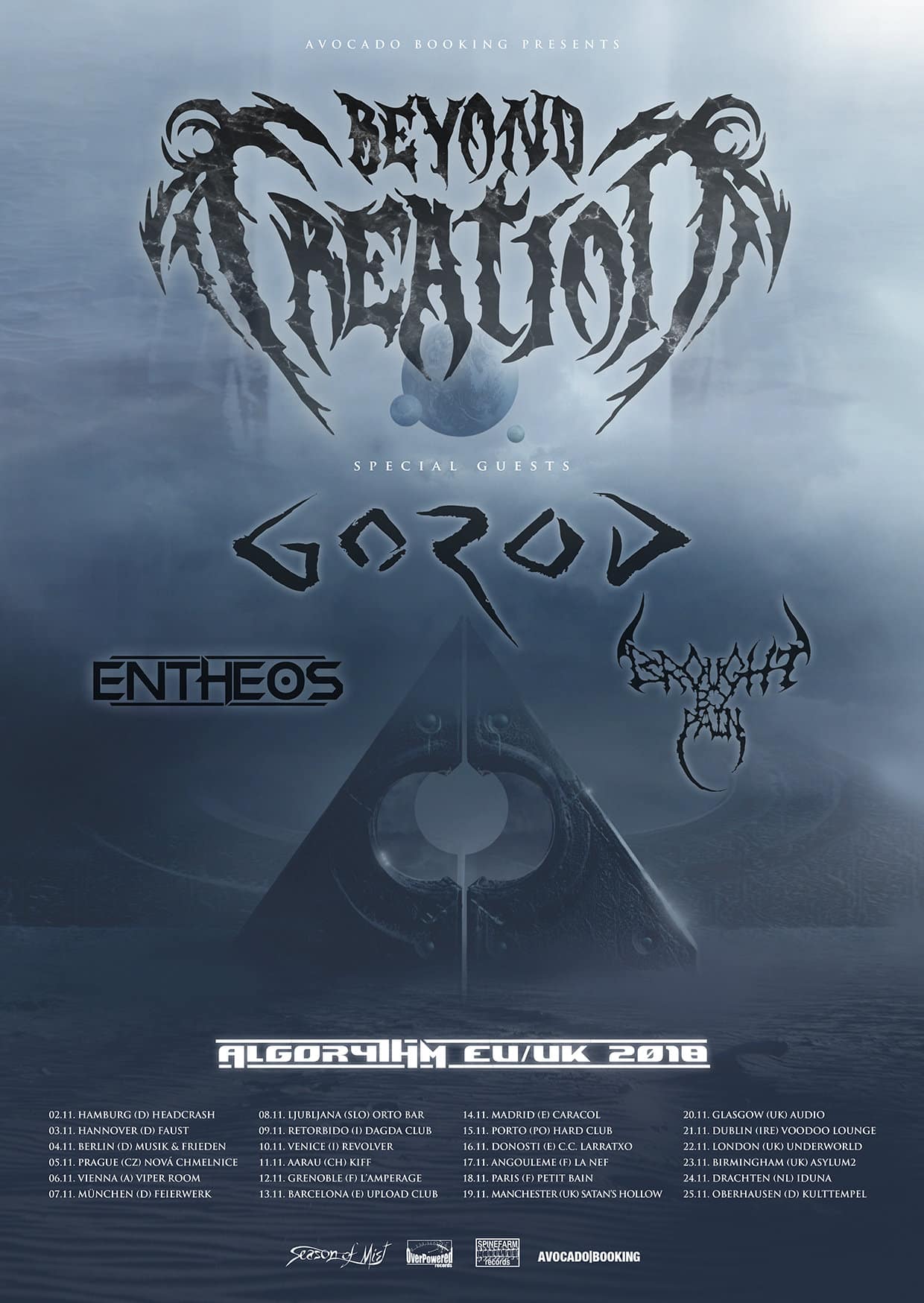 GOROD nous annonce sa grande tournée européenne avec le BEYOND CREATION TOUR. Dans le cadre de la sortie de son nouvel album "ÆTHRA", GOROD sera en tournée à travers l'Europe du 1er au 25 novembre 2018 et toutes les dates sont ici, sur PARIS-MOVE!
02/11/2018 Germany Hamburg Headcrash
03/11/2018 Germany Hannover Faust
04/11/2018 Germany Berlin Musik & Frieden
05/11/2018 Czech Rep Prague Nová Chmelnice
06/11/2018 Austria Vienna Viper Room
07/11/2018 Germany München Feierwerk
08/11/2018 Slovenia Ljubljana Orto Bar
09/11/2018 Italy Retorbido (Pavia) Dagda Club
10/11/2018 Italy Venice Revolver
11/11/2018 Switzerland Aarau Kiff
12/11/2018 France Grenoble l'amperage
13/11/2018 Spain Barcelona Upload Club
14/11/2018 Spain Madrid Caracol
15/11/2018 Portugal Porto Hard Club
16/11/2018 Spain Donosti C.C. Larratxo
17/11/2018 France Angouleme La Nef
18/11/2018 France Paris Petit Bain
19/11/2018 UK Manchester Satan's Hollow
20/11/2018 UK Glasgow Audio
21/11/2018 Ireland Dublin Voodoo Lounge
22/11/2018 UK London Underworld
23/11/2018 UK Birmingham Asylum2
24/11/2018 Netherlands Drachten Iduna
25/11/2018 Germany Oberhausen Kulttempel
"There are a few bands who are pretty f*cking good, who are more technical and aggressive than what we usually do. Bands like GOROD, from France… those guys can definitely play". Mick Thomson – Slipknot
Apres le superbe album "A Maze Of recycled Creeds", encensé par la critique, et l'incroyable EP thrashy "Kiss The Freak" réalisé à l'occasion de leur tournée Européeenne avec des groupes thrash US…
…GOROD sortira sa nouvelle pépite "ÆTHRA" le 19 Octobre prochain sur le label Overpowered Records… et une chose est sûre… il va mettre tout le monde d'accord!
Produit et enregistré par Mathieu PASCAL, tête pensante du groupe, dans son Bud Studio, mixé au Dugout Studio par le génialissime Daniel Bergstrand (Meshuggah, Behemoth, Decapitated, In Flames…) et masterisé par Lawrence Mackrory à Obey Mastering (Decapitated, Nightrage…), "ÆTHRA" s'annonce comme l'album intournable de cette fin d'année.
Ce n'est pas seulement une continuation de ce que l'album précédent offrait, car c'est aussi une amélioration en termes de production, d'écriture de morceaux et d'arrangements. Une belle et grosse giffle en perspective!
Page Facebook officielle de GOROD: ICI
Line up:
Julien "Nutz" DEYRES: Voices
Mathieu PASCAL: Guitars
Ben "Barby" CLAUS: Bass
Nicolas ALBERNY: Guitars
Karol Diers: Drums
"The undisputed kings of melodic tech death !" – Metalsucks (01/2015)