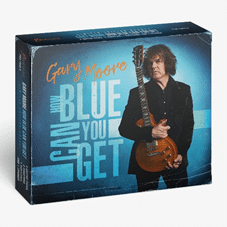 PARIS-MOVE, April 17th 2021 – Le 30 avril prochain, le label Provogue va sortir un album de morceaux inédits de Gary Moore. Intitulé "How Blue Can You Get", ce disque présente 4 titres originaux et 4 reprises!
Disponible en:
– Coffret (CD digipak + autocollant, carte postale & 4 médiators),
– vinyle bleu clair,
– digital
Ecoutez donc "I'm Tore Down":

C'est en se plongeant dans les archives de la famille du guitariste irlandais que l'on retrouve peu à peu des prises inédites ou des versions alternatives qui nous remettent en mémoire la maîtrise de cette figure incontournable du blues moderne. C'est donc parmi ces chansons originales que l'on a découvert "In My Dreams", une succulente ballade sur laquelle Gary fait pleurer sa guitare de toutes ses larmes et "Looking At Your Picture", un autre moment étonnamment mélancolique.
Mais, avant cela, l'album démarre sur une reprise de Freddie King "I'm Tore Down", que Moore adorait jouer sur scène. Puis il nous emmène dans une version virtuose du classique de Memphis Slim "Steppin' Out", avant de nous glisser un superbe "Done Somebody Wrong" d'Elmore James, qui met en valeur son toucher exceptionnel. Et que dire de "How Blue Can You Get" s'étirant sur 7 minutes énormes, jamais réalisées jusqu'à ce jour, qui sont un hommage aussi vibrant que brûlant au hit de BB King datant de 1964 . Après une version alternative de "Love Can Make A Fool Of You", le disque s'envole dans un finale stratosphérique avec le magnifiquement douloureux "Living With The Blues".
Track listing:
I'm Tore Down
Steppin' Out
In My Dreams
How Blue Can You Get
Looking At Your Picture
Love Can Make A Fool Of You
Done Somebody Wrong
Living With The Blues