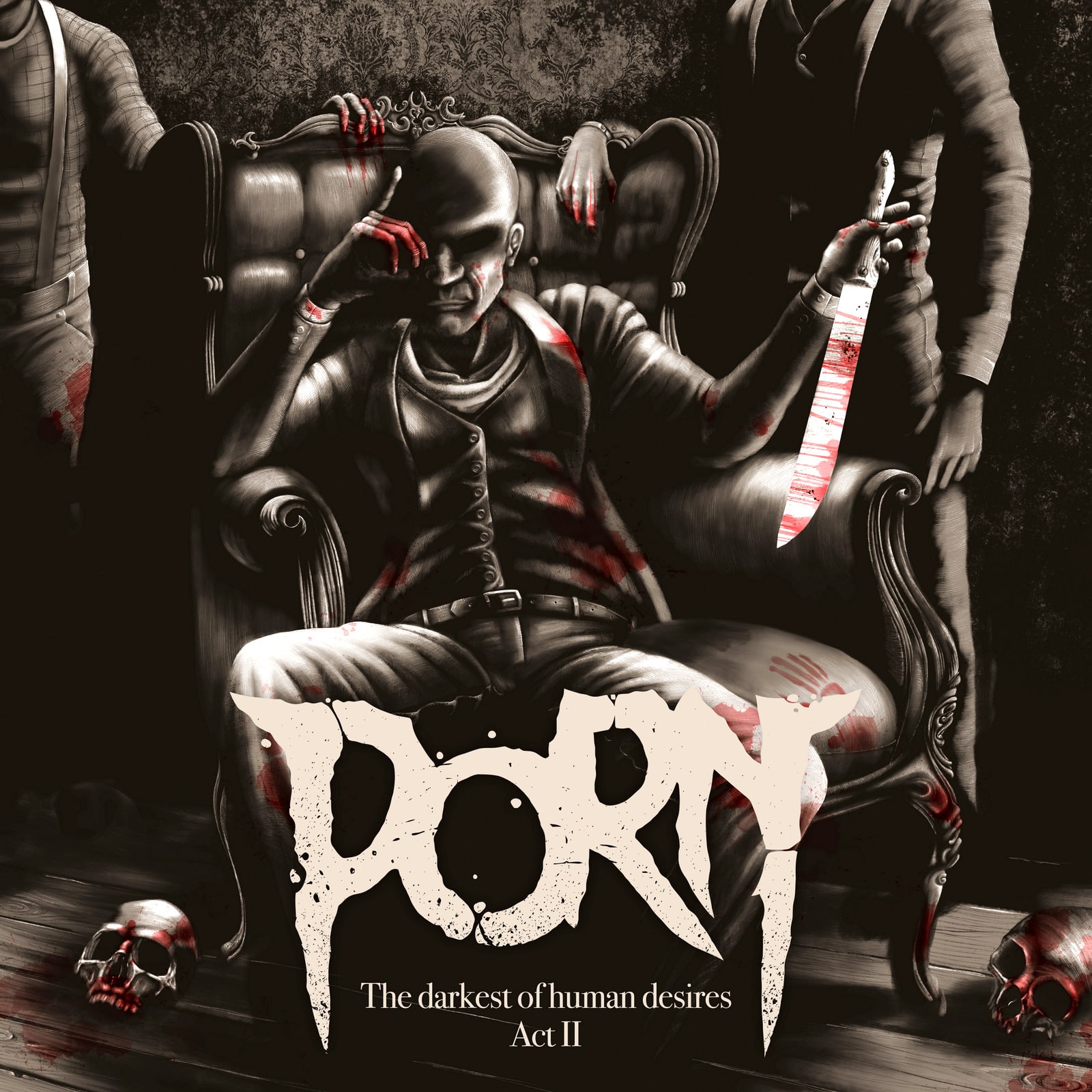 GAGNE TON PORN MUSIC BAND PACK: nous avons récemment tourné le premier vidéo clip du nouvel album "The Darkest of human desires – Act II". Et pour célébrer la sortie imminente de ce nouveau vidéo clip et de ce nouvel album, tu vas pouvoir gagner un PORN PACK incluant T-shirt, casquette, CDs…
Pour tenter de gagner ton PORN PACK, il te suffit de deviner quel morceau du nouvel album a été clippé!
Toutes les infos, ainsi qu'un petit making-of du clip, sont dans la vidéo ci-dessous. Bonne chance!
Pour voir la vidéo, clique ICI
Le nouvel album, "The Darkest of human desires – Act II", masterisé par Tom Baker (Marilyn Manson, Rob Zombie, Disturbed…) sera dans les bacs le 22 février 2019!
Le 1er Single "My rottten realm" est déja disponible!
Précommande ouverte sur le bandcamp du groupe, avec CD digipack signé + poster signé et sticker: ICI
PORN – The darkest of human desires / 8 pages booklet / Digipack + free poster and stickers: HERE
PORN – The Ogre inside – Act I // 2017 – The Ogre Inside CD Digipack + stickers + signed poster: order it HERE
Official Facebook page: HERE
Line up:
Mr Strangler : Vocals, drums programming, synth
The One : Synth, guitar
The Priest : Bass
Zinzin Stiopa : Guitar
PORN formed when psychology and sociology student Philippe Deschemin aka Mr Strangler decided to start a band. Named after the "Pornography" album by The Cure and influenced by gothic, industrial and metal bands ( Alice In Chains, Type O Negative, Paradise Lost, Marilyn Manson, Ministry… ), his mission was to create aggressive yet sexy, powerful, dark and dangerous music: "something like a beautiful, tasty fruit with a razor blade inside."
PORN released its debut album in 2004 and an EP a year later, which are currently available together on ' A Decade In Glitter And Danger '. These were followed by a 2nd album in 2011 'From the Void to the Infinite', plus the 2015 covers and remixes compilation 'Deconstruct', which followed the publication of Deschemin's first novel, 'Contoyen'.
Porn released their 3rd album in 2017, The Ogre Inside – Act I . A milestone record for the band. To the brooding goth-metal atmosphere of the title track that ends the record, Porn take the listener on a journey into the darkest corners of the mind. Scattered with voice samples of Aleister Crowley, it can be taken as an invitation to fight the (great) beast, the Ogre that threatens to devour you.
The band defined the music of this trilogy as Murder Rock.
Mr Strangler and The One are also a member of An Erotic End of Times, who released their debut album in 2017.