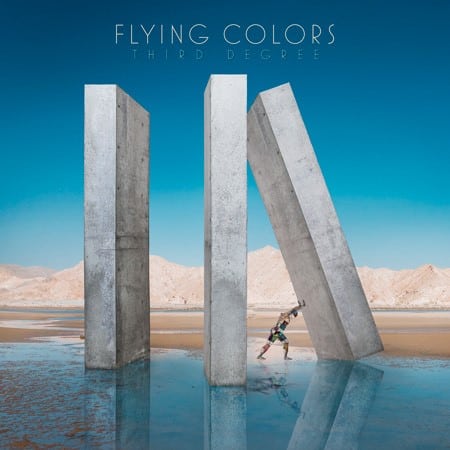 PARIS-MOVE, August 14th 2019 – FLYING COLORS present a new video for "More" and announce their new album "Third Degrees".
The video for "More" is proposed HERE
To Pre-order Third Degree, click HERE
Official FLYING COLORS on line store HERE
To Pre-order your LPs, click HERE and HERE
FLYING COLORS – new album "Third Degrees" Track listing:
The Loss Inside
More
Cadence
Guardian
Last Train Home
Geronimo
You Are Not Alone
Love Letter
Crawl
Deluxe CD Bonus disc:
Waiting For The Sun (Unreleased Bonus Studio Track)
Geronimo (Instrumental Arrangement/Mix)
You Are Not Alone (Instrumental Arrangement/Mix)
Love Letter (Acapella Arrangement/Mix)
Last Train Home (Instrumental Arrangement/Mix)
Crawl (Instrumental Arrangement/Mix)
Official Facebook page HERE
Biography:
It started with a simple idea: virtuoso musicians and a pop singer joining to make new-fashioned music the old fashioned way. A band followed, evolving into Flying Colors: Mike Portnoy (drums, vocals), Dave LaRue (bass), Neal Morse (keyboards, vocals), Casey McPherson (lead vocals), and Steve Morse (guitar). Together, they create a unique fusion of vintage craftsmanship, contemporary music and blistering live performances.
In 2008, executive producer Bill Evans brought the idea to musicians Mike Portnoy, Dave LaRue, Steve Morse and Neal Morse; and producer Peter Collins. As some of the most renowned artists across numerous genres, they had the potential to fuse their diverse styles into a unique, cohesive sound.
Intrigued by the idea, and the prospect of working together, the five signed on to form a band and record a first album. Though they were seasoned artists with impressive backgrounds and catalogs, this would break fresh ground for them.
Steve Morse and Dave LaRue, often described as "musicians' musicians," have developed a magical music chemistry over the years. Their first band, Dixie Dregs, is described by All Music as "One of the top jazz-rock fusion ensembles ever." Steve has been with Deep Purple since 1995, helping lead the band's astonishing revival that continues today with nearly 100 shows yearly in 50 nations. He was voted "Best All Around Guitarist" for so many consecutive years in Guitar Player that they removed him from eligibility. LaRue's ongoing musical adventures include Joe Satriani, John Petrucci, Jordan Rudess, Steve Vai, and Mike Portnoy.
Multi-instrumentalist, composer and singer Neal Morse is one of the leading figures in prog rock. He began in 1995 by co-founding and leading the seminal prog band, Spock's Beard. Morse rose to notoriety, though, as a solo artist and with the prog supergroup, Transatlantic. Neal's ability to combine catchy, memorable melodies with symphonic rock grandeur has made him a leading voice in his genre.
Mike Portnoy is one of the most popular and respected drummers in both metal and rock. An accomplished writer and producer, he is the recipient of numerous industry accolades, including 26 Modern Drummer awards. Mike rose to prominence as the leader, drummer, producer, and cowriter for metal/prog juggernaut Dream Theater, before moving on in 2010. That same year, he worked on Avenged Sevenfold's #1 album Nightmare and their subsequent tour, earning him awards such as Revolver Magazine's Golden God award for "Best Drummer" and Drum Magazine's "Drummer of the Year".
Attention then turned to finding a pop singer to channel their combined musicality into an accessible mainstream form. Portnoy suggested Hollywood/Disney artist Casey McPherson, a charismatic front-man, compelling songwriter, and astonishingly emotive singer.
Casey's 2010 album for Disney, New Morning (w/Alpha Rev), debuted in the Top-5 on two Billboard charts, spawning two major radio hits. "New Morning" spent 17 weeks in the Top-10 on Triple A Radio, accompanied by a video for 11 weeks on Vh1's Top-20 Countdown. "Phoenix Burn" was also a Triple A hit, landing firmly in the Top-20.
With the band complete and a producer on board, all that was left was to write, record and mix an epic album. Nearly a year of scheduling attempts yielded just nine days in January 2011 to do it. They decided to combine their diverse writing by composing everything during that short but intense session—and to record a rough version of the entire album with final drum tracks. Combined with not having written together, or even knowing Casey and Collins, it seemed like an insane undertaking. It was.
By the end of the first day, "Kayla" was mostly written, and "Blue Ocean" was well on its way. That evening, during a well-deserved dinner break, everyone realized the impossible: it was working. And not only that—it might be extraordinary.
Producer Collins oversaw the assembly of the band's multitude of ideas into a final arrangement. Parts were selected based on feel, and left raw instead of using the standard practice of extensive digital editing to produce "perfect" music. Legendary engineer Michael Brauer completed the final mix, molding the music into a cohesive, textured and brilliant sound. The album was complete.
What began as an unlikely premise had become a reality more rewarding than any had imagined. Refreshing, classic, old and new—Flying Colors is saturated with the many styles, tones and hues of its artists.
In the fall of 2012, the band toured in Europe and the United States, electrifying audiences, performing the entire first studio album and a selection of favorites from their member's other musical endeavors.
The group's September 20th concert in Tilburg, Holland, was captured for what was to become Flying Colors: Live in Europe. The epic concert release, from Mascot Label Group, went live October 15, 2013 on Blu-ray, DVD, CD, Mastered for iTunes, MP3, and a 3-LP vinyl limited edition.
Flying Colors returned to the studio on May 12, 2013 to begin writing and recording their second studio album. Second Nature was released in September of 2014, debuting in multiple Top-10 charts, worldwide. In addition to numerous other accolades, the album received a Prog Award nomination for Album of the Year, with Flying Colors being nominated for Band of the Year.
Adorned with artwork by Hugh Syme (Aerosmith, Stone Sour, Rush), mixed by prog rock stalwart Rich Mouser, and bookended by two tracks of truly epic stature—"Open Up Your Eyes", and the anthemic "Cosmic Symphony"—Second Nature was a fitting release for the band's sophomore outing.
The band took to the stage with a vengeance in the Fall of 2014. On only the eighth show of the tour, at Switzerland's storied Z7 venue, they captured an electrifying live performance. With Second Nature out for only a week, the concert recorded an exceptional rarity: band and audience, together, discovering an album for the first time. That freshness is palpable in every frame of their subsequent 4K/Blu-ray/DVD release, Second Flight: Live at the Z7, to be released in November of 2015.
Flying Colors also explored technological innovation with the album, with unique ways for fans to experience it. Viewers can listen in 5.1-surround from the two best seats in the house: at the soundboard, or in the front row. For audio-only listeners, a specialized encoding process brings the full surround mixes to just headphones. All the show's audio was processed with a new engineering system, developed specifically for Live at the Z7, which creates stunning detail and separation. The video was mastered by famed special effects company, Cinnafilm, using their revolutionary Dark Energy technology (IMAX). The result is unparalleled realism from the concert's 24 cameras, as well as an eye-popping 4K Ultra-HD version of the concert.
Second Flight: Live at the Z7 showcases a new level of musical prowess from the group, captures the candid energy of a new band, and lets fans experience them in innovative ways. It reflects the many hues and colors of the band members' individual—and collective—unique creative expression. It's Flying Colors at their very best, and a new milestone in the band's soaring adventure.