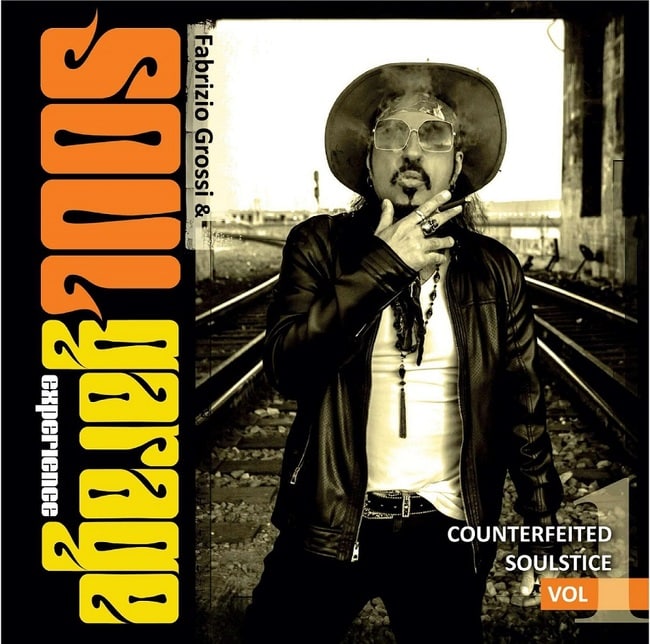 PARIS-MOVE, August 25th 2021 – Fabrizio Grossi & Soul Garage Experience vous offrent un voyage au son de leur Rootsy Rock- Americana- Alternative- Soul. En effet, "Counterfeited Soulstice Vol 1", le premier album de Fabrizio Grossi & Soul Garage Experience sortira le 10 septembre 2021.
SOUL GARAGE EXPERIENCE "Ain't no givin' up" OFFICIAL VIDEO:

Producteur, auteur compositeur, musicien, connu pour ses fructueuses collaborations avec Slash, Eric Gales, Gary Clark Jr, Billy F Gibbons, Steve Vai, Steve Lukather, Glenn Hughes, Leslie West, Joe Bonamassa, Warren Haynes, ou encore George Clinton & P-Funk ou Supersonic Blues Machine, Fabrizio Grossi a décidé d'endosser un nouveau rôle en lançant Soul Garage Experience. Un excitant challenge Funk/ Rock/ Soul/ Reggae/ Americana qui reflète son amour infini pour des artistes tels que Jimi Hendrix, Cream, Allman Bros, Stevie Wonder, James Brown, Bob Marley ou Curtis Mayfield.
Clairement ancré dans l'âge d'or du Rhythm'n Blues et du Rock & Soul des 60's et des 70's, le son de "Counterfeited Soulstice Vol 1" s'inscrit aussi dans la lignée d'artistes contemporains. On pense alors à Vintage Trouble, Black Pumas, Gary Clark Jr, The Black Keys, Fantastic, Negrito, The Heavy… Mais c'est sans doute l'appellation Rootsy Rock-Americana-Alternative-Soul qui sied le mieux aux 11 chansons qui composent ce disque.
Pour l'enregistrer Fabrizio s'est entouré d'un solide casting : Stephen Perkins (Jane's Addiction, Porno for Pyros), Hermann Matthews (Tower of Power, Stevie Wonder), Kenny Aronoff (John Fogerty, Joe Satriani, Smashing Pumpkins, PaulMc Cartney) se sont partagé la batterie, Bette Smith au chant, Alastair Greene (Alan Parsons) à la slide guitare, Diimond Meeks (American Idol & America's Got Talent finalist et élève de CeeLo Gen) assure le chant sur 4 titres, Alex Alessandroni Jr (Christina Aguilera, Whitney Houston, Pink, Natalie Cole) aux claviers, Dylan Meek à l'orgue Hammond, The Supersonettes (Francis Benitez & Andrea Grossi Benitez) se chargent des chœurs, Chris Hansen & Fabio Drusin à la harpe… pour ne citer que les principaux acteurs de ces sessions que l'on devine riches en jams et autres impro… A noter que c'est un certain Derek Day, un californien de 24 ans, qui a eu la lourde tâche d'assurer la plupart des parties de guitare de ce disque. "A star is rising" comme on dit à Los Angeles ! Quant à Fabrizio, d'un morceau à l'autre, il vole allègrement du chant à la basse, en passant par les programmations, les percussions, les claviers, les chœurs, la guitare et même le mellotron. Ce type a la Musique dans la peau, ça s'entend et se ressent!
Réalisé et distribué de manière 100% indépendante, sans le support d'un label, "Counterfeited Soulstice Vol 1" est un disque comme en fait presque plus…
SOUL GARAGE EXPERIENCE "Right down below" OFFICIAL VIDEO:

SOUL GARAGE EXPERIENCE "I rather be wrong" OFFICIAL: