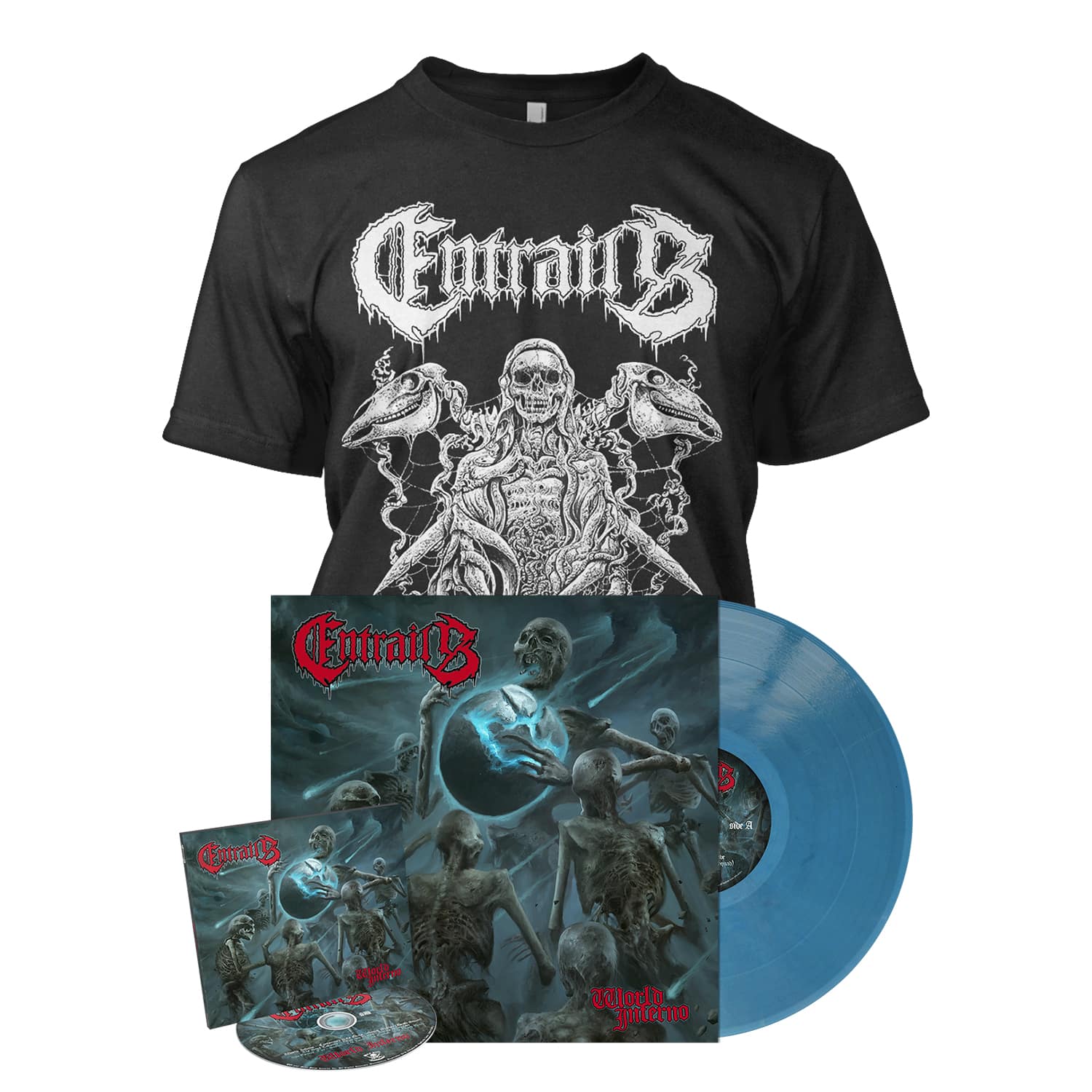 On June 16th 2017, Swedish death metallers ENTRAILS will release their new album, "World Inferno", worldwide via Metal Blade Records!
.
To hear the new single, "Serial Murder (Death Squad)", head over to InvisibleOranges.com for the exclusive stream: here
.
For another preview of World Inferno, the first single, "The Soul Collector", can be heard here  where the record can also be pre-ordered in the following formats:
–CD
–180g black vinyl
–blue grey-marbled vinyl (limited to 300 copies – EU exclusive)
–blood red vinyl (limited to 200 copies – EMP exclusive)
–steel blue clear vinyl (limited to 100 copies – USA exclusive)
–clear skyblue vinyl (limited to 100 copies – Hells Headbangers exclusive)
* exclusive bundles with a shirt, plus digital options are also available!
Entrails guitarist Jimmy Lundqvist comments: "It's about time to unleash our next beast called 'Serial Murder (Death Squad)' – that means you should roll up your sleeves, loosen up your ponytail and get in the mood with a proper beer and prepare yourself for a trip among serial murders. The Death Squad awaits you!"
The recordings for World Inferno started in December 2016 in Lundqvist's Bloodshed Studio. Dan Swano once again handled the mixing and mastering for the album.
Dan Swano comments: "I don't know if I had said this before, but I say it again. Every time I start thinking about putting together some new SweDeath project, Entrails show up at my doorstep with a new album to mix, and every time I think 'Fuck!! – What's the point in making my own project when this is so fucking good, and exactly what I wanted to do…' And if I felt there were some details to improve upon from our previous work together, they fix that and then some, and return with an album even stronger than the previous one. What the fuck is going on in Linneryd!? Is Jimmy cloning death metal warriors in some barn over there or what!? To sum it up. Yet another amazing slab of SweDeath coming your way from Entrails! Beyond. Blown. Away!"
World Inferno track-listing:
1. World Inferno
2. Condemned to the Grave
3. Serial Murder (Death Squad)
4. The Soul Collector
5. Dead and Buried
6. Insane Slaughter
7. Into Eternal Fire
8. Suffer
9. The Hour of the Casket
10. The Blood Breed
Entrails line-up:
Jimmy Lundqvist – guitars
Tommy Carlsson – vocals/bass
Pontus Samuelsson – guitars
Martin Michaelsson – drums