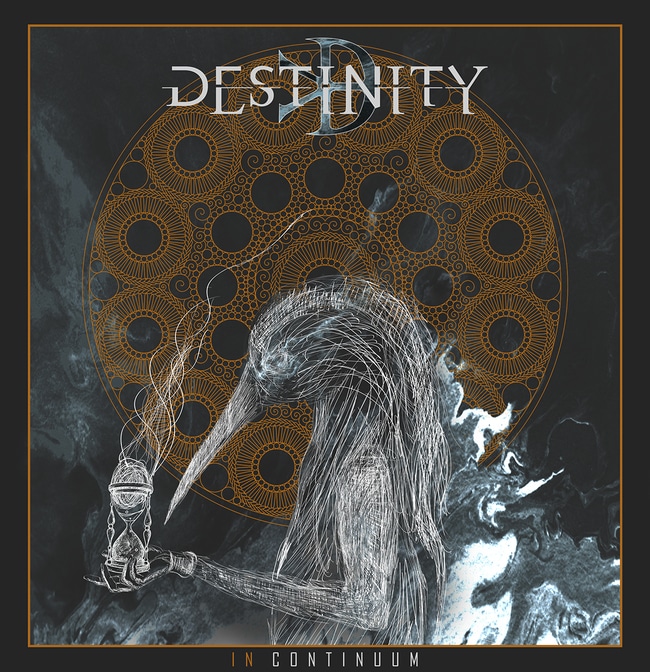 PARIS-MOVE, September 7th 2021 – DESTINITY News: vidéo PlayThrough "Dawn Never Breaks" (Feat. Andy Gillion).
Les Lyonnais de DESTINITY (Melodic Death Metal) viennent de dévoiler leur 3ème single intitulé "Dawn Never Breaks". Andy Gillion (compositeur de Mors Principium Est) est en featuring sur le solo! L'album IN CONTINUUM sortira le vendredi 15 Octobre 2021 via CRIMSON PRODUCTIONS/ SEASON OF MIST.
Le titre "Dawn Never Breaks" est dispo sur les plateformes habituelles, ICI
DESTINITY – Dawn Never Breaks (Feat. Andy Gillion) – OFFICIAL PLAYTHROUGH VIDEO:

Voici la tracklist de l'album (51 mn au total):
01 – THE SAND REMAINS
02 – REJECT THE DECEIT
03 – REFLECTIONS
04 – SHADOWS
05 – DAWN NEVER BREAKS
06 – ARCHITECT OF LIGHT
07 – A LUCID STRAIN
08 – SNAKEPIT
09 – SALVATION
Album à commander sur le on line Store, ICI
La batterie a été enregistrée au Record did' Studio, tout le reste a été enregistré par Seb V.S et Mick Caesare. Mixage et mastering par Jonas Kjellgren au BLACK LOUNGE STUDIO, en Suède, (ref: Sabaton, Scar Symmetry, Sonic Syndicate, In Mourning etc.). Cover et Design réalisés par Francesco De Luca/ Amok studio.
Pour le plaisir, regardez à nouveau la vidéo de "Reject the Deceit" [OFFICIAL VIDEO], ici: