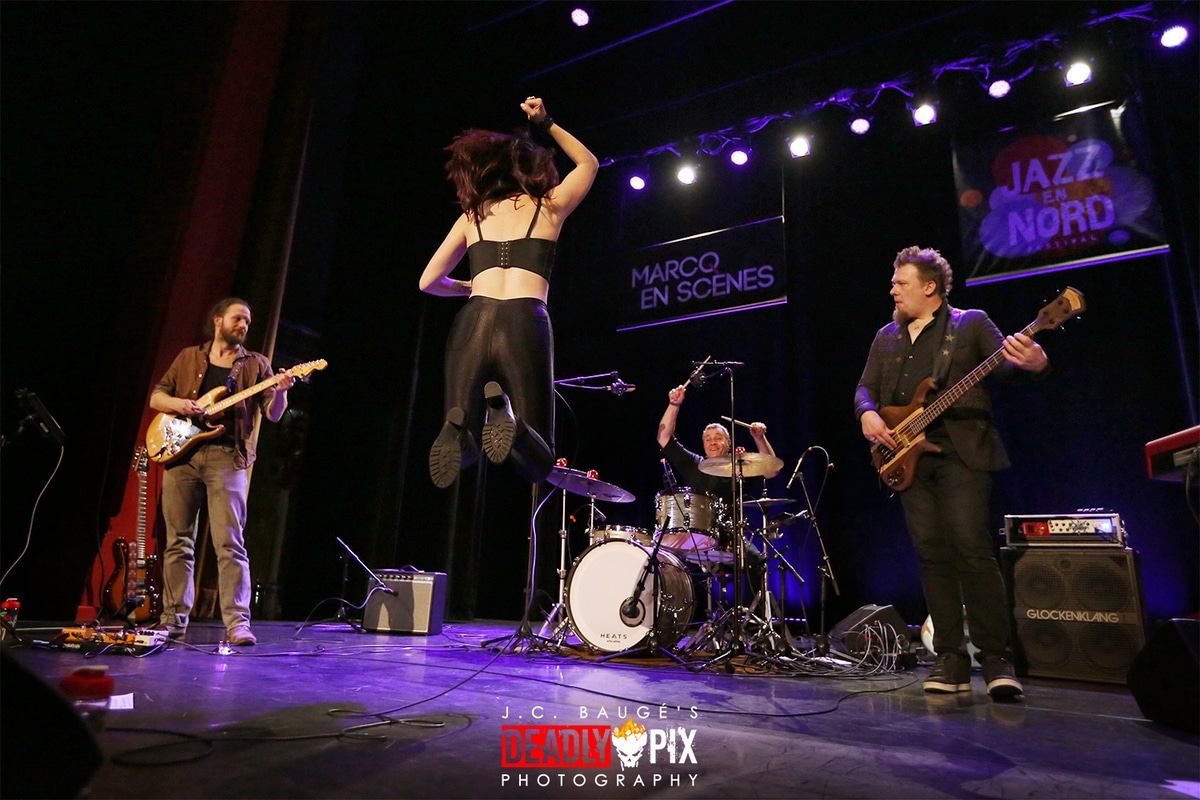 WHITNEY SHAY au Colisée Lumière, Marcq-en-Barœul
Le 29 mars 2023
Reportage et photos: Jean-Christophe Baugé – BLUES MAGAZINE/ JAZZ NEWS/ LEGACY (DE)/ METALLIAN/ PARIS-MOVE/ ROCK & FOLK
Artiste Ruf au tempérament et aux cheveux de feu, Whitney Shay a bouclé deux brefs chapitres de la petite histoire du rhythm 'n blues avec des reprises autoproduites (Soul Tonic, 2012) et des co-compositions avec Adam J. Eros (A Woman Rules The World, 2017) qui l'ont menée de San Diego, Californie, au Bluesfest 2019 de Gaildorf, en Allemagne, avec Mike Zito! Stand Up, troisième album qui éperonne plus qu'il ne caresse, cultive sa différence dans les paroles ("Someone You Never Got To Know" sur le père naturel qu'elle n'a jamais connu) et sa déférence vis-à-vis d'Otis Redding, dans la lettre ("Tell The Truth", 1968) et l'esprit ("I Never Meant To Love Him" achevé en falsetto). D'une manière contre-intuitive, nombre des subtilités vocales (les allitérations de "I Thought We Were Through") et instrumentales (le trombone bouché de "Boy, Sit Down"), passent à l'as, hélas, lorsque le groupe de tournée fait de bric et de broc, et surtout pas de cuivres, doit restituer sa partition. Florian Doundorf, guitariste de début de tournée européenne 2023, n'a pas l'envergure de Laura Chavez, et on ne doit la moiteur torride des abords de scène qu'au grand écart latéral de Whitney après la composition reine "I Love You More Than You'll Ever Know" de… Blood, Sweat & Tears.
.
Setlist:
01. Love's Creeping Up On You (A Woman Rules The World, 2017)
02. Tough Lover (Burlesque, 2010)
03. Tell The Truth (Stand Up!, 2020)
04. P.S. It's Not About You (Stand Up!, 2020)
05. Don't You Fool Me No More (A Woman Rules The World, 2017)
06. Ain't No Weak Woman (A Woman Rules The World, 2017)
07. Beware (Tellin' It, 1975)
08. Won't Be Long
09. Someone You Never Got To Know (Stand Up !, 2020)
10. Boy, Sit Down (Stand Up!, 2020)
11. Getting In My Way (Stand Up!, 2020)
12. I Love You More Than You'll Ever Know (Child Is Father To The Man, 1968)
13. Stand Up ! (Stand Up!, 2020)
14. Get Down With It (A Woman Rules The World, 2017)
Rappel
15. Strange Things Happening Every Day
16. Change With The Times (Stand Up!, 2020)
Musiciens :
Whitney Shay : chant
Florian Doundorf : guitare
Katarina Pejak : claviers
Tom Germann : basse
Denis Palatin : batterie
Production :
Jazz en Nord/ Marcq-en-Barœul