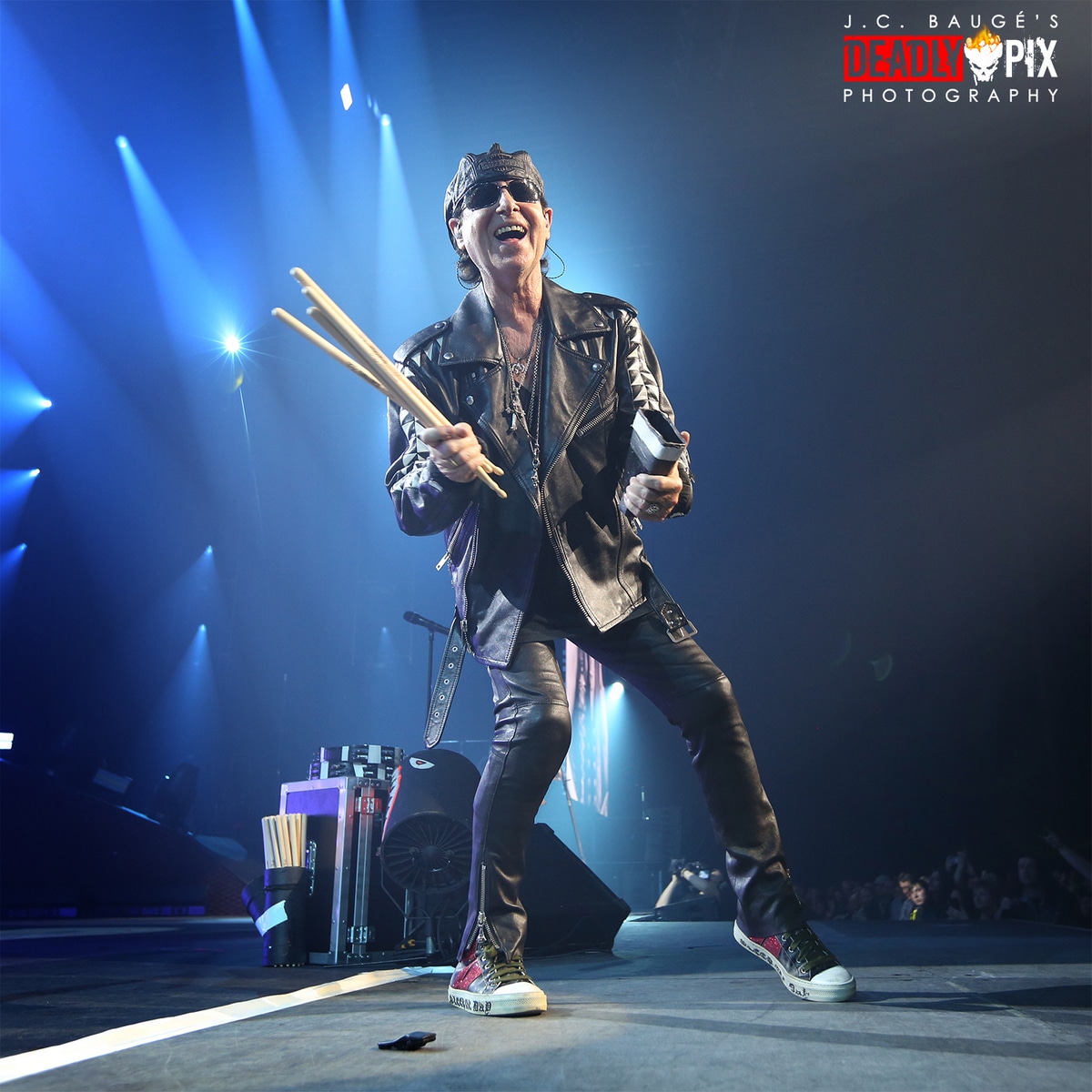 SCORPIONS
Zénith de Lille, le 9 mai 2023
Reportage et photos: Jean-Christophe Baugé – BLUES MAGAZINE/ JAZZ NEWS/ LEGACY (DE)/ METALLIAN/ PARIS-MOVE/ ROCK & FOLK
Rien, ni l'arlésienne du départ en retraite repoussé depuis 2010, ne ternira jamais les images de Scorpions remportant son OPA hostile sur l'US Festival '83, le Rock In Rio '85 et le Moscow Music Peace Festival '89 disséminées dans le clip du morceau-titre "Rock Believer". Cinquante ans après Lonesome Crow, ce 19ème album studio voilé tel le Goats Head Soup des Stones exploite les meilleures recettes que Rudolf Schenker,  komponist aux power chords, avait remisées à force de ballades incapacitantes: le feeling reggae de "Is There Anybody There?" lors d'un pas de côté chromatique ("Shining Of Your Soul"), la lourdeur d'un mid-tempo zeppelinien avec un tigre – Mikkey Dee, batterie – dans le "motör" ("Call Of The Wild"). D'aucuns argueront que l'homme à la flying V fusille, au choix, l'arpège introductif ou le solo de "Still Loving You" en concert. Ce serait faire bien peu de cas de la voix de Klaus Meine, perdue en 1981 mais aujourd'hui quasi-intacte, à l'instar de Biff Byford chez Saxon. A l'heure où l'on conte à nos enfants la vie et l'œuvre de Scorpions comme nos parents l'ont fait avec les Beatles, le groupe au surmoi collectif n'a toujours pas été intronisé au Rock And Roll Hall Of Fame. Etonnant, non?
Setlist THUNDERMOTHER (première partie):
01. Loud And Free (Black And Gold, 2022)
02. Try With Love (Black And Gold, 2022)
03. Hellevator (Hellevator, 2016)
04. Dog From Hell (Heat Wave, 2020)
05. Into The Mud (Heat Wave, 2020)
06. I Don't Know You (Black And Gold, 2022)
07. Whatever (Thundermother, 2018)
08. Shoot To Kill (Rock'N'Roll Disaster, 2014)
09. Watch Out (Black And Gold, 2022)
10. Driving In Style (Heat Wave, 2020)
Musiciennes :
Linnéa Vikström : chant
Filippa Nässil : guitare
Majsan Lindberg : basse
Joan Massing : batterie
Setlist SCORPIONS :
01. Gas In The Tank (Rock Believer, 2022)
02. Make It Real (Animal Magnetism, 1980)
03. The Zoo (Animal Magnetism, 1980)
04. Coast To Coast (Lovedrive, 1979)
05. Seventh Sun (Rock Believer, 2022)
06. Peacemaker (Rock Believer, 2022)
07. Bad Boys Running Wild (Love At First Sting, 1984)
08. Delicate Dance / Solo Matthias Jabs (MTV Unplugged In Athens, 2013)
09. Send Me An Angel (Crazy World, 1990)
10. Wind Of Change (Crazy World, 1990)
11. Tease Me Please Me (Crazy World, 1990)
12. Rock Believer (Rock Believer, 2022)
13. New Vision / Solo Pawel Maciwoda + Mikkey Dee
14. Blackout (Blackout, 1982)
15. Big City Nights (Love At First Sting, 1984)
Rappel
16. Still Loving You (Love At First Sting, 1984)
17. Rock You Like A Hurricane (Love At First Sting, 1984)
Musiciens :
Klaus Meine : chant
Matthias Jabs : guitare solo
Rudolf Schenker : guitare rythmique
Pawel Maciwoda : basse
Mikkey Dee : batterie
Production :
Gérard Drouot/ Vérone