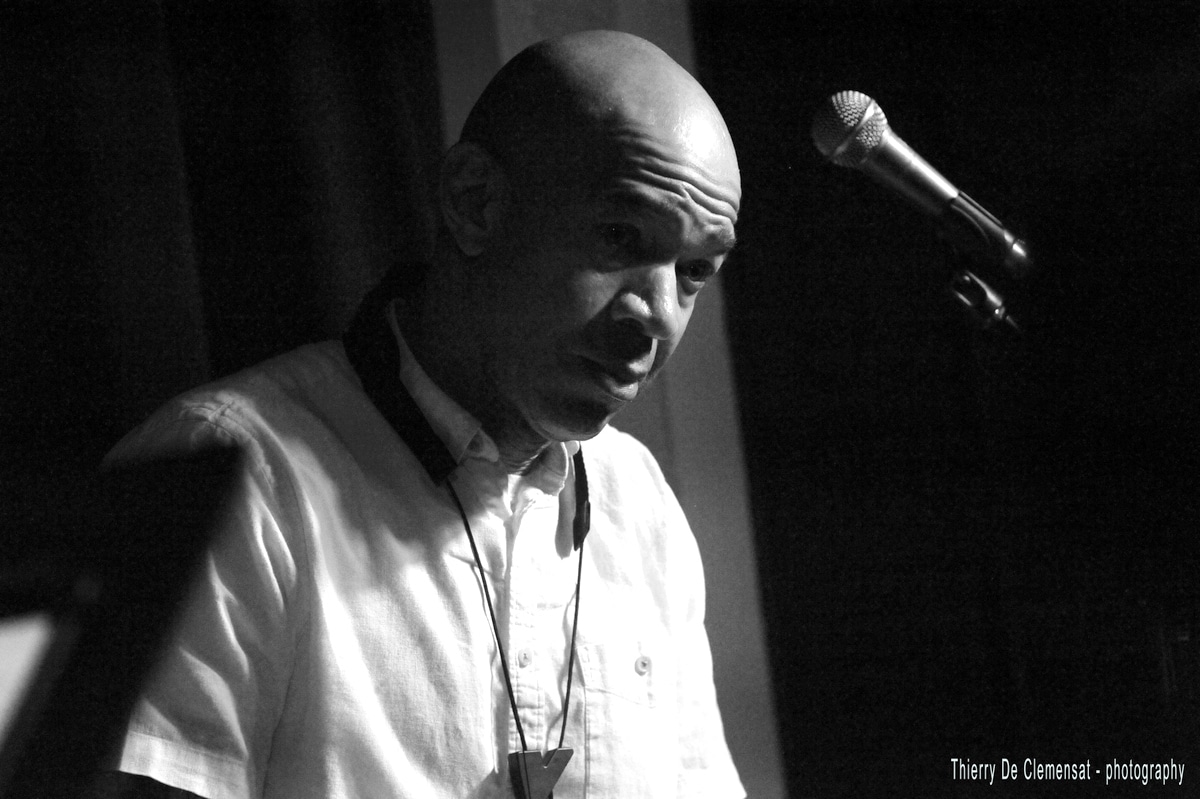 Michael Malone at Cactus Café – Austin, TX
April 1st, 2023
Thierry Docmac, Correspondent in USA, Bayou Blue News, Bayou Blue Radio, Paris-Move
No, it's not an April Fool's joke. At 7 pm on April 1st, I arrived at the Cactus Café for the first time, searching for the entrance, which wasn't easy to find because it was located inside the University. The reception was very friendly, and I noticed that the room was designed for excellent listening, with a capacity of about 100 seats. I took a discreet look at the sound equipment and felt that the evening would be good.
I crossed paths with Michael Malone, whom I didn't know well. I've been following his career for quite some time after coming across a video that caught my attention, particularly his saxophone playing. We greeted each other, exchanged a few words, and the man was as humble and friendly as I imagined. Having met countless jazz artists in my life, I was certain that I would experience an exceptional evening.
If you're not familiar with saxophonist and composer Michael Malone, here are a few details from his biography: Michael Malone is originally from Cleveland, Ohio, and a former resident of Cincinnati. He is an internationally renowned saxophonist and composer with over 35 years of professional experience. Michael spent five years on a world tour with legendary jazz organist Jimmy Smith, as well as with Cindy Blackmon (former drummer for Lenny Kravitz), guitarist Mark Whitfield, and steel drummer Othello Molineaux (Weather Report).
On the small stage of the Cactus Cafe, we found the following configuration: Dayne Reliford on keyboard (Andre Hayward, Michael Hale/Mac McIntosh, Hannibal Lokumbe, Robin McKelle, Brian Donohoe), Tom Brecthlein on drums (in 1978, he auditioned with Corea and was hired. He remained in the group until 1983, when he joined Wayne Shorter's group), and Jeremy George on double bass (I didn't find much information on this artist, who is the youngest in the group, but there's a biography here).
The concert started more or less on time. If Michael Malone is an exceptional musician, I also discovered that he is a showman capable of involving both his musicians and the audience by playing with everyone. He played the tenor saxophone magnificently, with breathtaking dexterity. There was not a moment of boredom, and the machine was well-oiled in the hands of an expert. Then came the tribute to Wayne Shorter, whom I had met a long time ago in Germany. I remembered his deep gaze, his smile, and his amazed look when he liked a musician. I had no doubt that if he had been in the Cactus Cafe on this April 1st listening to this incredible quartet, Wayne would have been moved to tears by such a tribute.
Seeing drummer Tom Brecthlein on stage, I remembered that I had already seen him before, but only on video during the Chick Corea era, and I always loved the delicacy of his playing. With time, Tom has become a true magician with truly impressive musicality.
I didn't know Dayne Reliford, the keyboardist, and I refer you to his presentation above in this article. It's impossible for me to describe what he offered us last night. I will simply say that seeing him play on a keyboard, I thought that the best thing for him would be to have a grand piano under his fingers to express all his immense talent.
Jeremy George, the astonishing, surprising, and fascinating bassist, I have no doubt that he will soon be among the great names in jazz. A guy like him, everyone will be clamoring to work with him, capable, like his colleagues, of serving us intelligent music with simplicity and a remarkable sound color.
But let's return to Michael Malone. I also appreciated the space he gives to his musicians throughout the concert, the beautiful energy of Michael Malone that transports us, the disconcerting ease with which he plays on deconstructed rhythms, the genuine complicity between the musicians, which makes this kind of concert unforgettable. So, if you also see Michael Malone or one of his incredible musicians in your city, don't hesitate to go see their concert because art at this level is like inadvertently brushing against the wings of angels.
:::::::::::::::
Michael Malone at Cactus Café – Austin, TX
April 1st, 2023
Thierry Docmac, Correspondent in USA, Bayou Blue News, Bayou Blue Radio, Paris-Move