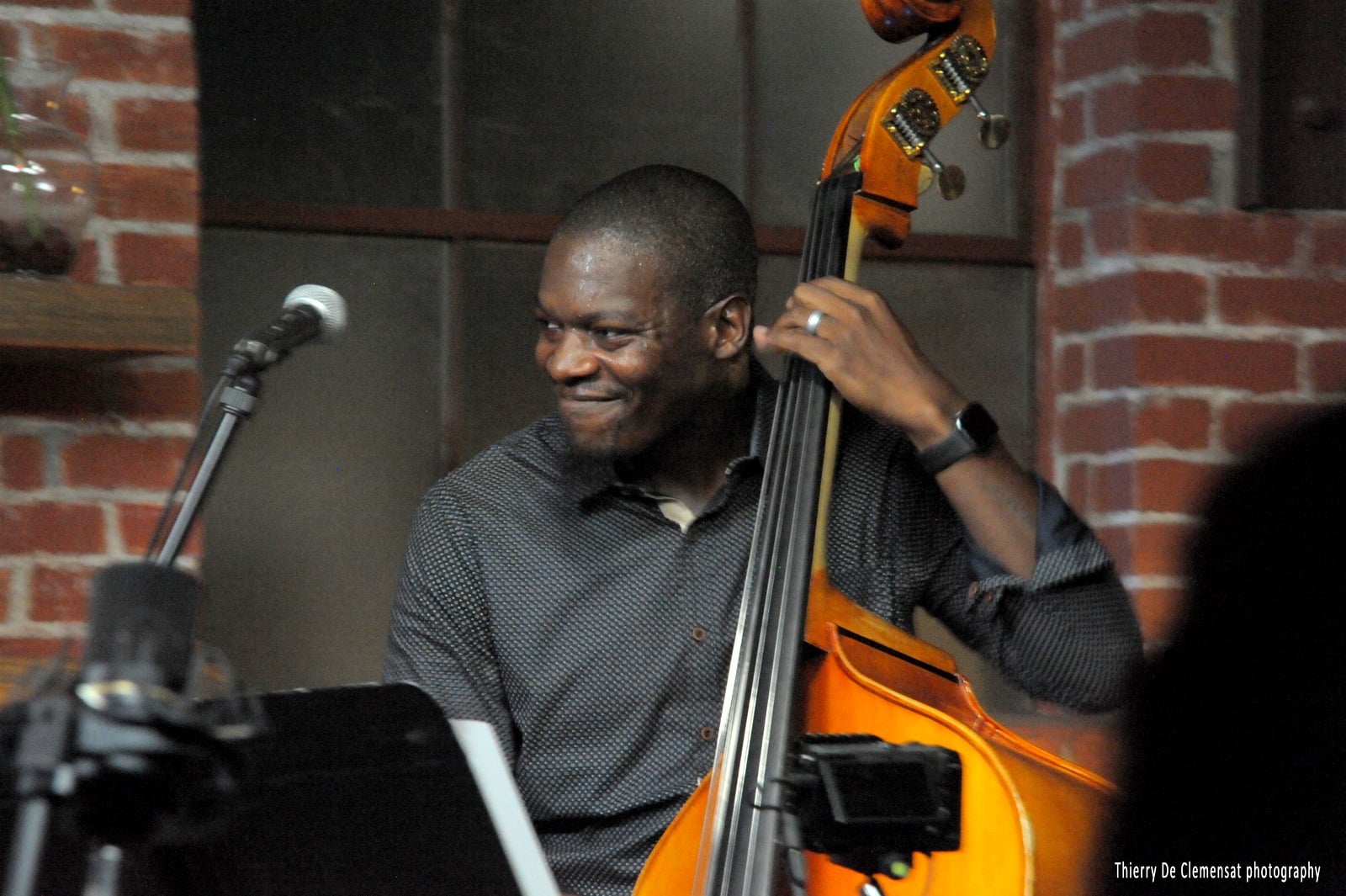 Jeremy George Quintet @ Monks jazz club – Austin TX
August 2nd 2023
Report: Thierry De Clemensat, Correspondent in USA, Bayou Blue News – Bayou Blue Radio – Paris-Move
We've been talking to you for a while now about this extraordinary double bassist, Jeremy George, based in Austin, who was playing for the first time at Monks. To put it simply, it was an evening that ranged from Sonny Rollins to Sam Cooke. Jeremy, in his role as the group's leader, blended humor and passion for all the artists who made the golden days of jazz and earned the admiration of the world.
So, we revisited some cleverly reimagined standards by Jeremy and his highly talented musicians: Jeremy George – Bass/Voice, Grant Teeple – Saxophone, Andre Hayward – Trombone, Seth Anders – Piano, Justin Hights – Drums. We were all deeply moved by the extraordinary generosity that emanates from Jeremy George. You see, it's the kind of concert where you've barely settled in and it's already coming to an end, a sign that you've truly enjoyed the captivating work of these artists. That's exactly how this concert was, and thanks to Monks, I've included the complete video of this concert at the end of this article.
Moreover, this generosity I mentioned was present in all the musicians of this quintet. Andre Hayward, who inevitably reminded me of Nils Landgren, showed that intriguing and passionate musicians manage to exude a unique and recognizable aura. I wasn't familiar with pianist Seth Sanders before, and the delicacy of his work in the quintet made him shine – he was also captivating, understated, and incredibly effective. I could say the same about saxophonist Andre Hayward. It wasn't the first time I heard drummer Justin Hights; you can put him in any line up and he delivers wonders.
We particularly appreciated that Jeremy George presented two of his own compositions. When can we expect a full set of Jeremy's works? We'll be closely following this matter! In the audience, the group had the support of the Austin Jazz Society, who showed up in numbers. Their motto is "Celebrate, Appreciate, Educate," and you can learn more about them here. They engage in promotional and educational efforts related to jazz.
Monks is one of those essential places in Austin, with around fifty seats to witness the best jazz musicians passing through, just as they did tonight. Needless to say, it's best to reserve your spot in advance. You can find more information here.
We also appreciate that Jeremy, during this concert, treats us to all the music he loves, indulging himself, and carrying the infectious joy that flooded the room. It's a cozy, warm little venue, I would even say exceptionally warm, thanks to the generosity of these musicians. It's still a bit challenging for me to fully understand everything, as my English isn't quite proficient yet, but it doesn't matter. When you have the chance to be present at a concert of this quality, you let yourself be carried away by the atmosphere and you come out feeling joyful. Truly, if you happen to be in Austin, try to spend a little time at Monks. You won't regret it!
Thierry De Clemensat
Correspondent in USA
Bayou Blue News – Bayou Blue Radio – Paris-Move
PARIS-MOVE, August 2nd 2023
:::::::::::::::::