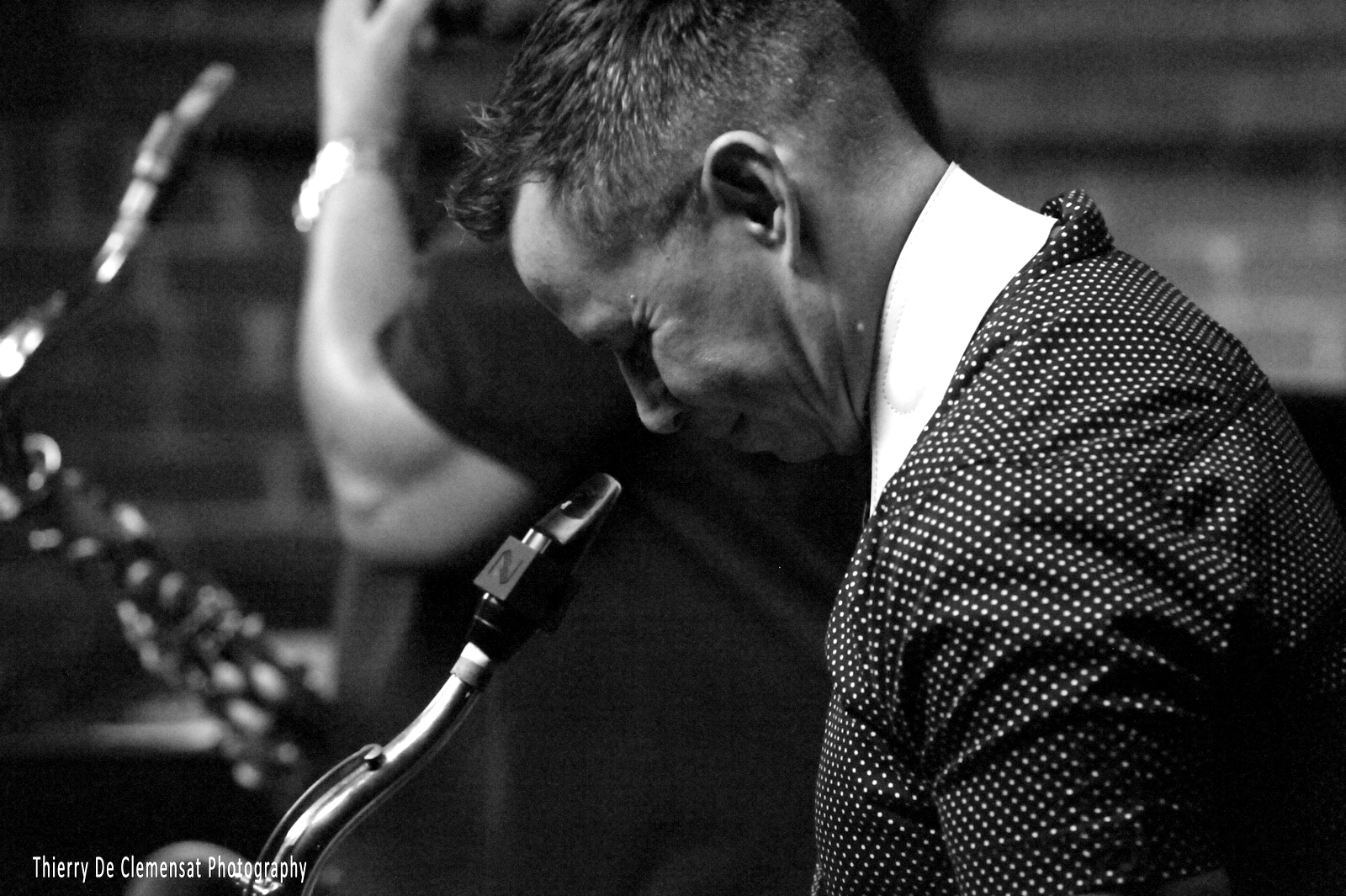 Jazz @ Monks Jazz – J. Serrato with Rob Dixon
July 9th 2023
Thierry De Clemensat, Correspondent in USA, Bayou Blue News – Bayou Blue Radio – Paris-Move
Quality jazz remains discreet in Austin; this isn't New York, Chicago, or L.A. As a result, jazz venues are often hidden, especially the most exciting ones, like Cactus Café located within the University of Austin or Monks, situated on a former industrial site. It's barely noticeable, to the extent that you can pass by without seeing it—a narrow door and a small discreet sign. Push the door, and magic happens.
As someone accustomed to big and small stages, the first thing I notice is the top-level lighting. The stage is actually a small TV studio. In terms of sound, it's the same story: quality speakers and microphones. You're almost surprised to see an SM58 on stage, but well, if you don't have a pickup to capture the sound of a tenor saxophone, it works.
On stage, we find saxophonist J. Serrato, who invited another saxophonist from Indiana, Rob Dixon, for a program that is quite classic but far from simple. We're immediately immersed in the atmosphere. Here, they don't play jazz in the style of this or that person; no, jazz flows directly in the veins of the musicians. Everything is perfectly balanced on a groove that is both solid and delightful.
And now, I want to emphasize the extraordinary musician that is bassist Jeremy George, see here. He's impressive in his playing, the way he places the notes, and feels the music. He's remarkably effective, offering incredible support to the two saxophonists. He is aided by a totally fascinating drummer, Justin Hights. These two names are worth remembering because, honestly, these musicians will resonate on the international jazz scene quite soon.
We experienced one of those evenings where the concert feels like it's over as soon as it begins. Yet, it was already past 10 p.m. at the end of the concert. That means we fully enjoyed it, partly thanks to the discreet pianist Ross Margitza, who is also truly remarkable. You'll see him in the video, and there's also a cover of Kenny Garrett. Take the time to listen to what these musicians did with it, watch them play, and you'll see the joy on their faces.
And since it's the first time I'm talking to you about this place, here's its story:
Monks began as a pop-up listening room and has evolved into a state-of-the-art audio and video recording studio and event space in the heart of East Austin. Our curated concert series features the best improvisational jazz groups and musicians the region has to offer.
When the pandemic hit in early 2020, we pivoted, streaming shows live from a single camera in our founder Collin's living room. Before long, Collin found a space for rent that was not only suitable for his piano repair business but was large enough to host livestreams from full bands. The East Austin Piano Shop, and the new home of Monks Jazz, was born.
The Monks studio has since relocated to a literal brick and mortar space, which was our dream from the beginning.
Monks was voted "Best Virtual Listening Room" by Austin Chronicle readers in 2021, and our in-studio experience is singular. The venue offers an intimate but casual alternative to loud bars and high-cost performance halls. We aim to foster an environment where all people can enjoy the rich culture of jazz.
We'll try to be present at other concerts as well. The next one is by the excellent trumpeter Adrian Ruiz on July 13th, in Quintet, see here.
We thank Collin for his hospitality; he is the master of the place… To be continued…
Monks Jazz Club,
501 Pedernales Street, Austin, TX, 78702 – United States
Thierry De Clemensat
Correspondent in USA
Bayou Blue News – Bayou Blue Radio – Paris-Move
PARIS-MOVE, July 10th 2023
:::::::::::::::::
Full concert: