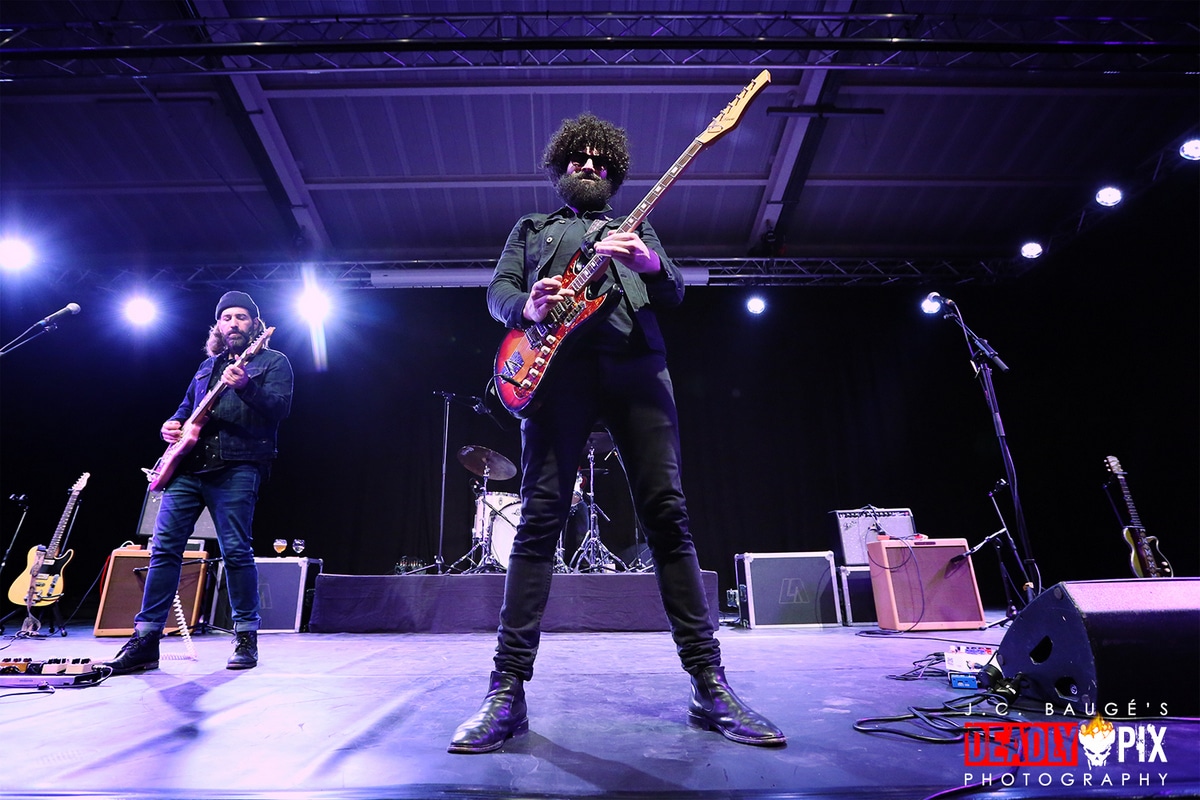 GA-20 en Live à La Source, Roncq, le 25 novembre 2022
Texte et photos: Jean-Christophe Baugé – BLUES MAGAZINE/ JAZZ NEWS/ LEGACY (DE)/ METALLIAN/ PARIS-MOVE/ ROCK & FOLK
"If you don't like the blues, you're listening to the wrong shit", prévient GA-20, trio créé sans basse, dans une logique minimaliste, autour des amis Pat Faherty (chant, guitare) et Matthew Stubbs (guitare, ex-Charlie Musselwhite) à Boston, MA, en 2018. Le nom? L'ampli Gibson produit de 1950 à 1961. Le genre? Celui qui ne survit que pas sa force d'inertie: le blues. Son idiome coule comme l'eau du robinet, avec la répétition comme règle d'airain, dans "I Let Someone In" ou "Gone For Good". Mais n'exploiter que quelques-unes des douze notes qui se répètent entre deux octaves, c'est envisager l'avenir sous le signe de la folklorisation. L'exercice de style s'interrompt, donc, le temps de "Fairweather Friend" et "By My Lonesome", du White Stripes et du Beatles avec un faux nez, avec cette question posée en creux: tricher, c'est gagner? Qu'importe pour Pat qui, tel un Sacha Baron Cohen auquel il serait vain de vouloir tirer la barbe, continue d'enflammer les planches sur les reprises de Hound Dog Taylor de l'album précédent… Lui et ses collègues sont en passe de finir de ramer avec les autres galériens du blues.
Setlist :
No No
Just Because (Crackdown, 2022)
Double Gettin' (Crackdown, 2022)
Dry Run (Crackdown, 2022)
Give Me Back My Wig (Try It… You Might Like It, 2021)
She's Gone (Try It… You Might Like It, 2021)
It Hurts Me Too (Try It… You Might Like It, 2021)
Lonely Soul (Lonely Soul, 2019)
I Let Someone In (Crackdown, 2022)
One Night Man (Lonely Soul, 2019)
Hold It One More Time
Cut You Loose (Live Vol. 1, 2020)
Crackin' Up (Lonely Soul, 2019)
Sitting At Home Alone (Try It… You Might Like It, 2021)
Fairweather Friend (Crackdown, 2022)
Easy On The Eyes (Crackdown, 2022)
Gone For Good (Crackdown, 2022)
By My Lonesome (Crackdown, 2022)
Let's Get Funky (Try It… You Might Like It, 2021)
Rappel
Shake Your Money Maker
Musiciens :
Pat Faherty : chant, guitare
Matthew Stubbs : guitar
Tim Carman : batterie
Production :
Roncq
Direction artistique :
Jazz en Nord